News > Washington Voices
Max Brown's feelings control his creations
Sat., Jan. 24, 2009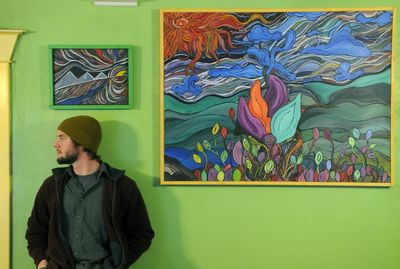 When Max Brown was 8, he moved from Seattle to Deer Lake, north of Spokane, where his father built a house.
"The house itself was a work of art. It was a big inspiration," Brown said, "My dad even painted a mural on the ceiling of one of the rooms. It was a Native American scene. He also painted abstract." Brown now paints to find his own inspiration from within.
Brown, 22, is just starting out on the road of creative discovery but he has a good foundation which begins with the simple fact that he has no fear. While some artists toil over detail, Brown lets it flow and it shows in his work, illustrating pure emotion that tugs on a viewer's curiosity. "I do want to make others wonder 'What is that?' "
His work is pure expression and though he has minimal professional training, he spends a lot of time training his mind's eye. "Art is about learning to trust your mind," he said, "Removing judgments that hold you back and the boundaries in your head that restrict you from fully creating."
He paints whatever he feels at the moment, putting acrylic onto wood that he builds a frame around. One piece called "Pear and Banana's journey of Love" shows the pair first as crisp, almost artificial, then opening up, and finally overly ripe. Another piece called "Intruder in the Night" looks like he used his phalanges, intimately working the paint until movement and images appear representing uncertainty as a home environment is invaded.
His representational landscapes are bold as are his abstracts and his painting of a hallway leading to an arched doorway seems to lead to everywhere.
Brown is content. "I go to school, work and paint. It could be worse." He works as a landscape foreman and takes classes at Spokane Falls Community College. He plans on moving forward without any particular goal in mind except to continue painting, to stay dedicated and to get his name out there in the art arena. "I want to evolve and produce unique works of art."
At a young age, Brown did cartooning. He quit doing art to instead play video games. "At about 19, I started growing up and decided to focus on something real. Since then, I've gotten more serious about painting," he said.
He lives on the North Side with two roommates in a house that is more esthetically pleasing then one might think for 20-somethings; a cage has been built around the houseplants to keep the cats out and Brown's paintings decorate the walls. Brown paints in a small utility-type space where he allows his feelings to control his creations. "I do what my hand tells me to," he said, "I'm just the messenger."
Brown believes that "individuality is the heart and soul of being human" and that self expression is a good way of maintaining one's individuality.
Currently, his goal is to cross new boundaries. "I want to try new things," he said, "It's all about creating."
The Verve is a weekly feature celebrating the arts. If you know an artist, dancer, actor, musician, photographer, band or singer, contact correspondent Jennifer LaRue by e-mail
jlarue99@hotmail.com
Local journalism is essential.
Give directly to The Spokesman-Review's Northwest Passages community forums series -- which helps to offset the costs of several reporter and editor positions at the newspaper -- by using the easy options below. Gifts processed in this system are not tax deductible, but are predominately used to help meet the local financial requirements needed to receive national matching-grant funds.
Subscribe to the Coronavirus newsletter
Get the day's latest Coronavirus news delivered to your inbox by subscribing to our newsletter.
---