News > Washington Voices
New martial arts studio on Sullivan
Sat., Jan. 24, 2009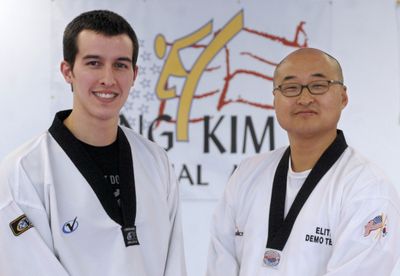 A martial arts master whose reputation stretches from coast to coast recently opened his third Spokane area studio, this one in Spokane Valley.
Jung Kim opened his most recent tae kwon do studio, also called a Dojang, in November in a shopping center along Sullivan Road, and joining an already competitive Valley market for martial arts training.
Kim is a Korean native who moved to New York in 1986 and taught the ancient martial art that originated from his homeland to New York Jets football players and those training at the Big Apple's police academy.
He decided to bring his talent across the country in 1996 for a change of pace and to bring greater emphasis to teaching youth. Kim has studios on the South Hill and in North Spokane and has about 600 students from age 5 to 65-plus.
"This is not just school," Kim says. "This is Jung Kim's tae kwon do family."
Tae kwon do means "kick, punch, the way of life," but Kim says the teachings go beyond the
Local journalism is essential.
Give directly to The Spokesman-Review's Northwest Passages community forums series -- which helps to offset the costs of several reporter and editor positions at the newspaper -- by using the easy options below. Gifts processed in this system are not tax deductible, but are predominately used to help meet the local financial requirements needed to receive national matching-grant funds.
Subscribe to the Coronavirus newsletter
Get the day's latest Coronavirus news delivered to your inbox by subscribing to our newsletter.
---