News > Nation/World
N.Y. governor names Clinton's successor
Upstate lawmaker unknown to many
Sat., Jan. 24, 2009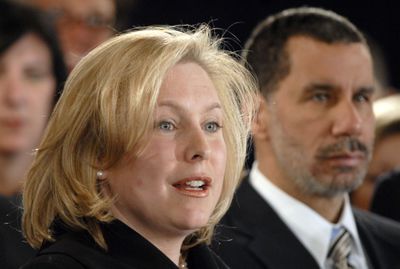 NEW YORK – Gov. David Paterson announced on Friday that Rep. Kirsten Gillibrand, D-N.Y., a second-term congresswoman, will fill the Senate seat left vacant by Secretary of State Hillary Rodham Clinton.
His decision came a day after Caroline Kennedy, daughter of President John F. Kennedy, unexpectedly withdrew her bid for the spot, which Clinton gave up to join the administration of President Barack Obama.
Gillibrand, 42, is an unfamiliar face to many residents of New York. The mother of two from a rural district in Upstate New York, Gillibrand is a conservative Democrat.
She won two elections in one of the state's heaviest Republican districts, defeating a longtime Republican incumbent in 2006 and easily winning re-election in 2008. She is a staunch defender of the constitutional right to bear arms and has publicly shared her experiences firing a gun at an early age. Last year, she voted against the $700 billion Wall Street bailout bill.
"I realize that for many New Yorkers, this is the first time you have heard my name, and you don't know much about me," Gillibrand said in a news conference in Albany on Friday. "Over the next two years, you will get to know me, and more importantly, I will get to know you."
Gillibrand will take over the seat on Sunday; a special election will be held for the seat in November 2010.
Paterson said that he was "95 percent sure" about whom he would choose on Monday and that he made his decision at Tuesday's presidential inauguration.
New York political analyst Joseph Mercurio said he questioned why the governor chose a conservative Democrat as a senator for a progressive state.
"It's a good thing to consider appointing a woman," he said. "But it's a little odd to appoint someone who's been voting against downstate's interests and issues."
"She's supported by NRA," Mercurio said, referring to the National Rifle Association. "She's a Blue Dog Democrat," a reference to the coalition of moderate and conservative Democrats in the U.S. House of Representatives.
Paterson said his decision was not based on gender, race or geographic location.
Gillibrand "has fought for responsible policies every step of the way – middle-class tax cuts, quality and affordable health care, economic security for families and assistance for family farms," Paterson said, adding that she was the lead sponsor of legislation that would implement the recommendations of the Sept. 11 commission.
Gillibrand is a graduate of Dartmouth College. She earned a law degree at the University of California, Los Angeles.
She served in the Housing and Urban Development Department during the administration of President Bill Clinton.
Local journalism is essential.
Give directly to The Spokesman-Review's Northwest Passages community forums series -- which helps to offset the costs of several reporter and editor positions at the newspaper -- by using the easy options below. Gifts processed in this system are not tax deductible, but are predominately used to help meet the local financial requirements needed to receive national matching-grant funds.
Subscribe to the Coronavirus newsletter
Get the day's latest Coronavirus news delivered to your inbox by subscribing to our newsletter.
---