Sports
Out of the lineup, not out of sorts
Harmeling doesn't begrudge Forrest
Sat., Jan. 24, 2009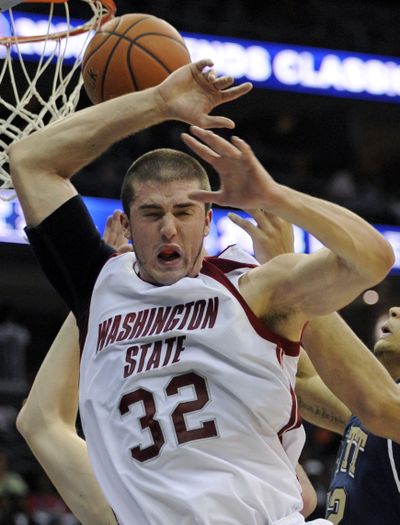 PULLMAN – Caleb Forrest and Daven Harmeling share a friendship common on basketball teams around the world.
It's built upon hour after hour in an arena together, founded on the court but cemented off.
And now these two Washington State seniors are sharing a position, splitting playing time but not the bonds between them.
Harmeling, in his fifth year at WSU, began the season as the Cougars' starting power forward. But the sharpshooter – the 6-foot-8 Grand Junction, Colo., native came into the season having converted 39 percent of his career 3-point attempts – has struggled with his shot.
He's hit just 2 of 14 attempts in Pac-10 play, including 1 of 10 from beyond the arc – and his minutes have diminished.
Against UCLA on Thursday night, Harmeling didn't get off the bench, the first time in his memory he was healthy enough to play and didn't.
His usual 15 minutes or so have in large part gone to Forrest, another 6-8 senior from Colorado, though only in his fourth year since leaving Pagosa Springs.
Forrest is averaging 26 minutes in Pac-10 play, more than double his career average coming into the season. When the Cougars (11-7, 3-3) take Friel Court against USC (12-6, 3-3) this afternoon, it will be Forrest starting and Harmeling waiting his turn.
Is it tough to take minutes from a close friend?
"It would be if he wasn't so happy for me," Forrest said. "We talk a lot about just being proud of each other."
No one was prouder of Forrest's performance against UCLA – a career-high 19 points in 31 minutes – than Harmeling.
"Last night, after the game, it meant a lot to me to hear him after the game say 'I'm so proud of you,' " Forrest said.
Though Harmeling wants to contribute more than just support, the fact Forrest is picking up the slack makes the task of sitting easier.
"If I could pick anyone to give that type of game to, in terms of how well he played, it would be Caleb, just because he deserves it," Harmeling said.
Forrest has earned praise from WSU coach Tony Bennett, though, at 223 pounds, he's not the most intimidating of power forwards.
"Are you saying he doesn't strike the fear of God in those people when they look at him?" Bennett joked when asked if Forrest gets overlooked by most defenses. "He's a scorer. He just has a nose for the basket. … He's got heart. He's one of the toughest kids I've been around."
He's also patient. Besides Harmeling, Forrest also was stuck behind Robbie Cowgill the past three years.
"I knew until he graduated I wasn't really going to get that many minutes," Forrest said of Cowgill. "He was better at that position than I was, because we played the same position."
Harmeling split his time between power forward and small forward last season, coming off the bench to supply offense from either spot. But the Cougars have more depth at the wing, with 6-4 freshman Marcus Capers emerging as the starter at small forward, backed up by junior Nik Koprivica.
It was Capers who missed a late 3-pointer against UCLA, a shot that would have given WSU an upset of the 13th-ranked Bruins. The first person off the bench to console Capers was Harmeling, who missed a possible winner against Vanderbilt two years ago in the second round of the NCAA tournament.
"I've been in that spot, missing shots like that before," Harmeling said. "I told him, 'You think that stinks, try doing into an NCAA tournament to keep a team from a Sweet Sixteen.' I've been there and I know what that feels like."
He also knows what it feels like to contribute to WSU's success. Everyone, including Harmeling, is sure he will again.
"At some point, whether it's (today) or two weeks from tomorrow or at the Pac-10 tournament, wherever it is, I know I'll get a chance somewhere down the road," he said. "I'm just trying to stay mentally prepared to hear my name called and, if I do, just to play with confidence, playing in a way that will help the team."
Local journalism is essential.
Give directly to The Spokesman-Review's Northwest Passages community forums series -- which helps to offset the costs of several reporter and editor positions at the newspaper -- by using the easy options below. Gifts processed in this system are not tax deductible, but are predominately used to help meet the local financial requirements needed to receive national matching-grant funds.
Subscribe to the sports newsletter
Get the day's top sports headlines and breaking news delivered to your inbox by subscribing here.
---