News > Nation/World
Taco Bell must pay $42 million over ads
Men who created mascot sued over contract breach
Sat., Jan. 24, 2009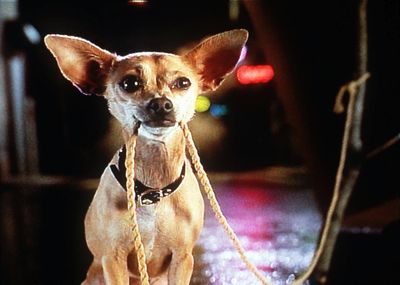 The wise-cracking Chihuahua who earned millions for Taco Bell Corp. – and some criticism from Hispanics as an ethnic stereotype – has a new slogan:
"Yo quiero mi dinero!" – I want my money!
A federal appeals court on Friday ruled that Taco Bell is liable for $42 million in breach-of-contract awards to two Michigan men who created the diminutive mascot that starred in the Irvine, Calif., fast-food giant's $500 million advertising campaign in the 1990s.
TV commercials featured the dog decked out as a beret-sporting revolutionary or bandit in sombrero, stirring some controversy as a derogatory depiction of Mexicans. But the spots featuring the Chihuahua and voice-over artist Carlos Alazraqui were phenomenally successful. The talking dog's refrain "Yo quiero Taco Bell" became a pop-culture punch line, as well as "Drop the chalupa!" – an instant favorite with sports commentators – and "Viva Gorditas!" (long live the little fat ones, the name of one of the food chain's tacos).
The ads stopped running in 2000, freeing the dog, named Gidget, for further fame, with roles in "Legally Blonde 2: Red, White and Blonde" and Geico insurance ads.
Dispute over the rights to market the sassy Chihuahua began in 1998, when Joseph Shields and Thomas Rinks, of Grand Rapids, Mich., filed suit alleging breach of contract. The developers of a "psycho Chihuahua" cartoon had been in talks with Taco Bell advertising agents to adapt the character for TV spots when, the men claimed in their lawsuit, Taco Bell took the idea to another ad agency, TBWA Chiat/Day Inc.
In June 2003, a federal jury in Michigan ordered Taco Bell to pay the creators $30 million, and a federal judge tacked on nearly $12 million more in interest three months later. The judgments prompted Taco Bell to sue TBWA, arguing that the ad agency was liable for the disputed content.
Friday's decision by the San Francisco-based federal appeals court ruled that the fast-food chain, not the ad agency, was responsible for the ads.
Local journalism is essential.
Give directly to The Spokesman-Review's Northwest Passages community forums series -- which helps to offset the costs of several reporter and editor positions at the newspaper -- by using the easy options below. Gifts processed in this system are not tax deductible, but are predominately used to help meet the local financial requirements needed to receive national matching-grant funds.
Subscribe now to get breaking news alerts in your email inbox
Get breaking news delivered to your inbox as it happens.
---