Wave swamps residents along Lake Roosevelt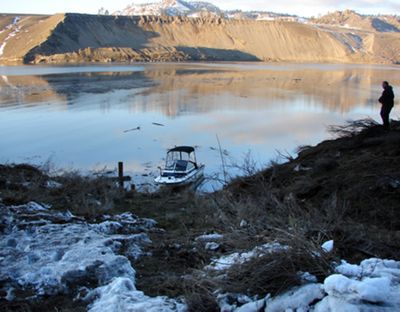 Property owners in the Spokane arm of Lake Roosevelt were swamped by a huge wave caused by a landslide last Friday.
The 17-acre landslide on Jan. 16 near Mill Canyon – northeast of Davenport and downstream from Little Falls Dam – slid into the water, unleashing a wave that reached 30 feet above the full-pool mark across the lake into Breezy Bay, according to Adam Kelsey, chief ranger for the Lake Roosevelt National Recreation Area.
Private docks and vessels were destroyed or damaged for at least 1.5 miles downstream from the site, including Breezy Bay, Moccasin Bay, Sunset Point and Arrowhead Point, he said.
Several vessels moored in the area also were swamped and left beached on land.
The water reached one residence before receding and came up to the foundations of several others.
The extent of the landslide-caused damages was not yet known, Kelsey said, noting that significant land damage and erosion were seen as far as three miles downstream.
The National Park Service has issued a warning for boaters to beware of sediment deposits, floating debris and large trees in the lower Spokane River, especially from Cayuse Cove to Breezy Bay.
More landslides in the area are likely, Kelsey said.
---