Sports
Williams advances as violence erupts in Australia
Sat., Jan. 24, 2009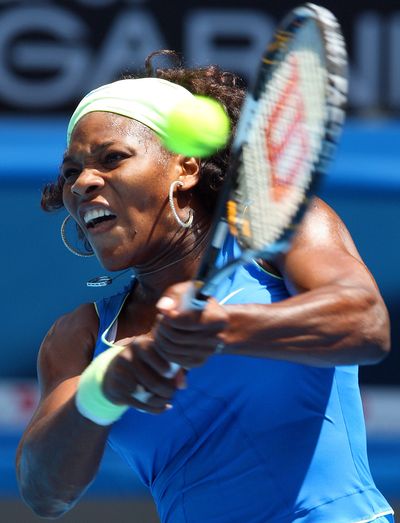 Serena Williams didn't have to deal with any unexpected distractions today, advancing to the fourth round at the Australian Open in Melbourne.
Williams, who won the title here in 2003, 2005 and 2007, started play on Rod Laver Arena on day six with a 6-1, 6-4 win over No. 41-ranked Peng Shuai of China.
The nine-time major winner's victory was routine compared to the previous day at the first major of the season.
A half-naked streaker ran onto the court during Williams' doubles victory with sister Venus. Then ethnic violence flared after Novak Djokovic of Serbia beat Bosnian-born American Amer Delic, leaving a woman injured, two men charged with riotous behavior, 30 people ejected by police and broken chairs scattered over the lawn area at Melbourne Park.
Serena Williams next faces No. 13 Victoria Azarenka of Belarus, who ousted 2006 Australian Open and Wimbledon champion Amelie Mauresmo 6-4, 6-2.
A skirmish between ethnic rivals, the streaker and an upset of Ana Ivanovic combined for an extraordinary Friday.
Serbian and Bosnian fans threw chairs at each other outside Rod Laver Arena following Djokovic's victory. As the players hugged at the net, the first of dozens of chairs flew on the lawn near a big-screen TV showing the match.
Ivanovic's hopes of a return trip to the final fell apart in a 7-5, 6-7 (5), 6-2 loss to 19-year-old Alisa Kleybanova of Russia.
The afternoon violence also overshadowed the night match between second-ranked Roger Federer and former No. 1 Marat Safin. Federer won 6-3, 6-2, 7-6 (5).
Victoria state police Inspector Chris Duthie said the fighting was allegedly sparked when one group threw a tennis ball at another.
Djokovic next plays 2006 runner-up Marcos Baghdatis of Cyprus, who beat No. 23 American Mardy Fish 6-2, 6-4, 6-4.
Football
Chiefs fire Edwards
Herm Edwards, the head coach of the Kansas City Chiefs during the worst two-year span in team history, was fired.
Edwards goes out with a three-year regular-season record of 15-33 and with one year remaining on a four-year, $12 million contract.
As head coach of the New York Jets in 2001-05, he had a regular-season mark of 39-41 and was 2-3 in the playoffs.
Edwards had been waiting to learn his fate since president and general manager Carl Peterson abruptly resigned on Dec. 15. •Reeves interviews with 49ers: Longtime Denver Broncos coach Dan Reeves interviewed for the San Francisco 49ers open offensive coordinator position.
Reeves met with Niners coach Mike Singletary and general manager Scot McCloughan at the team's facility as the team tries to fill the gap created in their coaching staff by Mike Martz's firing Dec. 30.
Reeves was a head coach for 23 seasons in the NFL with Denver, the New York Giants and Atlanta.
But he has been out of coaching since being replaced by Wade Phillips with three games left in the 2003 season with the Falcons.
•Cardinals' Arrington plans to play: Arizona running back J.J. Arrington sat out practice for the second day in a row with a right knee injury but said "I'll be fine" when the Cardinals play the Pittsburgh Steelers in the Super Bowl on Feb. 1.
Golf
Perez maintains lead
Pat Perez, his game steady if not spectacular, shot a 5-under-par 67 to remain two shots in front at the Bob Hope Classic in La Quinta, Calif.
After opening with rounds of 61 and 63 to complete the first 36 holes at 20 under, unprecedented in PGA Tour history, Perez was at 25-under 191 in the 90-hole tournament.
The tour record for the first 54 holes of a tournament is 189, shared by three players.
Steve Stricker shot an 11-under 61 to move into second at 23 under.
•Bryant in front in Hawaii: Brad Bryant birdied nine holes on his way to an 8-under 64 and the early first-round lead in the Champions Tour's season-opening Mitsubishi Electric Championship in Kaupulehu-Kona, Hawaii.
Hale Irwin opened with a 65 and was in second.
Miscellany
Russians win ice dance
Russians Jana Khokhlova and Sergei Novitski captured their first major ice dance title by winning the European championships in Helsinki, Finland.
•Miller struggles in super-G: Klaus Kroell of Austria won a super-G race at Kitzbuehel, Austria, for his first World Cup victory, while Bode Miller of the United States finished 21st.
•James hits buzzer-beater to lift Cavs: LeBron James stepped back under pressure from Ronny Turiaf and knocked down a 19-footer to barely beat the final buzzer, lifting the Cleveland Cavaliers to a 106-105 victory over the Golden State Warriors at Oakland, Calif.
James finished with 32 points, nine rebounds, eight assists, three steals and two blocked shots.
•Santa Clara downs San Francisco: John Bryant had 18 points and 12 rebounds to help Santa Clara (8-13, 1-4) get its first West Coast Conference win of the season, 70-54 over San Francisco (8-12, 0-5) at Santa Clara, Calif.
•Armstrong likely out of running: Lance Armstrong's chances of winning his comeback race have taken a big hit.
Allan Davis has won the penultimate stage of the Tour Down Under and will carry a big lead into Sunday's sixth and final stage around Adelaide. Armstrong finished among the main bunch and said he was happy with his performance. He had been in 38th place overall going into Friday's stage.
•NASCAR race rained out: Persistent rain washed racing in the NASCAR Toyota All-Star Showdown at Irwindale, Calif., forcing officials to set all three races for today.
Local journalism is essential.
Give directly to The Spokesman-Review's Northwest Passages community forums series -- which helps to offset the costs of several reporter and editor positions at the newspaper -- by using the easy options below. Gifts processed in this system are not tax deductible, but are predominately used to help meet the local financial requirements needed to receive national matching-grant funds.
Subscribe to the sports newsletter
Get the day's top sports headlines and breaking news delivered to your inbox by subscribing here.
---