News > Features
Abdul's pleased to be the heart of 'Idol'
Sun., Jan. 25, 2009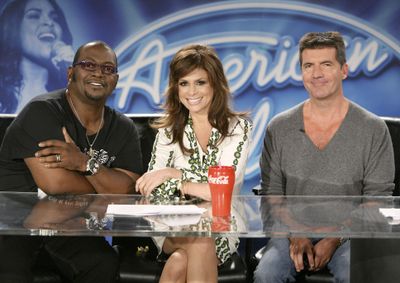 The glittering frenzy of the Paula Abdul Road Show moves swiftly through the lobby of the Universal Hilton, trailing publicists, managers, assistants and a miniature dog.
At the center of the promotional sideshow – a flashy component of the relentless publicity machine behind Fox's "American Idol" – is Abdul.
Much of the hoopla around "American Idol" and its annual splashdown on the pop culture sea revolves around Abdul – and her supposed unpredictable and erratic behavior. And each season seems to bring a new controversy.
As "Idol" returns, there are questions about Abdul, her relationship with new judge Kara DioGuardi and the death of an alleged stalker outside her home last year.
(An L.A. coroner ruled that Paula Goodspeed, who had auditioned on "Idol," committed suicide by prescription drug overdose.)
At a news conference at the hotel, Abdul, DioGuardi and producers fielded a flurry of aggressive inquiries from news-hungry television reporters. Abdul was responsive and upbeat during the session, held during the semiannual gathering of the nation's television critics.
"I'm very happy at where things are now," Abdul said as she relaxed after the session. "I don't let any of this stuff get to me. I rise like a phoenix, like a stealth warrior."
Abdul is quick to remind anyone who will listen that there's more in her life than "Idol." The former Lakers cheerleader is ecstatic about "Rah! Paula Abdul's Cheerleading Bowl," a competition that aired in early January on MTV.
And she was even able to chuckle when told about the daylong marathon in December of "Hey Paula," the reality series that frequently showed her in an unflattering light – belittling assistants, throwing tantrums and consumed by emotional fits, crying about how the media had targeted her.
But it's her seat among the "Idol" judges that has led her to become, as she puts it, "the most misunderstood person."
"The producers must be so happy that I can create controversy," she said. "They must think I'm doing something to create controversy when it's me just minding my own business."
She fingers fellow judge Simon Cowell.
"All of this stuff happens because people want to hold on to something," she said. "Simon got a kick out of making me seem like I was crazy, like I was out of it. Now it's gotten to the point where it has to simmer down."
Despite all the rumors and tempests, Abdul is happy and committed to her "Idol."
"I do feel like the luckiest girl in the world, to be on a show that will go down as the biggest in TV history," she said. "I'm proud to be the heart of that show, the wizard behind the curtain that makes it a family show. With Randy (Jackson) and Simon, that heart's not there. The kids look at me when they sing, because they know I will give them support."
The birthday bunch
Journalist Edwin Newman is 90. Actor Dean Jones is 78. Blues singer Etta James is 71. Actress Leigh Taylor-Young is 64. Actress Dinah Manoff is 51. Country drummer Mike Burch of River Road is 43. Singer Kina (Brownstone) is 40. Actress Ana Ortiz is 38. Singer Alicia Keys is 28.
Local journalism is essential.
Give directly to The Spokesman-Review's Northwest Passages community forums series -- which helps to offset the costs of several reporter and editor positions at the newspaper -- by using the easy options below. Gifts processed in this system are not tax deductible, but are predominately used to help meet the local financial requirements needed to receive national matching-grant funds.
Subscribe to the Coronavirus newsletter
Get the day's latest Coronavirus news delivered to your inbox by subscribing to our newsletter.
---