News > Idaho
Food banks hit by winter
Sun., Jan. 25, 2009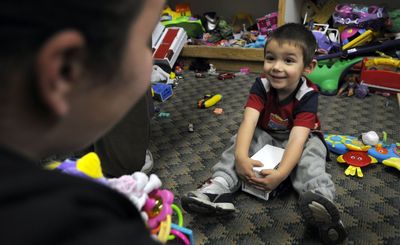 With the pressures of a hard winter and a bad economy, some North Idaho charities fear the cupboard will be bare long before spring.
"The weather didn't do us any favors," said Jeff Conroy, executive director of St. Vincent de Paul of North Idaho, which serves the five northern counties. "Snow removal killed us."
The agency provides housing services and must clear snow at its housing complexes.
"The city blew their budget up, and we're no different," Conroy said.
Compounding the problem is that the heavy snow kept all but the hardiest shoppers away from the thrift stores, which generate most of the agency's income. Donations to the thrift stores declined, too. Traffic, however, has started to pick up.
"It's back to what it was pre-snow," Conroy said.
One outgrowth of the sour economy offers the agency a slice of hope: More people are likely to shop at thrift stores.
"That's where we were headed before the last snowstorm," Conroy said. "The middle class has found us. They're checking us out before they head to the mall."
The Post Falls Food Bank experienced a significant weather-related loss last month. In December, snow on the building's roof slid off all at once and knocked out the electrical system, triggering the failure of the food bank's four freezers. The freezers had to be quickly emptied and the contents distributed to soup kitchens. The cost to replace the meat? Roughly $17,000.
While little of the meat went to waste, the food bank is still in a tight spot, board member Mark Jones said. When clients come to get their monthly meat distribution, there's none to give.
"We have nearly 200 cubic feet of freezer space that's near empty," he said.
The food bank finds itself in the same position as other area charities: serving more people with fewer dollars. Overall, said food bank manager Cathy Larson, the agency is doing OK, buffered by the community's generosity over the holiday season. But it could be a lean spring and summer.
In 2007, the agency distributed 53,000 food boxes items to clients and soup kitchens. In 2008, that number jumped to 78,674.
Kevin Kram, executive director of Cherished Ones Ministries, which runs a Saturday night soup kitchen in Coeur d'Alene, said things are slow all over.
"Just talking to people, everybody's down," he said.
In one aspect, his organization's program was down in a surprising way. Fewer people in recent weeks were coming in for Saturday's meal. "Right now the numbers are down a little bit because a lot of the guys that we usually serve have been working, digging snow and shoveling roofs," Kram said. "Within a week they'll be back."
Cherished Ones served more than 10,000 meals last year. With the economic crisis hovering and layoffs hitting around the region, he doesn't expect that number to go down.
"One of the things I'm seeing that's encouraging, even with the economy going belly up, is a lot of people are helping each other more," Kram said.
Carolyn Lamberson
Spot breath checks
Local bar-goers and barkeepers have a new tool to tell when enough is enough.
An electronic portable breath alcohol tester has debuted in at least one Post Falls establishment, the Slab Inn. Patrons can feed a dollar into the device for a quick check on their blood-alcohol content.
More than 13,000 Americans killed every year in drunken driving-related accidents. The machines are designed to help change that.
"It is a good tool to have," said Deborah Berlin, who co-owns the Slab Inn with her husband, Randy. The business has hosted countless country jamborees and live shows over the years.
"If you have a question about whether someone should be driving or not, the machine can quickly answer it," she said.
The Alcohol Alert breath analyzer was introduced to the area by Wade Anton, of Post Falls, the regional distributor of the $3,300 coin-operated device. So far, Alcohol Alert at the Slab Inn has measured the blood-alcohol levels of about 250 patrons since it was installed Dec. 10.
"With the amount of drunk-driving issues in the state, and in every state throughout the U.S., I thought it was a good idea," Anton said. "My opinion is that anytime you are blowing into the machine, you are being educated. … For a dollar – after they've had a couple drinks – they can see where they're at."
The readings range from white (no alcohol detected) to red at or above the legal limit of 0.08).
"Do not drive, you are legally intoxicated!" the breathalyzer proclaims at the red level.
Anton, a recovering alcoholic, views his role as distributor of the Arizona-based KeRo Corp.'s Alcohol Alert system as a personal responsibility.
"I'm 42 now; for 16 of those years I spent overindulging in alcohol," he said. "… If there was a machine like this when I was drinking through the years, I think I wouldn't have driven drunk."
Jacob Livingston
Playground for all
A new Spokane Valley playground will use uneven terrain to create a level playing field for people with disabilities, the City Council was told Tuesday.
"I think this is a wonderful design," Councilwoman Rose Dempsey said when consultants explained how people on rollerblades, tricycles and wheelchairs can all appreciate the undulating "Wavy Walk."
Dempsey wondered, though, how something to be called Discovery Playground squares with the original concept of a "children's universal park" inside Mirabeau Point Park.
Parks Director Mike Stone said he thought it was confusing to talk about a park in a park. Also, he favored a name that wouldn't discourage use by people of all ages.
As the park's theme is the exploration of Eastern Washington, Discovery Playground seemed an appropriate name, Stone said. After all, there will be an Elk Valley Picnic Plaza, Palouse Prairie Rolling Hills and a Salmon Art Wall.
Also, Stone said the proposed name will help people locate the playground, which will be on Discovery Place directly across from the CenterPlace community center.
Consultant Carol Henry, of Lafayette, Colo.-based Design Concepts, said the park will include a number of elements that allow children to do things on their own. They can make music with chimes, drums or other outsize instruments, they can communicate across the playground through speaking tubes, and they can tell time using their bodies as the shadow-casting gnomon of a sundial.
They can explore an herbal sensory garden, search a fossil maze or look for the Secret Garden with larger-than-life objects such as giant flower pots, a swinging bridge and a vine tunnel. They can play on swings or splash in the Steelhead Trout River Bed.
A class-size amphitheater will be available for teachers who want to present a lesson.
"I fully expect that this is going to be a destination site, and it will draw people from outside the area," Stone said.
John Craig
Local journalism is essential.
Give directly to The Spokesman-Review's Northwest Passages community forums series -- which helps to offset the costs of several reporter and editor positions at the newspaper -- by using the easy options below. Gifts processed in this system are not tax deductible, but are predominately used to help meet the local financial requirements needed to receive national matching-grant funds.
Subscribe to the Coronavirus newsletter
Get the day's latest Coronavirus news delivered to your inbox by subscribing to our newsletter.
---