News > Nation/World
Hoosier crowned Miss America
Sun., Jan. 25, 2009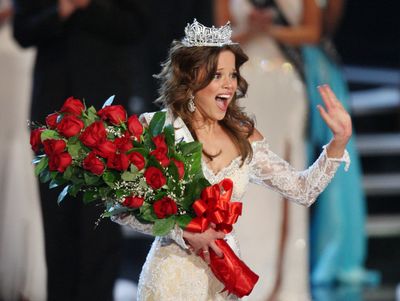 Katie Stam, of Indiana, was crowned Miss America on Saturday night, fighting off a throat infection, laryngitis and 51 other contestants to win the 88-year-old pageant.
The 22-year-old University of Indianapolis student drew loud applause for her rendition of "Via Dolorosa" during the talent portion of the pageant at Planet Hollywood Resort & Casino on the Las Vegas Strip.
During the interview portion of the competition the Seymour native decried the use of performance-enhancing drugs among professional athletes and discussed the definition of glamour.
"That beauty that you feel on the inside, it's that confidence, that radiance inside of you, that's what glamour is," Stam said.
Stam won a $50,000 scholarship and hopes to obtain a bachelor's degree in communications and become a television news anchor. She began competing in pageants at age 15.
Houston
Waco leader's mother killed
The mother of infamous Branch Davidian sect leader David Koresh has been stabbed to death, and Koresh's aunt was in custody on a murder charge Saturday.
Bonnie Clark Haldeman, 64, was found Friday afternoon at the home of her sister, Beverly Clark, in a rural area near Chandler, Henderson County, Sheriff Ray Nutt said. Chandler is about 175 miles north of Houston.
"It's still under investigation, and we really don't know what the motive was or what caused this to happen," Nutt said Saturday.
Clark, 54, was being held without bail pending a court appearance.
New York
21 Club loosens dress code
It's the 21 Club for the 21st century.
In a concession to changing sartorial norms, the storied Manhattan restaurant known for its traditional atmosphere and powerbroker clientele has stopped requiring men to wear ties at dinner. The change took effect Friday, spokeswoman Diana Biederman said.
The management realized standards of proper dress have changed, and the economic downturn has made the 79-year-old establishment more conscious of encouraging business, she said.
Neckwear became optional at lunch years ago. "Times change. … We have to move forward, " Biederman said.
Still, 21 is hardly going casual: Men still must wear jackets, and jeans and sneakers are out for everyone.
From wire reports
Local journalism is essential.
Give directly to The Spokesman-Review's Northwest Passages community forums series -- which helps to offset the costs of several reporter and editor positions at the newspaper -- by using the easy options below. Gifts processed in this system are not tax deductible, but are predominately used to help meet the local financial requirements needed to receive national matching-grant funds.
Subscribe to the Coronavirus newsletter
Get the day's latest Coronavirus news delivered to your inbox by subscribing to our newsletter.
---