News > Nation/World
Pilot receives hero's homecoming
'Sully' humble, brief in talk to thousands at town rally
Sun., Jan. 25, 2009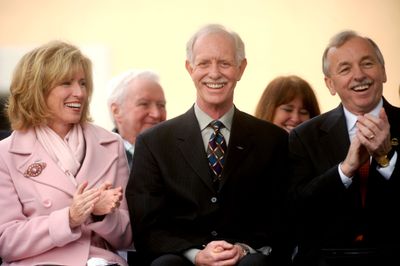 DANVILLE, Calif. – The US Airways pilot who deftly landed a disabled passenger jet in New York's Hudson River, saving 155 lives, told a cheering crowd of thousands Saturday that he simply did his job.
Danville, a well-to-do suburb east of San Francisco, welcomed back Capt. Chesley B. "Sully" Sullenberger III and hailed him as its "hometown hero" in an outdoor ceremony with brass and marching bands, bagpipes, plaques and proclamations, and a slew of speeches by local officials. A retired fighter pilot in a P-51 Mustang even buzzed the event.
Sullenberger, in a dark suit and tie, sat on a stage next to his wife, Lorrie, and smiled and placed his hand over his heart as the crowd whooped and hollered, waved small American flags and hoisted signs that read, "Sully's Soaring Saved Souls," "Sullyfied Hero" and "Excellent Landing!" The Sullenbergers' two teenage daughters, Katie and Kelly, watched from the front row.
When it came time to speak, the tall, thin, gray-haired Sullenberger was a man of few words. He said it was "great to be here in Danville" and expressed his family's gratitude for the celebration. He made only a brief mention of the event that has won him worldwide fame.
"I know I speak for the entire crew when I tell you we were simply doing the jobs we were trained to do," Sullenberger said in a strong, clear voice. "Thank you."
With that, he sat down, and the crowd again erupted. Parents held children on their shoulders to catch a glimpse of their now-famous neighbor on the Town Green, bordered with naked sycamore trees and American flags and jammed with people.
Lorrie Sullenberger, wearing a pink jacket and dark slacks, also addressed the crowd, weeping.
"I seem to have this uncontrollable problem with my tears lately," the fitness expert said.
She said she and her husband were "breathtaken" when they first glimpsed the large crowd, and she spoke of her love for the town, its annual Easter egg hunts, holiday tree lightings and Fourth of July parades.
"It felt so good to come home the other day to such a safe place," she said, referring to their return from Washington, where the family was invited to attend President Barack Obama's inauguration.
She called her husband "the most honorable man I know," and said she was not surprised that the harrowing incident had ended well "because I know my husband."
To her, she said, Sullenberger was simply "the man who makes my cup of tea every morning."
Sullenberger, who turned 58 on Friday, asked town leaders to keep the event low-key. To accommodate his wishes, the ceremony lasted a mere hour.
Local journalism is essential.
Give directly to The Spokesman-Review's Northwest Passages community forums series -- which helps to offset the costs of several reporter and editor positions at the newspaper -- by using the easy options below. Gifts processed in this system are not tax deductible, but are predominately used to help meet the local financial requirements needed to receive national matching-grant funds.
Subscribe to the Coronavirus newsletter
Get the day's latest Coronavirus news delivered to your inbox by subscribing to our newsletter.
---