News > Spokane
Funding loss puts ride service at risk
Care Cars has money to operate through February
Mon., Jan. 26, 2009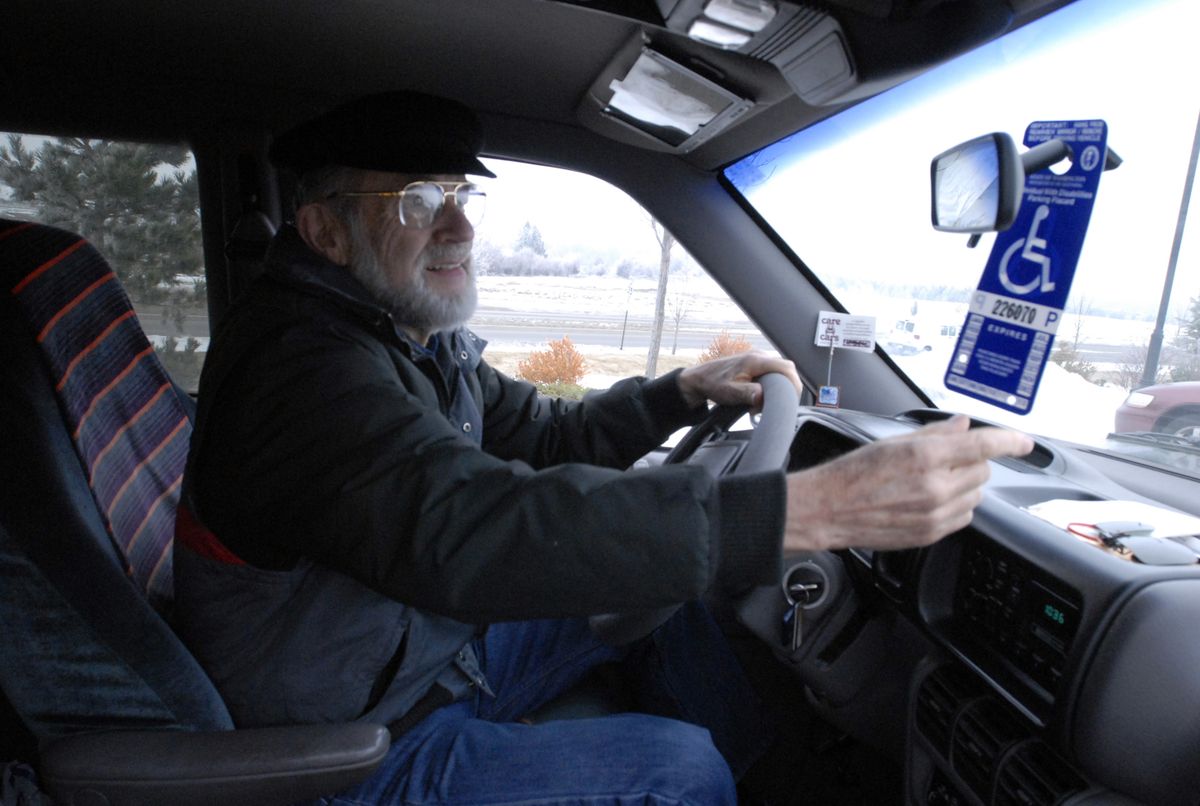 Sherm Phillips is a volunteer driver three days a week for Care Cars for Elders, a volunteer transportation service for seniors who need escorted assistance getting to medical appointments. "We stay with them while they're at their appointments," he said. "We receive much more than we give. You can't imagine the stories they tell me." (J. BART RAYNIAK / The Spokesman-Review)
Dementia has stolen most of her cognitive powers. If left alone in a doctor's office, she would forget where she is and begin to wander.
She no longer understands the concept of time, making a drop at a bus stop a dangerous prospect. Yet, the woman – whose identity was withheld to protect her dignity – retains the freedom of living alone.
"She is an example of the client we have," said Michael "Mac" Hatcher, who helps supervise Care Cars for Elders at Spokane Mental Health. "We take the people who can't use any other kind of transportation."
But the program, like growing numbers of social services, is struggling financially as economic turmoil wreaks havoc on federal, state and local budgets. The city of Spokane, for example, discontinued its allocations to Care Cars this year, and Spokane County gave the program just enough to stay open through next month. Federal grants dried up five years ago.
Since 1984, Care Cars for Elders has provided rides for residents 60 and older who have mental or physical disabilities that make them unable to use a bus or taxi. Others are more mobile but don't have family on whom to rely, or they simply live outside the service area of Spokane Transit Authority.
"These people need us. They need this program," said Karen Bias, who administers elder services for Spokane Mental Health, a nonprofit agency. "Without us they will just remain home until they have a medical crisis."
The program provided 3,599 trips to doctors for 242 frail and elderly clients last year. The service has one full-time employee who mostly finds volunteer drivers. Another part-time employee schedules pickups, Hatcher said. The rest of the money goes to reimbursing volunteer drivers for the more than 50,000 miles they drive each year to doctor visits.
Last year, the city of Spokane and Spokane County gave a combined $125,000 to the service. But this year, the city declined to fund it, and county commissioners slashed its contribution from $75,000 in 2008 to $25,000 this year.
That's just enough to fund the service through February, Hatcher said.
"This is really kind of a scary time for us," Hatcher said. "I'm just concerned now with the bad economy and lower tax revenues, it's kind of a perfect storm for Care Cars."
Bias said the service is a bargain. Otherwise, these clients would be forced to call 911, leaving others to pay for the costly ambulance trips and unpaid hospital stays.
"We are not going to give up," Bias said. "We won't give up until the doors close. But things, as Mac said, are looking fairly bleak at this point."
The program originally had been paid through federal grants, said Nick Beamer, the executive director of Aging and Long Term Care of Eastern Washington. But that funding shifted to the western part of Washington after the 2000 census showed that the population of 60 and older residents was growing much faster there, Beamer said.
That forced his agency's independent council to shift funds in 2004 to cover two other higher priorities: affordable health care and housing. The program was able to continue at that time because the county stepped forward.
This year, though, commissioners spent several days debating how much and where to fund outside programs and agencies. In the end, the county agreed to give $590,000 to programs including the Chase Youth Commission and Greater Spokane Inc., which received $225,000.
The total grants were more than $800,000 less than those awarded to agencies in the 2008 budget, said Jennifer Pearson Stapleton, county grants administrator.
"The cut wasn't from the perspective that it's not a valuable service," Pearson Stapleton said of the $50,000 reduction in funding to Care Cars. "One of the problems they have is they don't have a strong diversification. The county can't do it alone."
She pointed out that the county did fully fund the $20,000 request from Special Mobility Services Inc., which provides about 13,500 rides a year to seniors and disabled residents living in north Spokane County, including Deer Park, Elk, Colbert and Chattaroy.
Pearson Stapleton noted she and other county leaders understand that Special Mobility Services doesn't provide a comparable service to the more intensive needs of clients with Care Cars.
"I guess it's an appeal to the community that it's a vital service," she said. "What the county hopes to do is encourage others in the community, including municipalities and private community members, to support this important program."
About 60 percent of the clients live inside Spokane city limits. A request to the city for $67,689 was turned down by the city's Human Services Advisory Board. It did, however, partially fund three other funding requests for other programs at Spokane Mental Health.
The rest of the Care Cars clients live in Spokane Valley and in unincorporated areas, Hatcher said. The program is essential for helping clients remain in their own homes rather than being transferred to care facilities or hospitals.
"It's … cost effective to have this program," Hatcher said. "But getting the money to the right places is sometimes easier said than done."
Sherm Phillips, 75, said he hopes the program survives. He's entering his fifth year as a volunteer driver for Care Cars.
"There will be some people who don't have a way to get to their doctors. It's plain and simple as that," Phillips said. The clients "are so appreciative. People tell me, 'I don't know what I would do without this service.' It makes it worthwhile."
Local journalism is essential.
Give directly to The Spokesman-Review's Northwest Passages community forums series -- which helps to offset the costs of several reporter and editor positions at the newspaper -- by using the easy options below. Gifts processed in this system are not tax deductible, but are predominately used to help meet the local financial requirements needed to receive national matching-grant funds.
Subscribe now to get breaking news alerts in your email inbox
Get breaking news delivered to your inbox as it happens.
---