News > Spokane
Streep, Penn garner SAG's highest honors
Heath Ledger wins posthumous award for 'Dark Knight'
Mon., Jan. 26, 2009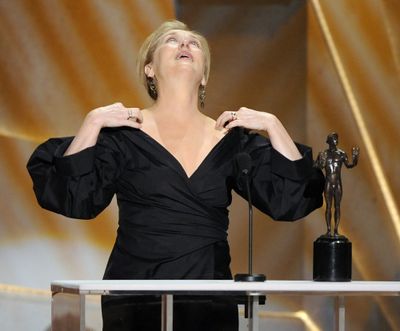 LOS ANGELES – Meryl Streep of the Roman Catholic drama "Doubt" and Sean Penn of the Harvey Milk film biography "Milk" won lead-acting honors Sunday at the Screen Actors Guild Awards.
The prize for overall cast went to the rags-to-riches saga "Slumdog Millionaire," while Heath Ledger of Batman blockbuster "The Dark Knight" and Kate Winslet of the Holocaust-themed drama "The Reader" took supporting honors.
"Can I just say there is no such thing as the best actress, there is no such thing as the greatest living actress," said Streep, the Academy Awards record-holder with 15 acting nominations, including one for "Doubt," in which she plays an old-school nun in a war of wills against a progressive priest.
"I am in a position where I have secret information, that I know this to be true," she said. "I am so in awe of the work of the women this year – nominated, not nominated – so proud of us girls. And everybody wins when we get parts like this."
Penn played gay-rights political pioneer Milk but said the film had a universal theme.
"As actors, we don't play gay, straight. We don't play any of these kinds (of roles). We play human beings, and this movie is something that all of us involved are so proud of," Penn said. "This is a story about equal rights for all human beings."
A low-budget film with a cast of unknowns, "Slumdog Millionaire" continued to live up to its story line about a poor boy who rises from squalor on the streets of Mumbai to find love, fame and fortune as a champion on India's version of "Who Wants to Be a Millionaire."
Co-star Anil Kapoor, accepting on behalf of the "Slumdog" cast, dedicated the award to the children in the cast.
"They deserve this award. They set our performances," he said. "It's the children who've done it, not us."
Ledger's supporting-actor prize for his sociopathic reinvention of Batman bad guy the Joker put the late actor a step closer to becoming just the second performer to win a posthumous Academy Award. The first was Peter Finch, the best-actor recipient for 1976's "Network."
The award was accepted by "The Dark Knight" co-star Gary Oldman.
"I'm quite emotional," Oldman said. "It is a great honor to be asked to accept this on behalf of Heath. He was an extraordinary young man with an extraordinary talent, and it is wonderful that you have acknowledged that and honored that talent tonight."
Oscar buzz has been flying over Ledger's performance since before his death just over a year ago from an accidental overdose of prescription drugs. With the SAG win and the Golden Globe, Ledger now looks like a virtual lock to receive the supporting-actor Oscar on Feb. 22.
Winslet offered a tribute to the late Anthony Minghella and Sydney Pollack, both producers on "The Reader," and said 2008 was a fabulous year for films.
The role already earned Winslet the same prize at the Golden Globes, where she also won lead dramatic actress for "Revolutionary Road." But at the Oscars, Winslet has just one nomination, as lead actress for "The Reader," in which she plays a former concentration camp guard.
As it did at the Golden Globes, "30 Rock" swept the TV comedy honors, Tina Fey and Alec Baldwin taking the individual acting prizes and the show winning the ensemble cast award.
Fey, creator and star of the series set behind the scenes at a sketch-comedy show, lobbed a wisecrack at Hollywood producers, who have battled Hollywood trade guilds over potential profits from Web programming.
Joking that one day, her young daughter would be old enough to watch reruns of "30 Rock" on the Internet, Fey said: "She'll look up at me and say, 'What do you mean, you don't get residuals for this?' "
Hugh Laurie, who won his second straight SAG prize for best actor in a TV drama for the medical show "House," joked that he was disappointed one of his fellow nominees did not win.
"I actually had a hundred dollars on James Spader (of "Boston Legal")," Laurie said. "This is just not my night."
James Earl Jones was honored with the guild's lifetime-achievement award for a career that included roles in "Dr. Strangelove," "Field of Dreams," "Cry, the Beloved Country" and "The Man," in which he played the first black U.S. president.
The ceremony featured clips highlighting Jones' rumbling bass voice as the mouthpiece of "Star Wars" villain Darth Vader, the noble patriarch in "The Lion King," even cable news with his "This is CNN" announcements.
Local journalism is essential.
Give directly to The Spokesman-Review's Northwest Passages community forums series -- which helps to offset the costs of several reporter and editor positions at the newspaper -- by using the easy options below. Gifts processed in this system are not tax deductible, but are predominately used to help meet the local financial requirements needed to receive national matching-grant funds.
Subscribe to the Coronavirus newsletter
Get the day's latest Coronavirus news delivered to your inbox by subscribing to our newsletter.
---
Subscribe and log in to the Spokesman-Review to read and comment on this story