News > Nation/World
GOP unswayed by Obama on stimulus plan
Wed., Jan. 28, 2009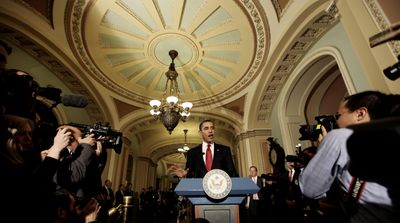 WASHINGTON – Trying to build support for his $825 billion economic stimulus plan before a crucial vote, President Barack Obama traveled to Capitol Hill on Tuesday but continued to meet a stubborn wall of complaints from Republicans that the cost of the package was unacceptable.
Republicans praised Obama for listening to their concerns, but many said afterward that they would not support the proposal.
The House is set to vote on the package today. There seemed little chance that Republicans, who lack sufficient numbers, could have much effect on the plan before it headed to the Senate.
Asked if the session with Obama had swayed votes, Rep. C.W. "Bill" Young, R-Fla., said, "I doubt that. This package has his brand on it, and I don't think he's prepared to change much."
Still, Obama appeared to be trying to pressure Republicans to get aboard.
"The main message I have is that the statistics every day underscore the urgency of the economic situation. The American people expect action," Obama said between separate meetings with House and Senate Republicans.
The measure the House is expected to vote on today is designed to provide immediate stimulus to the economy through tax cuts and federal spending on so-called "shovel-ready" construction and other projects, such as bridge and highway improvements, school renovation and home winterization. In addition, the bill would fund improvements in the electric power grid, Internet accessibility and other projects intended to encourage and sustain longer-term economic growth.
The bill also contains billions of dollars to strengthen the nation's social safety net by extending unemployment benefits, helping those who lose their jobs maintain health insurance, and providing aid to states whose social services budgets are overtaxed.
In all, $550 billion of the total would fund aid to states and other spending, and $275 billion would go toward tax cuts – including $500 for individuals and $1,000 for couples who earn to little to pay federal taxes.
Local journalism is essential.
Give directly to The Spokesman-Review's Northwest Passages community forums series -- which helps to offset the costs of several reporter and editor positions at the newspaper -- by using the easy options below. Gifts processed in this system are not tax deductible, but are predominately used to help meet the local financial requirements needed to receive national matching-grant funds.
Subscribe to the Coronavirus newsletter
Get the day's latest Coronavirus news delivered to your inbox by subscribing to our newsletter.
---