News > Spokane
Boeing posts loss, says job cuts will total 10,000
Delays from strike, 747-8 problems cited
Thu., Jan. 29, 2009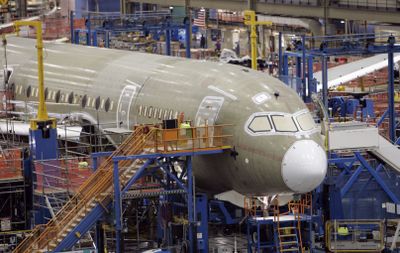 With a global recession grounding air travel and demand for passenger jets, Boeing Co. said Wednesday that it will cut about 10,000 jobs, or 6 percent of its work force.
The job action was announced as Chicago-based Boeing reported losing $56 million in the fourth quarter compared with a profit of $1.03 billion a year ago.
The losses stemmed from a strike that stopped aircraft production and led to 70 fewer aircraft deliveries in the quarter. The delayed deliveries reduced quarterly revenue by $4.3 billion. Earnings were also hurt by problems with developing a larger version of the 747 jumbo jet, called the 747-8, Boeing said. In all, quarterly revenues fell 27 percent to $12.68 billion from $17.48 billion a year ago.
Still, the results were not as bad as some investors were expecting. In Wednesday's trading Boeing shares inched up 2 cents to $43.24.
Boeing Chief Executive Jim McNerney said in a teleconference call with analysts Wednesday that it planned to reduce payroll "through a combination of attrition, retirements and layoffs."
"The global economy continues to weaken and is adversely affecting air traffic growth and financing," McNerney said. The company has a total work force of about 162,000 with about 68,000 in its commercial aircraft unit and nearly 70,000 in its defense business. The remainder work in other aerospace-related subsidiaries.
Boeing officials said they were not sure yet how many of the 10,000 would involve layoffs, but last fall McNerney told employees that he expected the work force to fall 4 percent to 5 percent as the company forgoes filling positions left open by retirement or attrition. A Boeing official said many of the cuts are expected in back-office support work.
The job cuts include a previously announced elimination of 4,500 positions in its commercial-aircraft-making business.
Although the outlook for its commercial aircraft business grew increasingly cloudy, Boeing's defense business, which typically contributes about half of the company's revenues, seemed unfazed by the economic downturn.
Boeing said defense revenues fell 4 percent to $8.04 billion, mainly because of timing of deliveries of its military aircraft and increased spending on research and development. But new contract victories in the quarter bolstered its backlog of military orders it still needs to complete from $41.8 billion last year to $45.3 billion.
In an e-mail message, defense unit President James Albaugh praised employees for the unit's 2008 results and said he remained "optimistic" for 2009.
Mike Mooney, director of the Inland Northwest Aerospace Consortium, said Wednesday Boeing's planned layoffs had not affected suppliers in the Spokane area. The consortium has about 40 members, including Kaiser Aluminum Corp., Triumph Composite Systems Inc. and Goodrich Corp.
Staff writer Bert Caldwell contributed to this report.
Local journalism is essential.
Give directly to The Spokesman-Review's Northwest Passages community forums series -- which helps to offset the costs of several reporter and editor positions at the newspaper -- by using the easy options below. Gifts processed in this system are not tax deductible, but are predominately used to help meet the local financial requirements needed to receive national matching-grant funds.
Subscribe to the Coronavirus newsletter
Get the day's latest Coronavirus news delivered to your inbox by subscribing to our newsletter.
---