News > Washington Voices
Family hopes through hardships
Father's job loss comes as daughter fights cancer
Thu., Jan. 29, 2009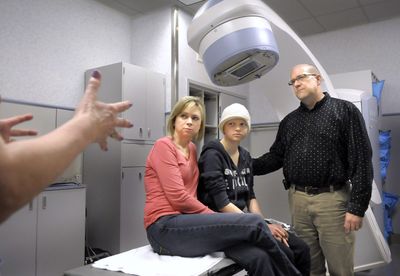 If bad things happen in threes, then the Baumann family has had its allotted share of misfortune.
In April 2007, Tami Baumann, then 46, underwent open-heart surgery to correct a congenital heart defect. The unexpected surgery came as "a total shock," her husband, Mike, said.
While spending time in a family visiting room at the hospital, the North Side couple watched a boy enter with his parents. He was a cancer patient, his bald head pale under the lights, and he pulled an IV pole alongside him. The Baumanns turned to each other and asked, "How do families deal with something like that?"
On Oct. 18, they found out. Their daughter, 12-year-old Hannah, was diagnosed with Hodgkin's Lymphoma. Hannah, an avid dancer, had just been selected to dance with the Moscow Ballet in their performance at the Martin Woldson Theater at the Fox. Her doctors agreed to delay her treatment so she could perform with the company. On Oct. 30 she danced at the Fox. On Oct. 31, she began chemotherapy.
The family has scrambled to adjust to a life that includes doctor visits, medications and frequent trips to Sacred Heart Medical Center Children's Hospital. Tami Baumann took a leave of absence from her job as a dental assistant to care for Hannah.
Just when they thought they'd found some sort of equilibrium, Mike, 48, lost his job as a mortgage loan officer with a local bank. Jan. 15 was his last day. If he doesn't find a job with medical benefits by the end of the month, their medical coverage will cease. They have the option to continue their insurance through the COBRA temporary medical coverage program, but the cost is prohibitive – an estimated $800 per month. "If we paid COBRA and our house payment, we could make it three months before we're on the street," said Tami. "It's been a domino effect. We went from two good jobs, to one job, to none."
Recently, the Baumanns gathered at their kitchen table to discuss the unexpected turn their lives have taken. Hannah has lost her long blonde hair due to chemo, but her grin is warm and her blue eyes shine with intensity when she talks about her love of dance.
"I like tap the best," she said. "I do a tap routine to Michael Buble's 'Crazy Little Thing Called Love.' " As she spoke she slid a green bracelet up and down her thin arm. The bracelets, with the words "A Thing Called Love" printed on them, sell for $3 at Dance Emporium, and the proceeds are used to help cover her medical expenses.
She recalled the day her life changed. "I'm allergic to nickel," she said. "I was wearing a necklace that gave me a rash." While removing the necklace and rubbing her neck, she'd felt a lump. "I showed my mom."
Hannah went to dance class, and then, since it was a Saturday, her parents took her to a minor emergency center. The doctor ordered a chest X-ray. Mike will never forget what happened next.
"The doctor came into the room, grabbed my hand and Hannah's and said, 'I'm not an expert, but what I can tell you is this is serious.' Then he choked up," Mike said, his own eyes filling with tears at the memory.
From there they went straight to Sacred Heart Medical Center, where a CT scan revealed several large tumors in Hannah's chest. She ended up spending four days in the hospital. Her parents could barely process what was happening. "She had no symptoms at all," Tami said.
The one piece of good news: Hannah's oncologist expects her to make a full recovery.
"We were fortunate to catch it early," Tami said.
Hannah has completed chemo and is expected to begin radiation treatment this week. And she's still dancing, though not as often. Also, she's been pulled from school because of her weakened immune system.
"I miss going to school," she said.
The Baumanns said Hannah's friends at Woodridge Elementary have been wonderfully supportive, and so have their neighbors and the Dance Emporium community. "We don't know how to thank them," said Mike.
Camille Camp, owner of Dance Emporium, said of the Baumanns, "They've had a rough two years. Every time I turn around there's more bad news." Hannah is a member of the studio's Starz Competition and Performing Company. Each year the group hosts a benefit to raise funds for local charities. This year, the proceeds of their March 22 performance will go to Hannah.
"She's a very talented dancer," said Camp. "Her parents are truly wonderful people. We're just hoping and praying that a job will turn up."
And so is Mike. "Sales is my forte," he said. "I've got over 20 years of experience."
The couple has struggled to make sense of their financial crisis. "We've never not had jobs," said Tami as she rubbed her forehead. But they've found comfort in the outpouring of community support. "It makes you want to do good things," Tami said. She paused and looked at her daughter, "Because you never know when it can come back to you."
Local journalism is essential.
Give directly to The Spokesman-Review's Northwest Passages community forums series -- which helps to offset the costs of several reporter and editor positions at the newspaper -- by using the easy options below. Gifts processed in this system are not tax deductible, but are predominately used to help meet the local financial requirements needed to receive national matching-grant funds.
Subscribe to the Coronavirus newsletter
Get the day's latest Coronavirus news delivered to your inbox by subscribing to our newsletter.
---