News > Features
Interplayers' 'Cowgirls' mixes honky-tonk and Beethoven
Thu., Jan. 29, 2009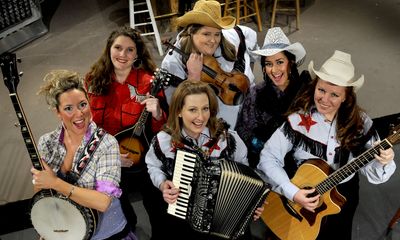 The concept of "Cowgirls" is almost classical (so to speak) in its simplicity.
A classical music group called the Coghill Trio has been booked to play a concert in Hiram Hall, in the small town of Rexford, Kansas.
The problem is: Hiram Hall is a country music honky-tonk. The owner was under the impression she had booked the Cowgirl Trio.
This is the simple, yet promising, plot of this good-time 1995 country-style musical, which previews at Interplayers tonight.
As it turns out, the saloon is in danger of foreclosure; the concert is an emergency fundraiser. So the Coghill Trio must get in touch with its inner-cowgirl right away and get on with the show, or else financial disaster will rain down on Hiram Hall and its spunky proprietress, Jo.
Guess what happens?
We'll leave that to your imagination. Suffice to say that the show is loaded with rollicking country tunes with titles such as "Honky Tonk Girl," "Don't Call Me Trailer Trash" and "Saddle Tramp Blues." Not to mention parts of Beethoven's "Pathetique."
Obviously, this requires musical as well as dramatic versatility. Interplayers has found a cast that director Reed McColm calls "charming, game and above all, terrifically talented as they play their own musical accompaniment."
It features Janean Jorgensen, Allison Morgan, Janet Robel, Jennifer Jacobs, Liberty Harris and Micah Hanson.
The musical director is Pamela Brownlee, who is uniquely qualified for the job. She runs her own country-style dinner-theater emporium, the Rockin' B Ranch in Liberty Lake.
"Cowgirls" was first produced in 1995 at the Berkshire Theatre Festival in Massachusetts, then in 1996 at the Old Globe Theatre in San Diego, starring two of its creators: Mary Murfitt, who wrote the music and lyrics, and Betsy Howie, who wrote the book.
Murfitt played Mary Lou, the repressed, uptight violinist of the group. Howie played Mo, the bighearted barmaid, who discovers a hidden talent for autoharp, ukulele and gut-bucket.
The show was such a success in San Diego and other regional theaters that it moved to New York's off-Broadway Minetta Lane Theatre later in 1996, with the same cast. It was a critical and popular smash.
" 'Cowgirls' has a fine time conjuring a comic musical melting pot in the heart of Kansas, where we can lay aside our city-slicker airs, bang on buckets and be happy common folks together," wrote New York Times critic Stephen Holden.
The show ran for nearly a year there. Since then, it has become a popular choice of regional theaters.
Local journalism is essential.
Give directly to The Spokesman-Review's Northwest Passages community forums series -- which helps to offset the costs of several reporter and editor positions at the newspaper -- by using the easy options below. Gifts processed in this system are not tax deductible, but are predominately used to help meet the local financial requirements needed to receive national matching-grant funds.
Subscribe to the Coronavirus newsletter
Get the day's latest Coronavirus news delivered to your inbox by subscribing to our newsletter.
---