News > Features
On the Wall: Trejo's latest projects star in double feature
Thu., Jan. 29, 2009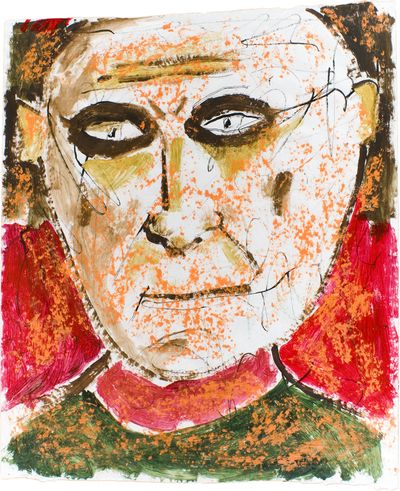 Ruben Trejo is able to transcend time, space, cultures and boundaries in his artwork and in his life.
This nationally treasured Mexican American artist, who lives in Spokane, embodies the magic, colors, flavors and legends of Mexico and the dreams and aspirations of the United States.
His artwork evokes the journey, the struggles, the politics, the humor and the victories of breaking free of limitations to become an American success story .
Trejo, a professor emeritus at Eastern Washington University, is exhibiting two of his most recent bodies of work at the Tinman Gallery beginning Friday. "Works in Progress" and "Border Series" are mixed-media series that reflect two sides of Trejo's multi-hued spectrum.
"Border Series" deals with the difficult issues of nationality, illegal immigration and free speech, in a large group of collage works on paper with colored pencil and ink.
The traveling series has returned to Spokane for the Tinman exhibit from the University of Notre Dame and also was exhibited in Yuma, Ariz., where immigration issues are of great concern.
"Border Series" includes some 30 collage works on printed maps of states where immigration issues are prevalent, including Arizona, New Mexico, California, Texas, Illinois and Minnesota, where Trejo was born.
Trejo turns the state maps into American flags, drawing black outlined stars and stripes over the background, allowing the details beneath to show through. Some of the stripes are lined with barbed wire, often coiled with a warning to stay out.
He collages the flags with Mexican revolutionary figures like Pancho Villa and Catholic icons like the Virgin Mary, or with figures donning pre-Columbian-style and Mexican folkloric masks.
Some of the pieces address migrant workers, farm labor and crops, with images of such produce as asparagus, onions and potatoes, referencing Trejo's own childhood.
He was born in a railroad boxcar, where he lived with his parents and five brothers. While his father worked for the railroad, his mother was an illegal alien (who was later granted immunity by President Eisenhower) who came to America to join her husband. She and her children worked as migrant farm laborers.
Trejo moved back and forth, living with relatives in Michoacan, Mexico, and became immersed in both the Mexican and American cultures.
"I had many ways of looking for creative ideas in cultures, and rearranging them, and making them up," he said.
"Works in Progress" is Trejo's newest series of brightly colored, imaginary portraits – quickly executed acrylic and crayon works on paper, expressing a freer, looser, easygoing side of his work, with bold strokes, colors and emotional expressiveness.
"Sometimes I think about a person when I'm doing it, but I'm not doing a photographic portrait. I do an intuitive portrait," said Trejo, adding: "I'm really not a painter; a lot of my work is about drawing.
"This (work) has a little bit to do with the American abstract expressionists, with gestural drawings which (were) so much part of that period where the moment seemed to be so much of the idea of making art," he said.
"They were done mostly as a gesture – artwork that you don't think about. It's very spontaneous and very momentary. They capture a moment in time."
Welded metal sculpture has been Trejo's primary medium throughout his nearly 50-year art career, and his works have a poetic and profound sensibility.
"Joaquin Nails" is a series composed of railroad spikes that are formed into figures that appear to be walking, thus the play on words: "walking nails." Several of those sculptures also are on view at Tinman Gallery.
One of Trejo's most profound works, what could be considered his masterpiece, "Codex for the 21st Century," consists of 100 pairs of bent nails that form an imagined alphabet – a new, unspoken language.
"It is about a language that nobody knows," Trejo said. "It doesn't have any meaning. It's really about art and love. It's a language that nobody can use to abuse anybody else."
The work is in the permanent collection at the Smithsonian American Art Museum in Washington, D.C.
For the Tinman exhibit, the gallery has set up a makeshift art studio in the front room. Trejo will visit and create works spontaneously throughout the duration of the show.
A collaborative mural will be created in the gallery during a free interactive workshop on Feb. 6, as part of the upcoming Visual Arts Tour. Other Tinman Gallery artists are expected to participate along with the public on this collaboration, led by Trejo.
"I will try to integrate the whole thing," he said. "My whole idea is to work with their intuition, and see what artistic things they have that they want to say."
Local journalism is essential.
Give directly to The Spokesman-Review's Northwest Passages community forums series -- which helps to offset the costs of several reporter and editor positions at the newspaper -- by using the easy options below. Gifts processed in this system are not tax deductible, but are predominately used to help meet the local financial requirements needed to receive national matching-grant funds.
Subscribe to the Coronavirus newsletter
Get the day's latest Coronavirus news delivered to your inbox by subscribing to our newsletter.
---