Sports
Serena Williams reaches final of Aussie Open
Thu., Jan. 29, 2009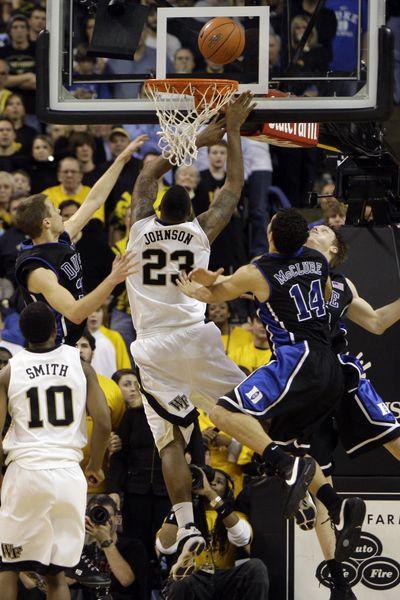 Serena Williams moved within a win of a 10th Grand Slam title and fourth in Australia with a dominating 6-3, 6-4 victory over Elena Dementieva today in Melbourne.
The 27-year-old American got the only break in the eighth game of the first set and, after falling behind 3-0 in the second, ran off four straight games to get back in front. After exchanging service breaks again, Williams held to clinch the match in 54 minutes.
After beating Russians in two successive matches, she'll face another one in the final. No. 3 Dinara Safina defeated No. 7 Vera Zvonareva 6-3, 7-6 (7-4) in the second semifinal.
College basketball
No. 1 Duke goes down
James Johnson's layup with 0.8 seconds remaining Wednesday helped No. 6 Wake Forest (17-1, 4-1 ACC) beat No. 1 Duke (18-2, 5-1) 70-68 in Winston-Salem, N.C. The Demon Deacons let a late 13-point lead slip away but recovered just in time to claim the victory.
No. 3 Pitts falls: Reggie Redding had a career-high 18 points to lead No. 21 Villanova (16-4, 4-3 Big East) to a 67-57 win over No. 3 Pittsburgh (18-2, 6-2) in the last college basketball game played in Philadelphia's Spectrum. The Spectrum is scheduled to be torn down this year.
UNC survives scare: Ty Lawson's 3-pointer at the buzzer gave No. 5 North Carolina (16-5, 3-3 ACC) an 80-77 win over Florida State (18-2, 4-2) at Tallahassee, Fla.
No. 15 Syracuse upset: Sharaud Curry scored a season-high 22 points to lead six players in double figures, carrying host Providence (R.I.) to a 100-94 upset over 15th-ranked Syracuse (17-5, 5-4). The Friars (14-6, 6-2 Big East) matched their best Big East start since 2000-01.
Oklahoma women triumph: Courtney Paris had 15 points with 14 rebounds for her 111th consecutive double-double and scored the tiebreaking basket with 34 seconds left to help No. 2 Oklahoma (17-2, 6-0 Big 12) beat fourth-ranked Baylor (17-2, 5-1) 56-51 in Waco, Texas.
Golf
Montgomerie captain
Although Colin Montgomerie has never managed to win a major title the often surly Scot did enjoy tremendous success in the Ryder Cup, winning five times in eight appearances with Europe.
It was that record, combined with the respect he gets from the best players on the continent, that prompted his selection as captain for next year's tourney in Wales.
Two tourneys lose sponsor: Ginn Resorts is ending all golf sponsorships immediately, sending two tournaments into an uncertain future. The real estate company said it no longer will host or produce its two remaining events – the LPGA's Ginn Open and the Champions Tour Ginn Championship.
NFL
Sanders joins Bills
Recently fired Green Bay Packers defensive coordinator Bob Sanders has joined the Buffalo Bills as their defensive line coach. Sanders fills the role vacated by Bill Kollar, who left Buffalo earlier this month to become the Houston Texans' defensive line coach.
Jets make several moves: Veteran assistant Bob Sutton will remain on the defensive staff of the New York Jets, who announced several moves. Former Rams wide receiver Henry Ellard, who coached the receivers in St. Louis the past eight seasons, will coach the same position with the Jets. Anthony Lynn was hired to coach running backs, and Dennis Thurman and Doug Plank will work with defensive backs.
Baseball
Feds put heat on trainer
Twenty federal agents raided the home of the mother-in-law of Barry Bonds' personal trainer.
Madeleine Gestas and her daughter Nicole Anderson, the trainer's wife, are the target of a tax investigation that the lawyer for Greg Anderson said is aimed at pressuring the trainer to testify at Bonds' upcoming trial.
Bonds, baseball's career home run leader and a seven-time MVP, has pleaded not guilty to charges he lied to a federal grand jury in 2003 when he denied knowingly using performance-enhancing drugs.
Anderson served more than a year in prison for refusing to testify against Bonds before a federal grand jury.
Hockey
Zurich earns game
The Zurich Lions shut out defending champion Metallurg Magnitogorsk 5-0 for the European club crown in Rapperswil, Switzerland, and the right to play an NHL team in a $1 million challenge game in October.
NBA
Blazers down Bobcats
LaMarcus Aldridge had 25 points and nine rebounds to help the Portland Trail Blazers beat the Charlotte Bobcats 88-74 in Portland.
Wallace injured: Bobcats forward Gerald Wallace suffered a partially collapsed left lung and a fractured rib late in the team's double-overtime victory over the Los Angeles Lakers. Andrew Bynum knocked Wallace to the floor in the fourth quarter of Tuesday night's game.
Miscellany
ESPN faces job cuts
ESPN's top executive told employees that he's instituting a hiring freeze and won't give any raises to top executives as one of television's most successful enterprises feels the effect of the economy.
NASCAR blamed: Investigators blamed NASCAR for a "tragic, unnecessary" plane crash in 2007, saying the racing organization let one of its aircraft take off without checking an electrical problem reported the day before. The Cessna 310 crashed outside of Orlando, Fla., killing three people on the ground and two in the plane.
Local journalism is essential.
Give directly to The Spokesman-Review's Northwest Passages community forums series -- which helps to offset the costs of several reporter and editor positions at the newspaper -- by using the easy options below. Gifts processed in this system are not tax deductible, but are predominately used to help meet the local financial requirements needed to receive national matching-grant funds.
Subscribe to the sports newsletter
Get the day's top sports headlines and breaking news delivered to your inbox by subscribing here.
---