News > Features
Stress eats at movie star LiLo
Thu., Jan. 29, 2009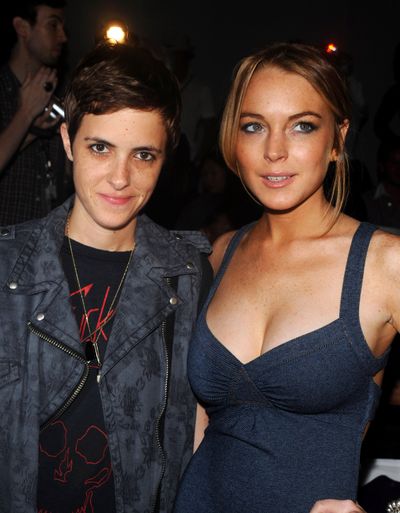 Despite the fact that Lindsay Lohan has been avoiding troublesome headlines, things may not be all rosy in LiLo-land, reports the New York Post.
Movie star/party girl Lohan, 22, looks "teeny-tiny in recent photos," claims the U.S. tabloid.
Rumors are, says the Post, that Lohan is "surviving on candy and Red Bull" and "completely stressed out" by her rocky relationship with DJ Samantha Ronson.
Ah, but Lohan's handlers have been working hard to quell such negative speculation, a fact that the Post is all too willing to note.
"(H)er flack insisted she's fine," reported the tab.
"Lindsay is aware that she's lost some weight due to stress," the Post quoted LiLo's rep as saying, "but we recently did a photo shoot and she ate two full meals."
No word, though, on what she did then.
Even Starbucks gets the jitters
In an effort to stem its falling fortunes, Starbucks plans to stop brewing decaf after noon – a move the Seattle-based company says will help save $400 million by September. Decaffeinated brew will still be available, but customers will have to wait a few minutes for the pot to be made on demand, spokeswoman Bridget Baker said.
The Boss is on the ball
Bruce Springsteen is using his planned Super Bowl performance as a teaser for his upcoming "Working on a Dream" world tour, which officially kicks off – no kidding – April 1 in San Jose, Calif. He's also headed to Europe, hitting such countries as Spain and Sweden.
Welcome to reality, Mick
Being nominated for a Best Actor Oscars isn't enough for Mickey Rourke. "The Wrestler" star announced Sunday at the Screen Actors Guild Awards that he was going into the professional wrestling ring for real. Rourke said he will face WWE star Chris Jericho on April 5, adding that he was going to toss Jericho "around the ring like tossed salad." Jericho's reaction: Rourke, he said, was making "a mistake."
Live long, Gene, and prosper
"Star Trek" creator Gene Roddenberry and wife Majel Barrett Roddenberry will go where no married couple has gone before. The late couple's remains will be launched into space next year, Celestic Inc. spokeswoman Susan Schonfeld said. Roddenberry died in 1991, his wife this past Dec. 18.
It's good to be rich!
Money will get you … well, not everything. But it might win you a date with a hot celebrity. Austrian Richard Lugner, a 76-year-old real estate and construction mogul, says he's taking "Desperate Housewives" star Nicollette Sheridan to Vienna's flashy Opera Ball next month. Each year Lugner asks a different celeb to the event. His past guests include Dita Von Teese, Paris Hilton and Carmen Electra.
The birthday bunch
Actor John Forsythe is 91. Actor-singer Noel Harrison is 75. Actress Katharine Ross is 69. Actor Tom Selleck is 64. Actor Marc Singer is 61. Actress Ann Jillian is 59. Drummer Tommy Ramone of The Ramones is 57. Oprah Winfrey is 55. Country singer Irlene Mandrell is 53. Director-actor Ed Burns is 41. Actress Heather Graham is 39. Actress Sara Gilbert is 34.
Local journalism is essential.
Give directly to The Spokesman-Review's Northwest Passages community forums series -- which helps to offset the costs of several reporter and editor positions at the newspaper -- by using the easy options below. Gifts processed in this system are not tax deductible, but are predominately used to help meet the local financial requirements needed to receive national matching-grant funds.
Subscribe to the Coronavirus newsletter
Get the day's latest Coronavirus news delivered to your inbox by subscribing to our newsletter.
---