Sports
Chatty UI point guard took long route to Moscow
Thu., Jan. 29, 2009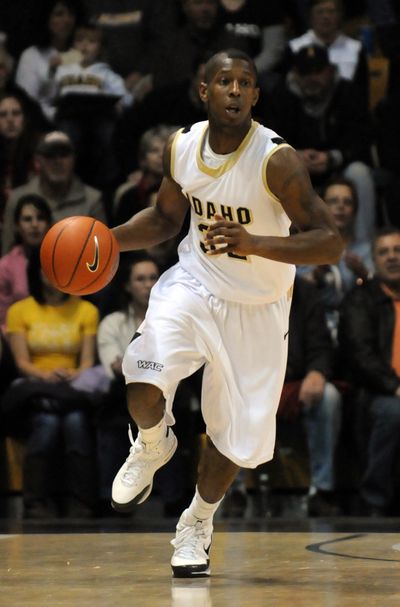 MOSCOW, Idaho – Monday's energy-zapping practice had just ended, and Mac Hopson glanced over his shoulder and through the black curtains of Cowan Spectrum. Kashif Watson had shuffled off the court and was nowhere in sight, but Hopson knew better.
By now, every University of Idaho basketball player knows better. No matter where they are, Watson and his nonstop chatter seem to be a constant presence.
"If you're going to hear somebody, it's going to be him," said Hopson, the Vandals' point guard. "He's always yelling, always pumped and always got energy. He ain't ever quiet."
An animated personality is far from Watson's only defining trait, however. In his first year on the Palouse, the off-guard with a closely shaved Mohawk has displayed supreme athleticism and an uncanny knack for scoring in the open court – two skills Don Verlin has watched blossom for nearly five years.
Idaho's rookie coach began following Watson's far-flung hoops career when he was a senior at Bishop Gorman High School in Las Vegas. As Utah State's top assistant, Verlin kept recruiting him through prep school in Boston and one-year stints at junior colleges in Iowa and California.
"So, yeah, I knew he was going to be a big part of our program," Verlin said.
Watson is the Vandals' second-leading scorer, behind Hopson, at 11.0 points per game. And just as important, he's developed a reputation as a lockdown perimeter defender.
His quick feet and tenacious style are big reasons why Idaho (9-10, 3-3 Western Athletic Conference) has piled up its most wins since 2004. The fourth-place Vandals have a chance this week to leapfrog Boise State and Nevada in the standings when they host both teams.
While this sort of success early in Verlin's tenure was difficult for most outside the beleaguered program to envision, that wasn't the case with Watson. Verlin is close friends with Watson's high school coach, so the two quickly built a "trust level" with each other.
"I trusted Verlin and came up here," the 6-foot-4 junior said. "If I didn't know Verlin before that, it would have been tough to come. Trust level (means) a lot when you have two years left."
Watson committed to San Diego State as a prep standout, but a poor SAT score derailed his path from Vegas to Southern California. Instead, he landed in Boston.
While Watson was at prep school to straighten out his academic resume, Verlin journeyed cross-county to visit him. It would be the first of many encounters.
The determined coach made sure to make his presence felt when Watson was at Indian Hills Community College in Ottumwa, Iowa, and at Irvine (Calif.) Valley College, where he had transferred to be closer to home.
"I was the point man and the guy that recruited him at Utah State, so it was one of those things where I obviously had a good relationship with the young man and knew what kind of guy he was," Verlin said.
A few days after Verlin took the Idaho job last spring, Watson came for a visit. Before, though, he did as much research as possible.
His homework included speaking with Harvey Perry, a friend who was briefly on the Idaho roster, and ex-Vandals assistant Demarlo Slocum, who had been one of his AAU coaches. Both reminded Watson of the program's promise – as long as it was in the right hands.
Perry told Watson that Moscow "was a good college town. He said if you win games, you'll most likely get a lot of fans, a lot of love from around the community."
From his first day at UI, Watson said he felt perfectly comfortable. His talkative, light-hearted demeanor no doubt helped endear him to teammates and fellow students.
More than two months into the season, they've grown to admire his ramblings and humor-laced comments.
"If I'm not smiling, something's wrong," Watson said.
His chatty personality sticks out even more when he's around his family. He said his parents and siblings are much more reserved than he. That's especially true of his older brother C.J., a guard for the Golden State Warriors who excelled at the University of Tennessee.
C.J. is so laid back away from basketball that their sister Vonyetta gave him the nickname "Quiet Storm," which fits well with his ferocity on the court.
"She gave me the name 'Silky Smooth,' " Watson said.
"His is better than mine. Mine's all right."
Local journalism is essential.
Give directly to The Spokesman-Review's Northwest Passages community forums series -- which helps to offset the costs of several reporter and editor positions at the newspaper -- by using the easy options below. Gifts processed in this system are not tax deductible, but are predominately used to help meet the local financial requirements needed to receive national matching-grant funds.
Subscribe to the sports newsletter
Get the day's top sports headlines and breaking news delivered to your inbox by subscribing here.
---