News > Nation/World
Mideast tensions felt at forum
Turkish leader berates Israel's Peres
Fri., Jan. 30, 2009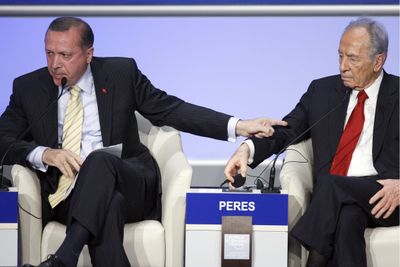 DAVOS, Switzerland – For a few unsettling moments, the heat and pain of Mideast tensions shattered the icy elegance of this Swiss Alps resort, in an eruption of anger by Turkey's premier at one of Israel's most revered statesmen.
"You kill people," Prime Minister Recep Tayyip Erdogan said at a panel at the World Economic Forum, indicting Shimon Peres for the Gaza offensive before stalking out of the room.
The outburst at this rarefied gathering for the world's business and political elite brought into stark relief the challenges stalling Middle East peacemaking – and demonstrated how little it takes to bring those problems to the fore.
The 85-year-old Peres appeared a metaphor for Israel as he spoke on the panel about the Middle East, surrounded by critics and often on the defensive. Condemnations of the Gaza campaign came not only from Erdogan but also from Arab League Secretary Amr Moussa and U.N. Secretary-General Ban Ki-moon, who repeated his shock at the Israeli bombing of a U.N. compound.
The packed audience, which included President Barack Obama's close adviser Valerie Jarrett, appeared stunned as Erdogan and Peres raised their voices and traded accusations. Erdogan walked off when he was prevented from rebutting Peres' passionate defense of Israel's 23-day offensive against Hamas militants.
The heated debate was significant because of the key role that Turkey, a moderate Muslim nation with a secular government, has played as a mediator between Israel and Syria on pushing ahead Mideast peace. NATO member Turkey also has been a bridge to militant Muslim groups Hamas in Gaza and Hezbollah in Lebanon.
As he spoke, Peres often turned toward Erdogan, who in his remarks had criticized the 18-month Israeli blockade of Gaza, calling the narrow strip of land an "open air prison, isolated from the rest of the world" and referred to the Palestinian death toll of about 1,300 – more than half of those civilians. Thirteen Israelis also died.
"Why did they fire rockets? There was no siege against Gaza," Peres said, his voice rising in emotion. "Why did they fight us? What did they want? There was never a day of starvation in Gaza."
Erdogan appeared to express a sense of disappointment when he recounted how he had met with the Israeli Prime Minister Ehud Olmert just days before the offensive, and believed they were close to reaching terms for a face-to-face meeting with Syrian leaders.
Obama's new Mideast envoy, George Mitchell, will be in Turkey for talks Sunday.
Erdogan's angry exit capped an hour-long debate at the forum attended by world leaders in Davos. Erdogan tried to rebut Peres as the discussion was ending, asking the moderator, Washington Post columnist David Ignatius, to let him speak again.
"Only a minute," Ignatius replied.
"Mr. Peres, you are older than me. Your voice is too loud," Erdogan told Peres, saying his emotion belied a guilty conscious.
"You kill people," Erdogan told the Israeli leader, speaking in Turkish through a translator. "I remember the children who died on beaches. I remember two former prime ministers who said they felt very happy when they were able to enter Palestine on tanks."
When the moderator tried to cut him off, saying time was up and that it was time for dinner, Erdogan answered in frustration, "Don't interrupt me. You are not allowing me to speak."
He then said: "I will not come to Davos again."
Afterward, Erdogan stressed he left not because of a dispute with Peres but because he was not given time to respond to the Israeli leader's remarks. Erdogan also complained that Peres had 25 minutes while he was only given 12 minutes.
"I did not target at all in any way the Israeli people, President Peres, or the Jewish people," Erdogan told a news conference afterward.
"I am a prime minister, a leader who has specifically expressly stated that anti-Semitism is a crime against humanity," he said.
A Peres confidant, who asked not to be identified, emphasized that the two men have good ties and that the president understood that Erdogan's hasty exit was directed at the moderator, not at him.
Local journalism is essential.
Give directly to The Spokesman-Review's Northwest Passages community forums series -- which helps to offset the costs of several reporter and editor positions at the newspaper -- by using the easy options below. Gifts processed in this system are not tax deductible, but are predominately used to help meet the local financial requirements needed to receive national matching-grant funds.
Subscribe to the Coronavirus newsletter
Get the day's latest Coronavirus news delivered to your inbox by subscribing to our newsletter.
---