News > Nation/World
Obama criticizes Wall Street pay
Comments follow report of $20 billion in bonuses in 2008
Fri., Jan. 30, 2009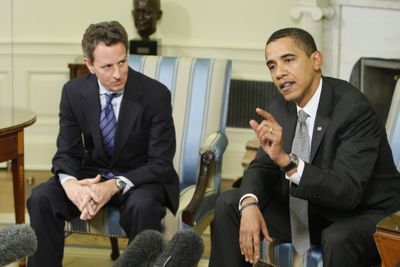 WASHINGTON – President Obama Thursday scolded Wall Street bankers who received millions of dollars in bonuses last year, calling the payouts "shameful" and chiding the executives for a lack of personal responsibility at a precarious time for the nation's economy.
"There will be time for them to make profits, and there will be time for them to get bonuses," the clearly irritated president said. "Now's not that time. And that's a message that I intend to send directly to them."
Obama's comments came on the same day that the Democratic chairman of the Senate Banking Committee threatened to bring before his committee any Wall Street executives who take big bonuses after their firms are propped up with public money.
"Whether it was used directly or indirectly, this infuriates the American people and rightly so," said Sen. Christopher Dodd, D-Conn. "So I say to anyone else who does it: If you do it, I'm going to bring you before the committee."
The president said he was reacting to a New York Times report about Wall Street executives who had given themselves almost $20 billion in bonuses in 2008, the same amount they received collectively during the much more bullish 2004.
The article was based on a report by the New York state comptroller's office that said last year's total of Wall Street bonuses was the sixth-highest ever, despite the poor economic performance of the firms.
"Part of what we are going to need is for folks on Wall Street, who are asking for help, to show some restraint and show some discipline and show some sense of responsibility," Obama said as he ended a private meeting with Treasury Secretary Timothy F. Geithner.
"The American people understand that we've got a big hole that we've got to dig ourselves out of," Obama said. "But they don't like that people are digging a bigger hole even as they are being asked to fill it up."
Obama had already been critical of executives who take big bonuses and companies that make big purchases. Last week, he directed Geithner to call Citigroup to express the administration's displeasure at the struggling company's impending purchase of a $50 million jet.
A day earlier, however, Obama passed up a chance to send that message publicly.
The president stood with 13 CEOs in the East Room of the White House on Wednesday to push for congressional passage of his $850 billion stimulus package. He talked broadly about personal responsibility but did not specifically refer to excessive pay.
"Part of what led our economy to this perilous moment was a sense of irresponsibility that prevailed from Wall Street to Washington," he said after the closed-door meeting. "That's why I called for a new era of responsibility in my inaugural address last week."
Participants in the meeting described it as a round-robin discussion in which the president asked all of the CEOs to describe their sense of the economy and to explain how their own businesses might be helped by the stimulus package.
Michael Splinter, chief executive of Applied Materials, a Silicon Valley company best known for building machinery that makes computer chips, said in an interview after the meeting that the president did not raise his concerns about executive compensation.
"We really didn't get off into any side things about car-company guys taking jets or stuff like that," Splinter said.Obama aides, however, said the president did mention the Citigroup jet purchase to the group and talked about the need for corporate responsibility.
"The president doesn't meet with CEOs where he doesn't talk about responsibility," press secretary Robert Gibbs said in his daily briefing with reporters. "They specifically talked about the jet purchase."
Local journalism is essential.
Give directly to The Spokesman-Review's Northwest Passages community forums series -- which helps to offset the costs of several reporter and editor positions at the newspaper -- by using the easy options below. Gifts processed in this system are not tax deductible, but are predominately used to help meet the local financial requirements needed to receive national matching-grant funds.
Subscribe to the Coronavirus newsletter
Get the day's latest Coronavirus news delivered to your inbox by subscribing to our newsletter.
---