Suspect sought in assault of dog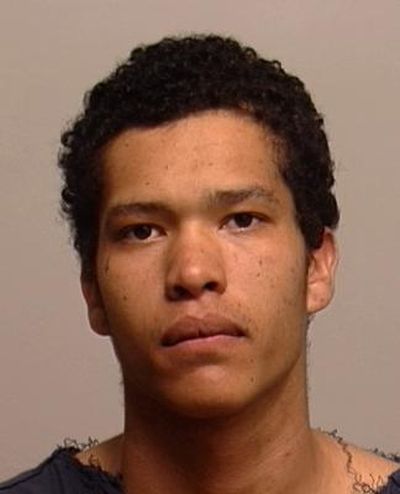 Spokane police are looking for a 20-year-old man wanted in the brutal assault of a small dog June 22 outside Spokane's City Hall.
Police suspect Michael J. Jones is the man who threw a 4-year-old, 5-pound Shih Tzu named Cocoa Butter against a wall.
The dog's owners, Louise and Tom Tuffin, left her in the car while they went to a movie, returning several hours later to find the badly injured dog on the sidewalk.
Jones faces a charge of first-degree animal cruelty.
A surveillance video shows a man police believe is Jones walking past the car on Post Street, then smashing the car window, pulling out the dog and swinging her on a leash.
Crime Stoppers is offering a $50 reward for information about Jones' whereabouts. Another $5,000 is being offered through the Humane Society and Red Lion Hotels.
Anyone with information can call (509) 327-5111 or (800) 222-TIPS (8477), or submit a tip online at www.crimestoppersinland northwest.com.
Sara Leaming
Truck hits woman crossing street
A woman sustained life-threatening injuries Thursday morning when she was hit by a truck in a downtown Spokane crosswalk.
The driver, who was not identified, could be charged with failure to yield to a pedestrian, said Spokane police Officer Teresa Fuller.
A Chevy pickup was turning left from First Avenue onto Post Street on a green light when it hit the woman. The woman was crossing with the walk signal.
The victim, who was not identified, suffered head trauma and was transported to a local hospital, Fuller said. Her condition was not available Thursday night.
Police said there was no indication that drugs or alcohol were involved.
Staff reports
Fireworks could be danger to boats
Boaters on Lake Coeur d'Alene must observe safety zones during Saturday's Fourth of July fireworks display, the Kootenai County Sheriff's Department said.
To avoid falling ash or embers or stray fireworks, boaters should stay at least 1,000 feet from the barge from which the fireworks are launched.
Two lines of buoys will mark the southern and western boundaries of the safety zone. The northern boundary is the swim area near City Beach and Tubbs Hill is the eastern boundary.
The Sheriff's Department will put up the buoys Saturday. Boaters shouldn't tie up at them, department officials said.
Becky Kramer
---