Sports > Outdoors
Rich Landers: Volunteers critical for public lands
Thu., July 9, 2009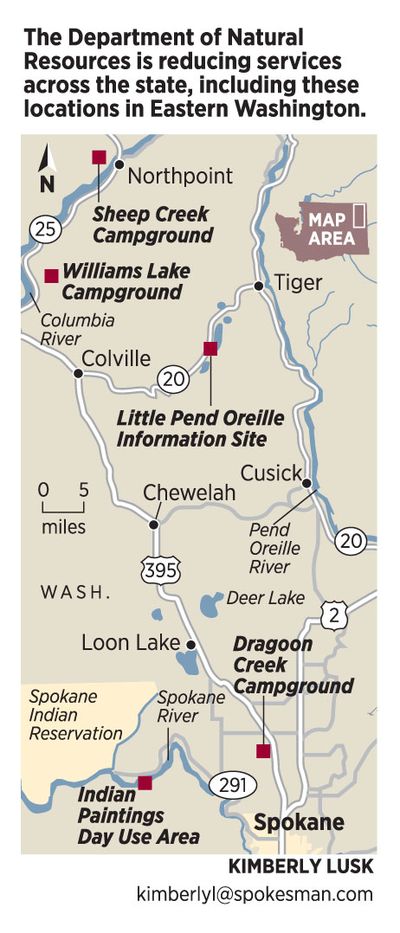 I took my eye off Olympia to chase the tail end of the salmon fly hatches in Idaho and Montana intermittently during the past two weeks, and returned to the sad news that Washington is closing some popular state campgrounds.
I'll tell you about salmon flies later, but first some insight on the challenges ahead for recreating in states that are almost broke.
As you may have read in today's news story, Sheep Creek Campground near Northport, Dragoon Creek Campground near Deer Park plus a long list of state recreation sites in Western Washington are closed or mothballed for lack of funds, the Washington Department of Natural Resources announced last week.
"The main thing we have going for us is volunteers, and we'll depend on them more than ever in the next two years," said Mark Mauren, DNR's recreation administrator in Olympia
While national parks and the Forest Service seem to be holding a better course for maintaining recreation funding, they also are reaching out more and more to volunteers for trail work and other projects.
But state recreation programs are hardest hit by the floundering economy.
"Some people are stepping up to the plate, willing to volunteer time and pass the hat around to pay for the cost of things like pumping an outhouse, toilet paper, whatever," Mauren said. "We're listening to ideas and working with groups to moderate the reductions."
DNR also is taking a closer look at the cost of vandalism.
"It's huge," Mauren said.
"We just put up a new sign on the Capital Forest (near Olympia) and within a couple of weeks, somebody went on a shooting spree and ruined a $500 entrance sign just like that."
A $500 bill might not be a big deal in flush times, but these are lean times.
"It's a big deal now," he said.
People who witness costly vandalism should get vehicle license numbers and details and report the crimes, he said.
"The public needs to realize that vandalism is a threat to recreation as we know it.
"DNR alone spends $450,000 a year just picking up garbage. I'm not talking about paper and beer cans, I'm talking about big dumps of garbage on public lands that counties are asking us to clean up.
"The public needs to decide if this is what they want us to spend their money on."
Closing Dragoon Creek Campground will save DNR about $40,000 a year, said Bret Walker, DNR's recreation manger based in Colville. The vandals could evaporate the savings and exacerbate the problem. ATVs ripping up the land or creeps trashing the locked toilet facilities could nix hopes for reopening the area in two years.
On the brighter side, the city of Northport already is exploring the possibilities of partnering with DNR to reopen the Sheep Creek Campground, Walker said.
"It's a very popular spot with locals," he said. "They don't want to see it closed any more than we do."
Other public land notes for the week include:
•A tip offered by an alert citizen has led to a citation in last month's loon poaching case at Yocum Lake in Pend Oreille County. Details have not been released.
•BLM's Rock Creek Recreation Area (also known as Escure Ranch) 60 miles southwest of Spokane remains temporarily closed to motorized vehicle travel because of fire danger.
•Outdoor recreation appears to be more popular than ever, despite the economy.
Yellowstone Park has just recorded its busiest January-June period on record, up 8.5 percent from the same period last year.
The Route of the Hiawatha just set a record for June visitation with about 5,000 visitors, up from 4,200 last year, said Phil Edholm, president of Lookout Pass Ski Area.
•About 20 kayakers won the lottery for the rare chance to paddle Chelan Gorge on Saturday and Sunday.
The challenging one-third mile whitewater run will be created by a brief surge of water between Lake Chelan Dam and its powerhouse. The PUD is allowing expert kayakers to take part in the test spill for the first time since 2000.
Regarding the salmonfly hatch, it's not quite the same old story.
After receiving a report from a Montana fishing guide that salmon flies were "thick as a plague of locusts," I drove to the West Fork of the Bitterroot River and cleared the air almost instantly.
That was better than usual.
I have shut down salmonfly hatches from 280 miles away just by thinking about trying to time them perfectly.
Contact Rich Landers by voice mail at 459-5577, extension 5508, or e-mail to richl@spokesman.com.
Local journalism is essential.
Give directly to The Spokesman-Review's Northwest Passages community forums series -- which helps to offset the costs of several reporter and editor positions at the newspaper -- by using the easy options below. Gifts processed in this system are not tax deductible, but are predominately used to help meet the local financial requirements needed to receive national matching-grant funds.
Subscribe to the sports newsletter
Get the day's top sports headlines and breaking news delivered to your inbox by subscribing here.
---