Post Falls police chief stepping down
Hayes, 58, joined force as dispatcher in 1983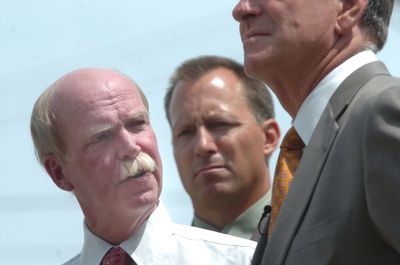 When Cliff Hayes joined the Post Falls Police Department, the city had fewer than 6,000 people and a single stoplight that switched to a blinker at midnight.
The department had about 14 people in 1983. On a typical week, a patrol officer might break up two or three bar fights, typically involving guys and their fists. Well, maybe a pool cue now and then, he said, but never knives or guns.
"And nobody was ever interested in fighting with me."
A quarter of a century later, Hayes will leave the force July 31, having spent most of that time as chief. The city between Spokane and Coeur d'Alene has grown to about 26,000, the department to about 65 men and women.
"The growth has been phenomenal, and with it, the change in the community," he said. Drug use has grown tremendously, and with it, assaults and weapons incidents. But the Post Falls Police Department has kept as much of its small-town feel as possible, trying to give every person who calls with a complaint – whether it's a burglary, a stolen bike or a suspicious person walking down the street – a follow-up call to let them know what was done.
Hayes didn't have any law enforcement training before joining the force in 1983. He'd been a buyer for Kroger supermarkets before moving to Post Falls, and after he arrived he met a city councilman who mentioned an opening for a dispatcher.
He took the test and finished second out of 65; when the top applicant turned down the $4.88-an-hour job, he took it.
A year later he became a patrolman, and two years after that detective sergeant. He was appointed interim chief in late 1987, and the job was made permanent the next year. Over the decades, he filled out his law enforcement training with trips to the FBI's National Academy and its Command College.
During his tenure, he can remember only a few murders. None is unsolved, although the 1998 murder of Barbara Loesch took nearly 10 years to nail down. "That was the result of excellent detective work, not me," Hayes said.
Hayes, 58, announced his retirement to his staff this week. He'll be looking for a new job, something "totally unrelated." He said he's leaving now because Capt. Scot Haug, a friend and 20-year veteran of the department, is available to step in. "There are no problems on the horizon. The timing is right for me to step aside," he said.
---