News > Idaho
A picture of potential energy
Speakers say Northwest is rich in sources; key is to find right mix
Wed., July 15, 2009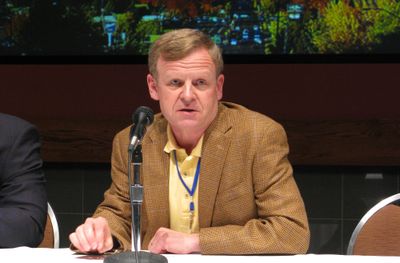 BOISE – The Pacific Northwest, on both sides of the Canadian border, is the "Middle East of North America" when it comes to energy resources, participants at a regional conference say, and it eventually will supply both nations with an array of fuels, from wind, geothermal and biofuels to oil, coal and uranium.
"The resources are there, and in my opinion, they will get used in the future," said John Grossenbacher, director of the Idaho National Laboratory. "So let's do it in a way that 50 and 100 years away, we're happy with the outcomes."
Ken Cheveldayoff, minister of enterprise and trade for the Canadian province of Saskatchewan, said, "We all want a safe, secure, sustainable, clean energy supply. By working together, we can enhance our two countries' goals."
Both spoke Tuesday at the Pacific NorthWest Economic Region conference in Boise, where 500 state and provincial lawmakers, other officials and business people from the United States and Canada are gathered to explore issues including energy, agriculture, borders and economic development.
Energy has been a key focus of the conference, which runs through Thursday.
"We are tremendously blessed with energy resources of all kinds here in the Pacific Northwest region – the question is how will we decide to optimize those," Roger Woodworth, vice president of Avista Corp., told the gathering.
Grossenbacher, a decorated U.S. naval officer and retired vice admiral who commanded the U.S. Naval Submarine Forces, said the region's immense energy resources could power North America. "I sometimes look at this area and it looks like the Middle East of North America," he said.
The resources haven't been used to their potential mainly because they weren't needed, he said.
"The history of our energy use is that there's been really cheap fossil fuels available elsewhere, and we decided to utilize that," Grossenbacher said. "We're now rethinking that. The other thing that's changed is the sensitivity … to environmental impact. Twenty years ago, that wasn't a priority."
The Pacific NorthWest Economic Region represents five states and four Canadian provinces. Between them, a vast variety of energy is available, from major oil and gas deposits in Canada to unrivaled wind resources in Idaho, Montana, Wyoming and elsewhere. The region also has rich sources of uranium and coal, hydropower, geothermal power, solar power and biofuels.
Canada is now the top source of petroleum imported into the United States, well ahead of Saudi Arabia, according to the U.S. Department of Energy.
"Renewables have a lot of potential," Grossenbacher said. But the quickest, easiest way to increase energy supplies in the region is to boost efficiency and conservation, he said. "The good news about efficiency is it can buy us time, because we've got a lot of work to do," he said. Experts said the key to the Northwest's future in energy production is finding the right mix of sources. Grossenbacher warned against "romanticizing" renewables to the point of overlooking their limitations, such as the intermittence of the wind power supply, and against "demonizing" nuclear power.
"The bigger issue is dealing with our understanding of these energy resources, these technologies, and dealing with them in a rational way," he said. "Technologies aren't good or bad. They're means to an end, and we choose the ends and we choose the means."
Local journalism is essential.
Give directly to The Spokesman-Review's Northwest Passages community forums series -- which helps to offset the costs of several reporter and editor positions at the newspaper -- by using the easy options below. Gifts processed in this system are not tax deductible, but are predominately used to help meet the local financial requirements needed to receive national matching-grant funds.
Subscribe to the Coronavirus newsletter
Get the day's latest Coronavirus news delivered to your inbox by subscribing to our newsletter.
---