News > Spokane
Six candidates, one City Council seat
District 2 hopefuls include lawyer, congressional aide, high schooler
Tue., July 21, 2009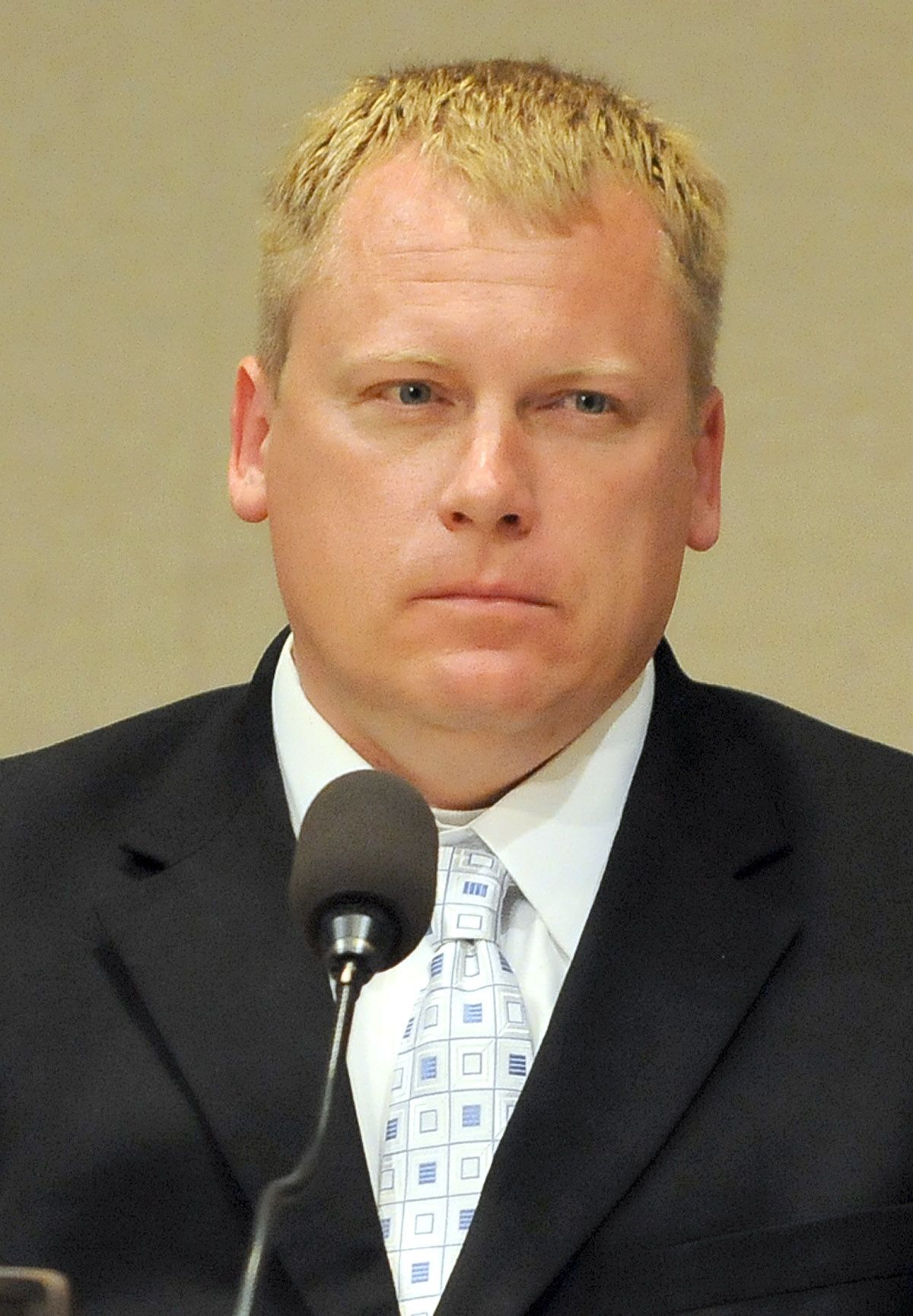 Allen (Christopher Anderson / The Spokesman-Review)
Mike Allen was the surprise choice of a divided City Council when he was picked to fill an empty seat 18 months ago.
At the time, Allen said he didn't plan to run for the District 2 seat after the term expired. But earlier this year, Allen gave up his job as Eastern Washington University's corporate and foundation relations director to run for a full term.
He says what's changed is that he's fallen for his new job.
"I love working for the people of my district, and there are things I want to get done while I'm on council."
Allen, 41, faces five challengers in the Aug. 18 primary.
•David Elton, 43, who says he's a political consultant. Earlier this year a judge barred him from attending Spokane City Council meetings after he was charged with felony harassment related to alleged threats he wrote in e-mails regarding City Council President Joe Shogan, Spokesman-Review Publisher Stacey Cowles and others.
•Steve Eugster, 65, a former city councilman and longtime Spokane attorney who has generated praise for his dogged activism and criticism for his reputation of filing lawsuits.
•Greg Ridgley, 18, who will be a senior at Gonzaga Prep in the fall and says he's running, in part, to inspire youth to get involved in their community.
•Kristina Sabestinas, 29, who is on leave of absence as the deputy district director for the Spokane office of U.S. Rep. Cathy McMorris Rodgers, R-Wash.
•Jon Snyder, 40, publisher of "Out There Monthly," who has won the endorsement of the Spokane County Democratic Party.
Eugster, who served four years on the council starting in 2000, said he opposes the creation of a police ombudsman and questions the recent mayor's task force report that makes recommendations aimed at cutting the city's carbon emissions. He said Spokane can't afford these initiatives, which he calls the "politics of good things."
"I am deathly afraid that what we're doing is adopting legislation that supposedly will placate people, when in fact we don't do anything or intend to do anything."
Eugster has long been a proponent of tax reform in the city. He says the city's utility tax on trash, garbage and sewer, which equals 20 percent of bills, is a significant strain on the poor and elderly.
It would be fairer, he said, to increase taxes on other utilities, such as electricity, to 7 or 8 percent and lower taxes on garbage, water and sewer to the same percentage.
Eugster said streets are in poor enough condition that a new funding source may be necessary, perhaps through the creation of fees that would be paid like a sewer bill.
Last month, Eugster was suspended from practicing law for 18 months by the Washington Supreme Court for trying to get an 87-year-old client declared legally incompetent shortly after she fired him. The state Supreme Court said Eugster did not carefully examine his actions before taking them.
That episode and controversy he's generated from past lawsuits, he said, won't dissuade him from filing future lawsuits if elected. He plans to return to being an attorney once the suspension is over.
"We have a form of government where we are supposed to abide by the laws rather than bend the laws," Eugster said. "More often than not, it's been my impression that our institutions have sought to bend the law."
Allen, as a member of the council, voted to support new rules allowing big-box development near Regal Street and the Palouse Highway, though he opposed efforts to increase the size of the stores allowed on some of the land. He supported merging with Spokane County on animal control and opposed installing cameras at intersections to photograph motorists who run red lights. He voted to hire a police ombudsman, but said the position should have been given investigatory power.
Allen also has voted against two employee contracts that he said the city could not afford. "It's nothing against any of the employees in either one of those unions," he said. "It just came down to we couldn't afford to do it."
If he wins another term, Allen said he would work to craft better funding plans for major city projects, such as a police evidence building that voters rejected earlier this year. He said he wants to strengthen efforts to improve the city's neighborhood business centers and bring manufacturing jobs to town.
Allen said the city should consider a street utility fee to better maintain streets.
"We need a big solution for this big problem," he said.
Snyder, however, said rather than approving new fees or taxes, he's inclined to push for a renewal of the city's current 10-year street bond once it expires.
Snyder, who said he's a strong supporter of a light rail system, said one way to help ease city budget problems in the long term is by stopping sprawl.
"So much of our tax dollars now are going towards spreading these city services over a wider and wider area," he said.
Snyder said he agreed with the council's decision to hire a police ombudsman.
"The most important thing to me is that the ombudsman get off to a good start," he said. "But it's also disconcerting that the powers that were proposed are not there."
Sabestinas said the city was right not to push for investigatory power for the ombudsman immediately.
"This is at least a good step in the right direction," she said. "Let's see how this goes and add more (investigatory power) as needed."
She has made strengthening business and fighting taxes a cornerstone to her campaign and says she will bring a "fresh and energetic approach" to the council.
When asked if she believes utility taxes should be cut, she said she is still studying the city's tax structure. Sabestinas said she has not decided if the city needs more revenue to improve streets or if she supports light rail. "I need to know more about that right now myself before I would say, 'Yes, let's move forward and let's finish this.' "
Ridgley said his campaign is about more than inspiring youth: "I'm also concerned for the taxpayers here in Spokane."
Ridgley said the city needs to better prioritize its spending, and that he would cut the $1 million the city gives to social service programs that deal with homelessness and other issues. He points to conversations he has had with homeless people and low-income families while volunteering at Catholic Charities.
"Nine out of 10 of them that I've spoke to have said they don't really want government interference in their lives," he said. "They just want the average citizen to help them out."
Ridgley said he was unsure if he would vote against union contracts that include benefits for unmarried partners. The other five candidates said they supported the benefits, or at least wouldn't oppose them.
"I do accept homosexuality," he said. "But for the sake of kids all over this country, I will not support homosexuality."
Elton's criminal charges stem from an e-mail he sent in December and another earlier this year.
The later e-mail began "comedy below," according to court records. It then said that he wanted "to murder" a list of people that included Cowles and Elton's ex-wife.
During a police investigation, "Elton admitted to having a reoccurring dream where he or someone else kills his ex-wife and then burns her remains while listening to Chopin and Van Halen," a detective wrote in a police report.
Elton argues that his e-mail was "dark satire" and protected speech.
"The problem was, I sent it to people I trusted, and it turned out that they weren't trustworthy," he said.
In 2004, Elton was charged with a domestic-violence-related harassing phone call to his ex-wife. Court records say Elton pleaded guilty to a lesser charge.
Elton said the city "spends too much money" and argues that streets could be improved without new taxes.
"You'd get a lot of kicking and screaming, but I'd love to take some of the money from police and fire, which is a massive piece of the budget, and spend it specifically on potholes."
Local journalism is essential.
Give directly to The Spokesman-Review's Northwest Passages community forums series -- which helps to offset the costs of several reporter and editor positions at the newspaper -- by using the easy options below. Gifts processed in this system are not tax deductible, but are predominately used to help meet the local financial requirements needed to receive national matching-grant funds.
Subscribe now to get breaking news alerts in your email inbox
Get breaking news delivered to your inbox as it happens.
---