News > Features
The power of siblings
Studies suggest that brothers and sisters who stay connected have healthier lives
Sun., July 26, 2009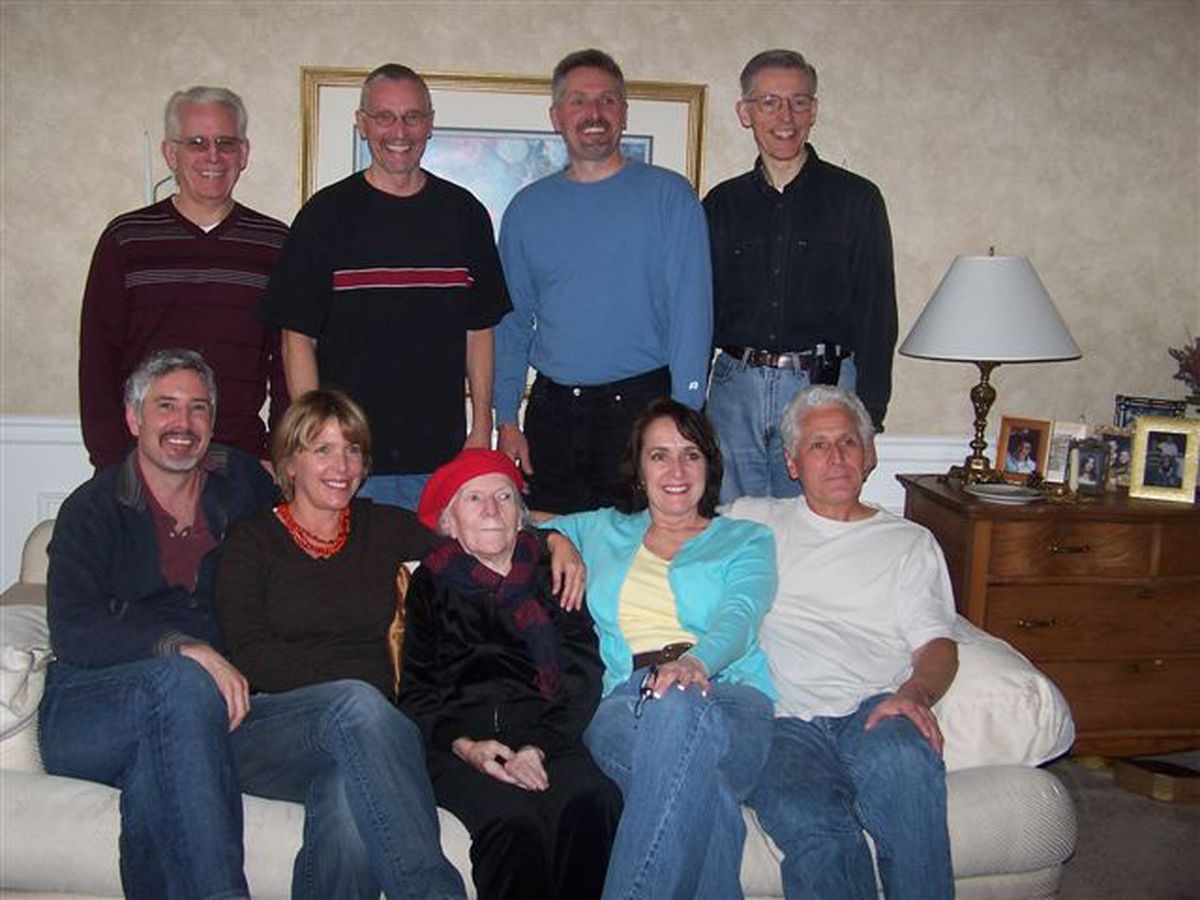 The Hopp siblings with their mother, Barbara Hopp, Easter 2009. Their mother died a month later. Courtesy of Bryan Hopp (Courtesy of Bryan Hopp / The Spokesman-Review)
If a brother or sister is organizing a family reunion this summer, go. Connecting with siblings can improve your mental and physical health, especially as you age.
Alan Mikkelson, a Whitworth University faculty member who has published extensively on sibling relationships, explains: "The sibling relationship, for a lot of people, is the longest one they'll have. I'm 31. My brother is 4 years older. I've known him all my life. There is no other (peer) relationship I can say that about."
The stories of three Spokane sibling groups – young, middle-age and older – illustrate what siblings reap by being – and staying – connected.
The Young Siblings: Mary and Maggie Smith are 11 and 9 years old, respectively. Mary has dark hair and her father Dean's dark-eyes. Maggie is fair-skinned and blue-eyed, like her mother Becky. The two sisters had a tight bond from the beginning.
One of Maggie's most vivid memories is cutting her finger on a knife. As the wound was being attended to in the emergency room, Maggie remembered that "Mary stood by my bed and said, 'It's OK, it's OK.'"
The two girls grew even closer when their dad served in Iraq five years ago. He made it home safely and 18 months ago, the entire family welcomed baby Molly.
The girls already know what they will pass onto Molly, a gentle-spirited toddler.
"Mary will teach her how to be responsible," Maggie says.
"Maggie will teach her how to be a tomboy," Mary says.
The girls intend to stay close their entire lives. When they are old women, they say, they'll happily live together.
By the time children reach the ages of Mary and Maggie, they spend more time with their siblings than anyone else, and a lot of learning takes place in that sibling time, according to sibling-relationship researchers.
In addition to tomboy tips and responsibility rules, Molly – because of the influence of her older sisters – has the potential to get better grades and be more skilled in both competition and compromise in school and in the workplace.
And the Smith girls' dream of living happily into older age? Could happen. For 72 years, Harvard University has been tracking the physical and mental health of men who attended college there in the 1930s. One interesting fact, as reported in Atlantic magazine: "Ninety three percent of the men who were thriving at age 65 had been close to a brother or sister when younger."
The middle-age siblings: The eight Hopp kids grew up in Spokane. They are now in their 40s, 50s and 60s and live in seven different cities, including Geneva, Switzerland.
For many years, the six brothers and two sisters came together as adults almost every year, at the urging of their now deceased father, Dick Hopp.
"Our dad organized a lot of the first reunions," Tracy Hopp, 57, of Vancouver, Wash., remembered. "He'd say, 'Gee, I don't know how much longer I have to live. I'd sure like to see you all.' "
This went on until Hopp died in 1997. Three years ago, their mother, Barbara, grew ill. Tracy became her primary caregiver, and the siblings gathered often to support their mom and Tracy. They were last all together at the end of May for their mother's funeral.
Jerry Hopp, 52, of Kent, appreciates the siblings' shared memories.
"I can tell a joke or give a reference to the historical past, and they get it, where my children or nieces or nephews don't have a clue," he said. "They don't remember black-and-white television sets. None of them can relate to the fact a president got assassinated or the Vietnam War happened."
Growing up, the Hopp kids had their rivalries and fights, but they learned how to get over them, because "you ended up going to the bed in the same house and waking up to the same family every morning," said Bryan Hopp, 56, of Spokane.
As they age, Jerry said, "it's easier to forgive and easier to forget the negative."
The Hopp kids stay in touch through "Hopp House," a shared e-mail group. They are planning their next reunion in 2010.
Forgetting and forgiving are essential practices for middle-age siblings, because it's during these busy years that relationships can fall apart, especially if siblings can't set aside rivalries or grudges.
"The sibling relationship has been termed a living paradox," Mikkelson explained. "On the one hand, siblings may experience a great deal of closeness, while at the same time experience high levels of conflict."
He said, "That sense of rivalry can last even into older age, but you have to move on and say 'that was in the past.'"
The older siblings: Georgine Booth was one of nine siblings who grew up on a farm near Portland. Booth, who lives in north Spokane, is 71. Only four of the Miller siblings are still living, but their childhood lives on in Booth's memories.
"We had to entertain ourselves. We had a cow trough filled with water. We'd look under big rocks for garden snakes and put them in the water. We called it the 'snakes' game."
The family's youngest child, Francis Ignatius, was born with Down syndrome. Francis was taken away from the family as a baby. Though Booth's parents visited the institution where Francis lived, the siblings never did.
About 15 years ago, Booth tracked Francis down to a group home in Grants Pass, Ore. He was in his 50s and in poor health. Booth and her sisters placed him in a care facility closer to family and visited Francis until the end of his life.
"He understood who we were," she said. "That brought a lot of joy to me."
Booth's siblings don't live in Spokane, but the Miller "kids" get together every few years and in between, they talk on the phone.
"I called my brother the other day. He's a farmer. I asked him, "What kind of fertilizer do you use on your strawberries?'"
In a recent interview, Baylor University relationship researcher Mark Morman said that in later life, siblings tend to come back together again, especially as they lose their parents. Their reward? A physical and mental health advantage.
"Siblings who reported being close to each other were more affectionate and positive," he said. They are at less risk for depression and they maintain lower heart rates, a mark of physical health.
And as people age, "story-telling provides a medium for introspection and life review which are integral processes for healthy development in older adulthood," explained Ruthanne L. Hackman and Susan McDonald, Pennsylvania academics who have done workshops on successful aging.
Siblings in older age can help each other weave those end-of-life narratives, because they were there from the first stitches.
So, as older women, Maggie and Mary Smith will reminisce about not knowing whether Molly was a boy or a girl until they walked into their mother's hospital room and saw for themselves.
And Tracy Hopp will remember how his older brothers defended him against a bully.
And Georgine Booth will cherish her photos of Francis Ignatius, the lost lamb, finally reunited with his siblings because "we couldn't leave him out there without his family."
Local journalism is essential.
Give directly to The Spokesman-Review's Northwest Passages community forums series -- which helps to offset the costs of several reporter and editor positions at the newspaper -- by using the easy options below. Gifts processed in this system are not tax deductible, but are predominately used to help meet the local financial requirements needed to receive national matching-grant funds.
Subscribe now to get breaking news alerts in your email inbox
Get breaking news delivered to your inbox as it happens.
---