News > Spokane
N. Idaho nonprofit strives to fill gap in nutrition
Women start operation to provide low-cost, protein-rich food to families
Fri., July 31, 2009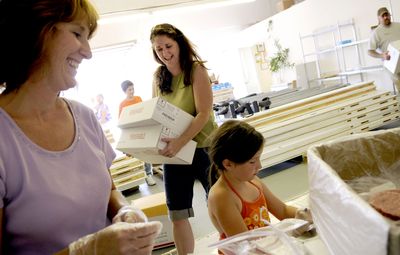 When the construction industry slumped two years ago, eliminating the sole income in Adrian and Davis Sandahl's family, they turned to the Post Falls food bank for help.
"I remember going in there and it was my daughter's (10th) birthday … and they gave me birthday cakes, and I was in tears," Davis Sandahl said. "They're really gracious and they didn't make me feel bad.
"I think that's part of the reason I'm doing this, is because I know what it felt like," she said.
What she's doing, in partnership with her friend Tawnya Bennett, of Hayden, is launching a nonprofit food distribution center that aims to provide high-quality meat at discount prices to Inland Northwest families struggling to put protein on the table.
For $30, a customer can get a box of meat, available for pickup by the first of the month, that will meet the protein needs of a family of four for a week. Next month's box will include five pounds of ground beef, two pounds of hickory smoked bacon, two pounds of boneless, skinless chicken breasts, a pound of Alaskan rockfish and six center-cut, bone-in pork chops.
There are no membership fees or income requirements. People can order online or over the phone whether they make $10,000 a year or $100,000, the women said.
The women called their operation A Week's Feast, both because it illustrates what they're trying to do – provide a week's worth of food for a family – and because of the Feast of Weeks in Leviticus. The passage tells farmers not to take everything from their fields after the harvest but rather leave the gleanings for the poor.
"We wanted to give back to the community and think beyond ourselves," Bennett said.
Sandahl discovered the concept of nonprofit food distribution in Mississippi while visiting her mother, who uses Angel Food Ministries. The nonprofit corporation provides boxes of food at a fixed cost to about 500,000 families per month, according to its Web site. At first Sandahl and Bennett sought to become a branch location for the nonprofit, but North Idaho was too far away from the Georgia headquarters.
So the women decided to start their own. Conversations with food bank operators in this area revealed that the hardest item to provide was protein, because it's the most expensive.
"It's easy to get leftover bread, pastries and cereals, but not a lot of leftover ground beef," said Jeff Conroy, executive director of St. Vincent de Paul in Coeur d'Alene. "If these guys are going to concentrate just on protein, that's a niche that would be readily accepted."
Both women are stay-at-home mothers, but Bennett worked for 16 years in the insurance industry, and Sandahl worked for 20 years in restaurants, many of those in management.
With support from their husbands – Adrian Sandahl, an electrician, and Greg Bennett, a Spokane Valley firefighter – they hired an accountant and filed paperwork to become a nonprofit corporation. They were approved to accept food stamps through the U.S. Department of Agriculture.
Then they began their public outreach blitz, distributing fliers at schools, churches, day cares and food banks. They solicited and received donations of office furniture, computers and – the biggest catch – 30 used freezers from the Coeur d'Alene Costco, which recently remodeled.
They order the food from Sysco of Post Falls and Food Services of America of Spokane, companies that supply many restaurants, school districts and hospitals.
"I've decided next month on a surf-and-turf package because I got a good deal on some shrimp," Sandahl said. "We try and get the good stuff."
They sold 70 of the basic $30 packages last month, during their first month of operation, and 40 were ordered in July. Orders are placed by the 22nd of each month, and the shipments are ready for pickup by the first of the month. The Post Falls warehouse they lease has the capacity for 1,500 boxes per month.
A $1 to $3 cut of the packages they sell helps pay the bills – the warehouse lease, power bills and Internet. But the families also have poured about $3,500 into the organization. They hope one day it will become self-sustaining or even pay them modest director salaries. Bennett said another goal is acquiring an official company vehicle so they can deliver food to people confined to their homes, especially in winter.
Though only in their second month of operation, word has already spread, they said, indicating the need for an operation like this in the Northwest. Organizations in Bend, Ore., the Tri-Cities, Lewiston-Clarkston and Portland have called asking whether the women would be interested in setting up branches in those areas.
Do they see that happening?
The friends answered almost simultaneously.
"I do," Bennett said.
"Absolutely," Sandahl said. "Oregon, Idaho, Washington, Western Montana."
Local journalism is essential.
Give directly to The Spokesman-Review's Northwest Passages community forums series -- which helps to offset the costs of several reporter and editor positions at the newspaper -- by using the easy options below. Gifts processed in this system are not tax deductible, but are predominately used to help meet the local financial requirements needed to receive national matching-grant funds.
Subscribe to the Coronavirus newsletter
Get the day's latest Coronavirus news delivered to your inbox by subscribing to our newsletter.
---