Judge who oversaw Aryans trial to retire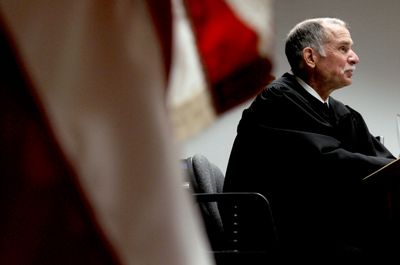 The Idaho judge who presided over the Kootenai County civil trial that bankrupted the Aryan Nations in 2000 is retiring.
Charles W. Hosack, 62, will step down at the end of the year but continue to work part time as a senior judge in Idaho's first judicial district, which includes the five northern counties.
Gov. Butch Otter will select Hosack's replacement from a list of applicants chosen by the Idaho Judicial District. The new judge will serve from Jan. 1, 2010, through the end of the term in 2014, when the next general election will be held.
Hosack said the landmark case against the Aryan Nations will always remain in a "stand-alone" category, because of the intense publicity and the defendants' notoriety. The case itself didn't involve many extraordinary legal issues, Hosack said.
"It was the nature of the parties and all the publicity that went with it," he said. "My main concern was that it not turn into a circus. I never thought the O.J. Simpson trial was a good example of how to conduct a jury trial."
When he was assigned that case Hosack had been a judge for about two years. He was appointed by Gov. Phil Batt in 1997 and took office Jan. 1, 1998. The case resulted in a $6.3 million verdict that bankrupted the racist organization and forced the sale of its compound.
Administrative District Judge John Luster called Hosack "a deep thinker" and said other judges learned from his handling of that case.
First District Judge John Mitchell said, "Because of that trial, when I've had high-profile cases … I've used him as a resource."
Hosack was born and raised in Moscow and obtained his law degree from the University of Colorado. He moved in 1978 to Coeur d'Alene, where he was a trial lawyer until he was appointed to the bench.
Hosack and his wife, Kathy, have two sons, Cameron, a high school student, and Geoffrey, a post-doctoral student at Ohio State University.
"I'm not interested in just retiring," Hosack said. "I really enjoy what I do, but maybe now I'll have some more spare time."
---