News > Washington Voices
Grad from Africa has world vision
Ferris senior nearly quit school to support family
Thu., June 4, 2009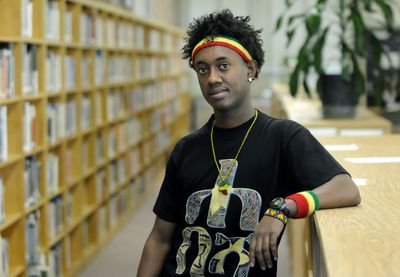 Solomon Shanko, 18, landed in Spokane in August 2007 after a 28-hour flight from his native Ethiopia. His mom had moved to the United States in 2002 – while Shanko stayed behind with his father, a sister and a brother. Today, Shanko's siblings also live here, but his dad is still in Ethiopia.
"He watches out for my grandparents; they are blind," Shanko said, sitting in the library at Ferris High School. "And he works at the hospital. He was a nurse, then he went to university for two years, and now he's between a doctor and a nurse."
Shanko arrived just a week before high school began, so he didn't have much time to adjust to a future in English. He already spoke four different African languages, but his English was limited to "yes" and "no" and "what is your name?"
He laughs at the memory.
"They gave me a tour here of the school, and at the end asked if we understood all of it and I just said 'yes,' " said Shanko, shaking his head. "I didn't understand what he said."
Today, Shanko's English is fine, and he's not timid about using it.
"I think in Ethiopia school is harder than here," Shanko said, explaining that students have to pass rigorous testing starting in eighth grade. Boys have to reach a higher GPA to continue than girls. "If you don't pass the test, you cannot go on to the next level."
While Shanko was still in Ethiopia and his mom had already moved to the United States, she kept telling him not to worry about studying.
" 'You come here and learn in America,' she'd tell me on the phone, 'don't worry about school,' " said Shanko. "So I didn't worry about my grades and they went down."
Once at Ferris, Shanko was a little surprised to find that his Ethiopian grades did transfer to his new high school.
"My GPA just went down," he said, shaking his head. "But now I'm working on it. I'm pulling it back up."
Aside from dealing with language and cultural differences, Shanko has had challenges at home.
In November, his mom became ill.
"She gets stressed out thinking of Africa and her family," Shanko said, touching his forehead with a brushing motion. "She keeps losing her mind." His mom was in the hospital for four months, he said.
During that time, he became the head of a household that also counts two younger siblings.
He had to find a job.
And stick with school. At one point he dropped out, but said the principal called him and encouraged him to come back.
"I started working at McDonald's," Shanko said. "I'd get up at 7 a.m., get my siblings to school, go to school here, then to nursing class, then go work at McDonald's and then come home late and do my homework. Next day: start over again."
His mom is better now and she's at home, but the experience of being responsible for his closest family has clearly forged Shanko.
"I want to be a surgeon," he said. "My dad would take me to the hospital and I would wear his white coat and pretend I was a doctor. For now, I want to start by becoming a nurse."
His favorite classes are the nursing classes, mathematics and economics.
"I have good friends at school," Shanko said, "but I don't hang out a lot, because I'm so busy."
Back in Ethiopia he had dreams of becoming a professional soccer player.
"We played soccer all the time, in the street every day after school," Shanko said, adding that he'd love to play here as well, but his schedule won't allow it.
The most difficult thing about adapting to American culture was the food.
"I did not like the pizza. I did not like any of the food. I'd bring my own food to school," Shanko said. "I like chicken. We eat lots of chicken in Ethiopia – that's why I like it."
Today he even likes pizza, he said, but cooking at home is Ethiopian-style, which he describes as spicy meat sauce served on a big flat bread.
"My friends like it too," Shanko said.
After graduation, Shanko is headed to Spokane Community Colleges to work on his nursing degree.
He plans to visit Ethiopia around Christmas 2010.
"I want to go when the snow comes here," he said, laughing. "Then come back when the snow is gone – I'm not a big fan of snow."
He doesn't want to move back to Ethiopia, but he would like to find a career that would let him travel back and forth.
"Maybe I could open a hospital in Ethiopia, to help people, but still live here," he said. "Ethiopian students are good – they really want education."
Local journalism is essential.
Give directly to The Spokesman-Review's Northwest Passages community forums series -- which helps to offset the costs of several reporter and editor positions at the newspaper -- by using the easy options below. Gifts processed in this system are not tax deductible, but are predominately used to help meet the local financial requirements needed to receive national matching-grant funds.
Subscribe to the Coronavirus newsletter
Get the day's latest Coronavirus news delivered to your inbox by subscribing to our newsletter.
---