News > Nation/World
U.S. may go solo on N. Korea sanctions
Fri., June 5, 2009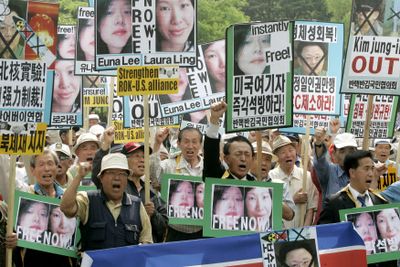 SEOUL, South Korea – The United States has told South Korea that it will impose its own financial sanctions on the North apart from punishments the U.N. has been mulling for Pyongyang's latest nuclear test, a news report said today.
The U.S. sanctions call for blacklisting foreign financial institutions that help the North launder money and conduct other dubious deals, the South Korean Chosun Ilbo newspaper reported.
U.S. Deputy Secretary of State James Steinberg briefed the South Korean president on the new sanctions at a meeting Thursday, the mass-market paper said, citing an unidentified official at the presidential office. The U.S. Embassy in Seoul could not confirm the report.
Last week, Pyongyang conducted a barrage of missile launches and an underground nuclear test that violated previous U.N. Security Council sanctions. The North also appeared to be preparing for more missile tests, including one believed to be capable of reaching the U.S.
A similar U.S. measure imposed on a bank in the Chinese territory of Macau in 2005 effectively led to the North being severed from the international financial system, as other institutions voluntarily severed their dealings with the bank and the North.
That measure appeared to have hit the regime hard. News reports at the time said North Korean officials had to carry around bags of cash for financial transactions. Pyongyang stayed away from nuclear disarmament talks for more than a year in retaliation.
Steinberg was in Seoul to coordinate a united response to Pyongyang's belligerence. His interagency delegation included Stuart Levey, the Treasury Department's undersecretary for terrorism and financial intelligence.
Steinberg told South Korean President Lee Myung-bak that "North Korea would be mistaken if it thinks it can make provocations and then get what it wants through negotiation as it did in the past. The U.S. won't repeat the same mistake again," Seoul's presidential office said in a statement.
Complicating the situation, two American journalists were to go on trial Thursday in North Korea's top court, on allegations they entered the country illegally and engaged in "hostile acts."
North Korea's official news agency said the trial would begin by midafternoon Thursday, but nearly one day later, there was no word on the status of the proceedings. A State Department spokesman said American officials had seen no independent confirmation that the case was under way.
Local journalism is essential.
Give directly to The Spokesman-Review's Northwest Passages community forums series -- which helps to offset the costs of several reporter and editor positions at the newspaper -- by using the easy options below. Gifts processed in this system are not tax deductible, but are predominately used to help meet the local financial requirements needed to receive national matching-grant funds.
Subscribe to the Coronavirus newsletter
Get the day's latest Coronavirus news delivered to your inbox by subscribing to our newsletter.
---
Subscribe and log in to the Spokesman-Review to read and comment on this story