News > Idaho Voices
Graduate finds her potential at New Vision
One-on-one attention helps student blossom
Sun., June 7, 2009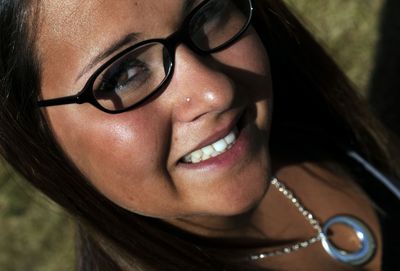 Kourtney Otamendi is the outstanding senior of the year at New Vision High School, Post Fall's alternative high school. Hers was an unusual upbringing. It was not the idyllic picket fence, family dog, nuclear family picture.
She lived with a foster family in Dallesport, Wash., for four years, until her aunt, Regina Lind, received her foster care license and was able to take in Kourtney, 19, and her younger sister, Whitney, 18, during Kourtney's freshman year. Lind lived in Athol at the time, then moved to Post Falls.
The girls' brother, Jonathan Otamendi, 21, remains in Dallesport with the foster family. At 18 months old, he fell out of a three-story building, and was only expected to live until he was about 13. He has seizures, but is able to work. Kourtney Otamendi is just now establishing a relationship with her father, who was absent much of her adolescent life.
"I've always strived to better myself and stay away from things my family got pulled into – things that got them in a rut," Otamendi said.
She now lives with her boyfriend, Marshall Green, and his mother, Arlene Green. Marshall Green was New Vision's outstanding senior last year. Otamendi said her decision to go to New Vision was decided when she met some kids who went to school there. From moving all the time in her youth, she found it difficult to integrate into public schools. At the end of her sophomore year, she got on the waiting list for New Vision.
A student has to be interviewed to enroll at New Vision. The administration wants to see that the student has potential and the motivation to succeed, Otamendi said. She was called a week before school began her junior year, and was enrolled for the home run.
"You have to be interviewed, sign rules and regulations to attend New Vision," she said.
Otamendi says even though she was nominated outstanding senior of the year, everyone is equal at New Vision. Students cannot receive anything lower than a C. She gets all As and Bs.
She enjoyed the one-on-one time with teachers that New Vision affords its students, the fact that you can move at your own pace and the closeness of the group.
"There's a really good friendship among students," she said.
The school has a program called E Squared where they get together and interact in groups.
"You actually get to know people you normally wouldn't hang out with," she said.
English is her favorite subject although it is a struggle for her. She said her English teacher, Jim Freeman, made every class memorable.
"He's really funny," she said.
She also volunteers for the American Legion Honor Guard, a youth program to honor veterans. A recruiter spoke to students at New Vision almost a year ago; she is their longest lasting volunteer. They present the flag at veterans funerals.
She also helps make quilts to send to troops, the ill and shut-ins at her church, Real Life Ministries.
Otamendi has been accepted to attend North Idaho College and is just waiting for results from her many scholarship applications and financial aid.
"I applied for anything and everything I can get," she said. She wants to get an associate's degree to work as an administrative assistant.
In the meantime, she continues to work two jobs – at a State Farm Insurance office as an office clerk, and at the new Taco Bell in Coeur d'Alene in the evenings.
In what little spare time she has, she enjoys being outside and trying new things, hanging out with K.G., her best friend who is also graduating from New Vision, bike riding, yoga, sunbathing and being on the boat her boyfriend's father just bought.
Her advice to fellow classmates?
"Go through each day of high school as though the next day is graduation," she said. "Your past makes no difference – it's you who makes the difference."
Local journalism is essential.
Give directly to The Spokesman-Review's Northwest Passages community forums series -- which helps to offset the costs of several reporter and editor positions at the newspaper -- by using the easy options below. Gifts processed in this system are not tax deductible, but are predominately used to help meet the local financial requirements needed to receive national matching-grant funds.
Subscribe now to get breaking news alerts in your email inbox
Get breaking news delivered to your inbox as it happens.
---