Farmers markets put churches in quandary
Parking lot sales violate tax exemption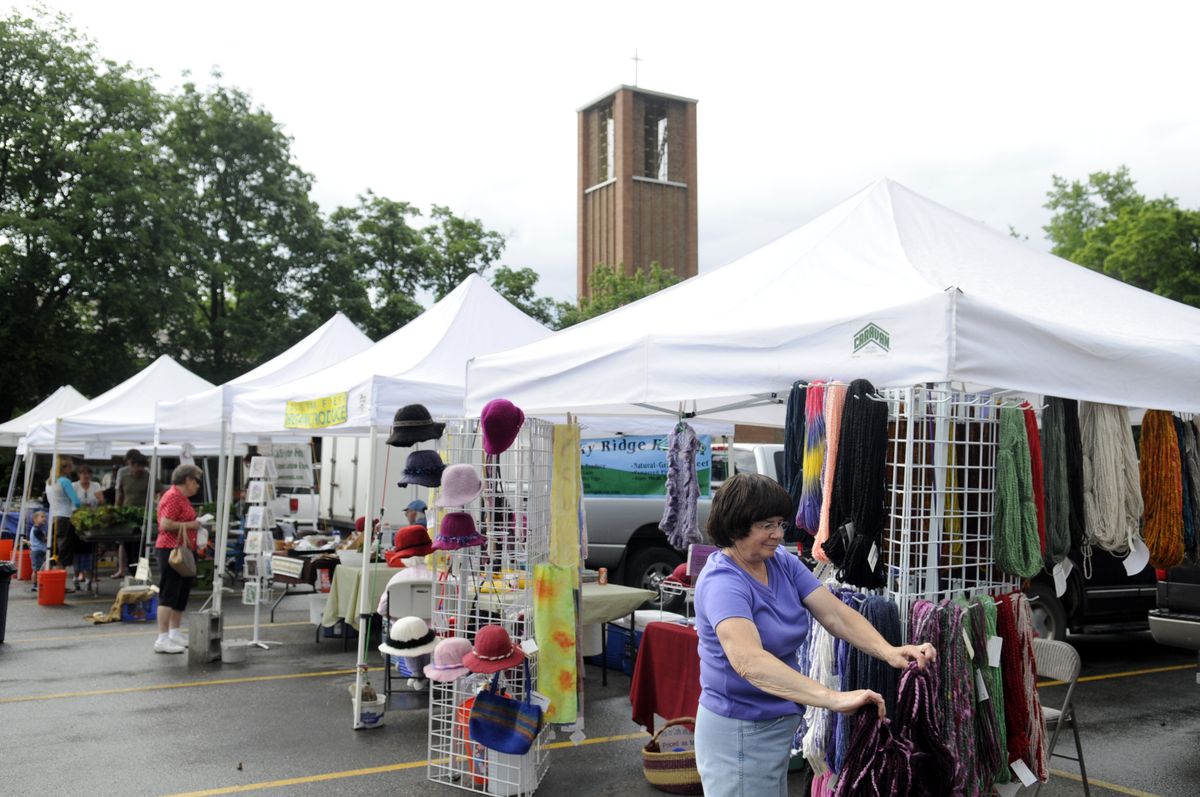 OLYMPIA – State tax officials recently gave several Spokane-area churches an ultimatum: Stop running farmers markets in your parking lots or start paying tax on that land.
"We have no choice here. The law is really clear," said Mike Gowrylow, a spokesman for the state Department of Revenue. "When you've got a commercial business – no matter how small or homegrown – operating on tax-exempt property, then it runs afoul of the law."
Two of the farmers markets – one in Millwood and the one in downtown Spokane – will stay where they are, according to the Rev. Craig Goodwin, of Millwood Community Presbyterian Church.
He said his church will pay the $700 or so in taxes on its parking lot to enable the farmers market to continue.
"I'm familiar with the Bible passage 'Pay unto Caesar what is Caesar's,' and we're willing to do that," he said. But he said the markets are a crucial community asset that should be exempt.
The nonprofit group that runs the downtown Spokane market, Goodwin said, has also agreed to come up with about $3,000 a year to cover the taxes on the First Covenant Church's parking lot.
The fate of the South Hill's South Perry Farmers Market is less clear. Manager Jenny Edgren said Tuesday she'd been told by the Christ Community Church "that we basically have to find another place." Efforts to reach a church official for comment were unsuccessful.
The issue cropped up three weeks ago, after a state tax auditor paid a routine visit to Goodwin's church in Millwood and saw the Wednesday market.
"He basically said, 'What's going on here?' " Goodwin said. (Goodwin blogs about locally grown food on a Web site owned by the Cowles Co., which also owns The Spokesman-Review.)
The churches themselves are not at risk of losing their tax-exempt status, Gowrylow said. The focus is just on where the farmers markets are: in the parking lot.
One local lawmaker said the Legislature might be able to help.
"I hope that it doesn't disrupt the farmers markets. Those are very important for the neighborhoods that they're in," said Senate Majority Leader Lisa Brown, D-Spokane. "I'm going to look into it and see if there is a possibility of crafting some sort of exception in state law or resolving the issue."
Goodwin agrees that the farmers markets are an important focal point for communities, local food and families. "The way it really strengthens the bonds of the community seem to go beyond the bounds of any old commercial activity," he said.
At the South Perry Farmers Market, Edgren said that organizers are discussing their options. They've reluctantly started to look for other sites.
It's a shame, she said. After four years there, opening day this month featured the highest number of vendors: 20. People sell eggs, seedlings, vegetables, meat, pastries, chocolate, herbs, fruits and vegetables. A chiropractor is slated to open a booth there.
"It really brings people together," she said.
---