News > Spokane
Gregoire orders deeper cutting
State revenue forecast shrinks by $500 million
Fri., June 19, 2009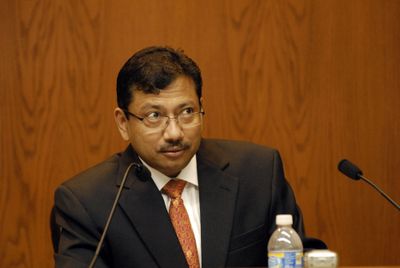 OLYMPIA – Gov. Chris Gregoire is ordering state agencies to cut their payrolls by another 2 percent, after a state forecaster Thursday whacked revenue projections by nearly $500 million.
"You must manage within your hiring cap," Gregoire said in a letter sent to agency directors, college presidents and state boards. "This may necessitate furloughs, reductions in force, or reductions in overtime."
Agencies can hire critical staffers to continue their missions, the governor said, but they must meet the cost-cutting goal. Limits on out-of-state travel, equipment purchases and state contracts will continue.
After cutting nearly $4 billion from the state budget, lawmakers in April approved a two-year budget that left hundreds of millions in savings in two different funds as a cushion against further drops in state revenue.
Thursday's forecast would eat up virtually all of that money. If the state spent all of its "rainy day fund" savings – which would require legislative approval – it would have just $53 million left in savings. That's a tiny fraction of the state's $35 billion budget and could easily be erased by even a slight budget uptick, such as more students enrolling in schools.
"Certainly, this is nowhere near what we'd like to have in an ending-fund balance" during good times, said Sen. Joe Zarelli, R-Ridgefield.
Still, compared with the $9 billion shortfall lawmakers were wrestling with last winter, the decrease is relatively modest. If the prior state budget cuts required big swaths of bandages to stem the red ink, state Rep. Ross Hunter, D-Medina, said, "now we're looking at the Band-Aid drawer."
Some lawmakers also pointed out that there's plenty of time to find the savings between now and mid-2011, the end of the budget cycle. And further revenue forecasts – the next one's due in September – may be brighter. If the governor thinks she can manage for now, Hunter said, it would be a mistake for lawmakers to rush to Olympia for a special session to rewrite the budget.
For the state as a whole, there was some good news in state revenue forecaster Arun Raha's predictions.
"It increasingly appears that we are finally approaching the end of this 'Great Recession,' " he said. The bottom of the recession seems near, he said, and the "free fall" declines in economic indicators are easing. Critically, he said, 10 large banks have been deemed healthy enough by federal regulators to begin paying back billions of taxpayer dollars.
"Things are beginning to move sideways rather than due south," Raha said. "In today's economy, sideways is good, because that is the start of a recovery."
Still, he said, home prices in Washington will likely continue to drop until the end of the year. The state's unemployment rate, now at 9.4 percent, is expected to rise to 10.6 percent by mid-2010. Construction jobs, in particular, are likely to decline throughout much of next year he said, and many of the building-boom jobs "have gone away for good."
The good news: Boeing still has a long list of aircraft orders, and demand remains good for single-aisle jetliners. Microsoft's balance sheet is healthy, Raha said, with "robust" product development in the works.
Also, Raha said, the state will likely get an "afterburner kick" to the economy in late 2011, as international trade rebounds. Exports have dropped by a third as other countries were hit harder by the recession.
One big unknown is consumer spending. People are still sitting on their wallets, with a savings rate of 5.7 percent. Although auto sales have stabilized nationally, Raha said, the trend in Washington is still downward. Light-truck sales, in particular, remain down, presumably because of less buying for construction work.
Raha thinks spending will rebound sharply. There's a lot of pent-up consumer demand, he said, and the savings rate shows that people have money in the bank. Last year's holiday shopping season was one of the worst on record for retailers, he said. This year's, he said, could be much different. "That's the biggest wild card in our forecast," he said.
Local journalism is essential.
Give directly to The Spokesman-Review's Northwest Passages community forums series -- which helps to offset the costs of several reporter and editor positions at the newspaper -- by using the easy options below. Gifts processed in this system are not tax deductible, but are predominately used to help meet the local financial requirements needed to receive national matching-grant funds.
Subscribe now to get breaking news alerts in your email inbox
Get breaking news delivered to your inbox as it happens.
---