News > Idaho
Otter creates group to fix roads funding
Task force will present long-term proposal in 2010
Wed., June 24, 2009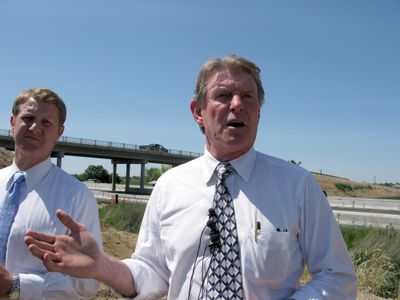 BOISE – Gov. Butch Otter took a major step back in his push for more roads funding Tuesday, assigning a task force studying funding solutions to report back in December 2010 – long after next year's legislative session and just before the 2011 session.
"Obviously … there's a lot of work to do," Otter said. "That gives them plenty of time – they're not going to hurry into anything. All options are on the table."
Otter's retreat came as he continued to make his case that Idaho needs to spend many millions more a year on road work to make up a big and growing maintenance shortfall. But he said state lawmakers "made a good point" that in this time of recession, Idaho's making major investments in road projects this year thanks to the federal economic stimulus and bond funding. Together, those total roughly $300 million.
"Perhaps we have enough money for a while," the governor said.
Next year's legislative session will occur during an election year – every seat in the Idaho Legislature will be up for election in November 2010, and the filing period for the primary election falls in March, when lawmakers likely still will be meeting.
"That was part of the consideration in establishing the task force," Otter said. "It's difficult anytime, whether it's an election year or not, to raise taxes. But when the need is there, then I think the advocacy has to be for it, and that's what I was trying to provide."
The governor's move was surprising to longtime Idaho political observer Jim Weatherby, political science professor emeritus at Boise State University.
"It would seem to me to make more sense, maybe not politically, when you're talking about raising taxes, but in terms of public safety and addressing our deteriorating roads, that those issues be laid on the table and discussed during the campaign," he said, "before candidates again, as they did in the last election, lock themselves into a position of opposing any tax increase."
Idaho had its second-longest legislative session this year, as Otter pushed hard for tax and fee increases to pay for road work, but lawmakers resisted. In the end, he settled for a couple of small changes and a possible fund shift.
Otter noted that a separate legislative committee is charged with coming up with a new way to fund the Idaho State Police and state parks and recreation before those agencies lose gas tax funding on July 1, 2010. That panel may propose legislation next year, he said.
Idaho Senate Transportation Chairman John McGee, R-Caldwell, said: "The task force the governor put together is not a one-year or a two-year look at transportation in Idaho. It's looking into the future, 10, 15, 20 years and beyond. That's why you take that amount of time to do it right, so hopefully we won't have the kinds of long-term battles during the Legislature, but take the time … to come back to the Legislature and the governor with a good, long-term funding plan."
Otter said the task force's long-term approach could include exploring such issues as the cars of the future.
"What happens when 25 percent of the cars on the highway are battery operated and they don't buy gasoline – then what happens to that revenue stream?" he asked. Idaho funds roads now mainly with gas taxes and vehicle registration fees. "They're still going to take up room on the highway," Otter said. "I'm a user-pay guy. I'm not taking anything off the table."
Local journalism is essential.
Give directly to The Spokesman-Review's Northwest Passages community forums series -- which helps to offset the costs of several reporter and editor positions at the newspaper -- by using the easy options below. Gifts processed in this system are not tax deductible, but are predominately used to help meet the local financial requirements needed to receive national matching-grant funds.
Subscribe to the Coronavirus newsletter
Get the day's latest Coronavirus news delivered to your inbox by subscribing to our newsletter.
---