News > Nation/World
Berkshire can overcome its worst year, Buffett says
Sun., March 1, 2009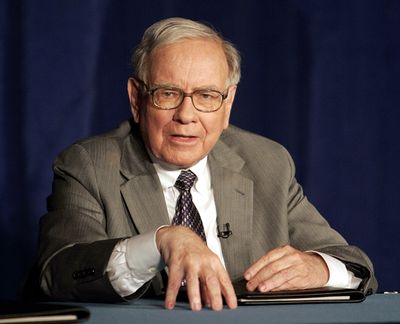 OMAHA, Neb. – Warren Buffett remains optimistic about the prospects for his company and the nation even though Berkshire Hathaway Inc. turned in its worst performance in 2008 and the widely-followed investor says the economy will likely remain a mess beyond this year.
Buffett used his annual letter Saturday to reassure shareholders that the Omaha-based insurance and investment company has the financial strength needed to withstand the current turmoil and improve after the worst showing of Buffett's 44 years as chairman and CEO.
Buffett wrote he is certain "the economy will be in shambles throughout 2009 – and, for that matter, probably well beyond – but that conclusion does not tell us whether the stock market will rise or fall."
In contrast to the uncertainty about the market, Buffett offered a hopeful view of the nation's future.
He said America has faced bigger economic challenges in the past, including two World Wars and the Great Depression.
"Though the path has not been smooth, our economic system has worked extraordinarily well over time," Buffett wrote. "It has unleashed human potential as no other system has, and it will continue to do so. America's best days lie ahead."
Buffett's letter appeared to mollify the concerns of many who follow the company, but it's not yet clear whether that will help Berkshire's Class A stock extend its rebound from the new five-year low it set last Monday at $73,500. On Friday, it closed up $250 at $78,600.
"If anything, I feel better than I did before I read it," Morningstar analyst Bill Bergman said. Berkshire's results could have easily been worse, he said.
But Buffett estimates Berkshire's book value – assets minus liabilities – declined 9.6 percent to $70,530 per share in 2008 – the biggest drop since he took control of the company in 1965. Berkshire's book value declined only one other time under Buffett, and that was a 6.2 percent drop in 2001 when insurance losses related to the Sept. 11 terrorist attacks hurt results.
Berkshire's Class A shares remain the most expensive U.S. stock, but they fell nearly 32 percent in 2008 and have declined 48 percent since setting a high of $151,650 in December 2007.
The S&P 500 fell 37 percent in 2008.
Within Berkshire, Buffett said the company's retail businesses, including furniture and jewelry stores, and those tied to residential construction, such as Shaw carpet and Acme Brick, were hit hard last year. Net income for those businesses slipped 3 percent to $2.28 billion, and Buffett said they will likely continue to perform below their potential in 2009.
But he said Berkshire's utility and insurance businesses, which include Geico, both delivered outstanding results in 2008 that helped balance out the other businesses.
Local journalism is essential.
Give directly to The Spokesman-Review's Northwest Passages community forums series -- which helps to offset the costs of several reporter and editor positions at the newspaper -- by using the easy options below. Gifts processed in this system are not tax deductible, but are predominately used to help meet the local financial requirements needed to receive national matching-grant funds.
Subscribe to the Coronavirus newsletter
Get the day's latest Coronavirus news delivered to your inbox by subscribing to our newsletter.
---