News > Nation/World
Clinton heading to Middle East for talks
Conference to cover aid to Palestinians
Sun., March 1, 2009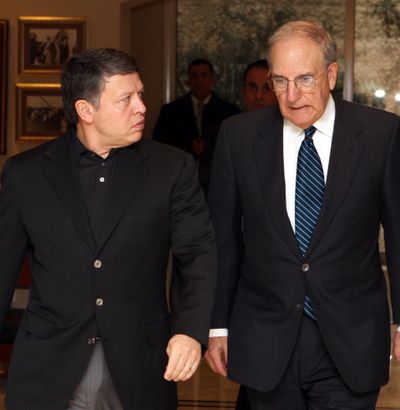 WASHINGTON – Secretary of State Hillary Rodham Clinton this week will make her first foray into Middle East diplomacy, attending a high-level conference on humanitarian assistance to Gaza and making the rounds of Israeli and Palestinian officials, at a time when a growing chorus of voices on both the right and left say the current peace process needs a dramatically new approach.
President Barack Obama won praise by appointing a Middle East envoy on the second day of his presidency, indicating a commitment to resolving the Israeli-Palestinian conflict. The envoy, former Sen. George Mitchell, is now making his second tour of the region in a month and will meet up with Clinton at the aid conference, which will be held Monday in the Egyptian Red Sea resort of Sharm el-Sheik.
But neither Mitchell nor Clinton appear to have come up with new ideas for rekindling peace efforts. Clinton's husband, former President Bill Clinton, devoted the final months of his administration to unsuccessfully trying to achieve a peace agreement, even sketching out a series of ground-breaking proposals for bridging the gaps still known as the "Clinton parameters." But much has changed since 2001, and the Bush administration's last-minute stab at peace-making, known as the Annapolis process, also collapsed in failure.
Clinton will visit Jerusalem and Ramallah, on the West Bank, on Tuesday and Wednesday before flying to meetings in Europe – and every word that she utters in the region will be closely watched for clues to the administration's approach.
Israelis for instance will be listening for how hard she presses for Palestinian governmental reform and an end to corruption, while Palestinians are eager to hear a tougher U.S. stance on Israeli settlement construction in Palestinian territories.
"It would be great to hear an American official say that Israeli settlements are illegal under international law," said Nadia Hijab, senior fellow at the Institute for Palestinian Studies in Washington. "But I don't think I will ever live to see that day."
Mitchell in 2001 authored a plan to reduce tensions and make progress that both Israelis and Palestinians embraced as fair, although it was never implemented. In a conference call with Jewish-American leaders last month, Mitchell said that when he reread his report he was struck by how much had changed in the past eight years, according to an account of the conversation published by JTA, a Jewish news service. Iran, he said, was not mentioned in the report but the problem of Iranian influence was brought up by every leader in the region during his initial tour.
Any new peace effort is complicated by other factors, including the prospect of a new right-wing Israeli government hostile to the idea of a Palestinian state and the splintering of the Palestinian leadership into a moderate faction that runs the West Bank and a radical group that controls Gaza. Israel in December waged war against the Hamas militant group that controls the narrow coastal strip that is home to almost half the Palestinian population, and it has kept a tight grip on the crossings into Gaza, making it all but impossible to begin reconstruction.
The conundrum facing the administration is how does it get aid flowing to the Gazans or encourage Palestinian unity without bolstering Hamas, and how does it encourage the new Israeli government to open up crossings, ease settlement expansion and begin to consider talks with the Palestinians. Increasingly, many analysts believe, the goals are contradictory and virtually impossible to achieve.
The United States, for instance, intends to make a substantial pledge at the conference, U.S. officials say, but whether much of it can be ever delivered is unclear.
"It will only be spent if we determine that our goals can be furthered rather than undermined or subverted," Clinton told the Voice of America in an interview Friday. She said aid dollars will "be spent only in service of the goals that will help people feel more secure in their lives, and therefore more confident that progress toward peace would serve them better than retreating to violence and rejectionism."
While officially the Israeli government refuses to deal with Hamas – and U.S. policy dictates there can be no contacts until it renounces violence and recognizes Israel – Jerusalem is negotiating a cease-fire deal with the militant group via Egypt.
Local journalism is essential.
Give directly to The Spokesman-Review's Northwest Passages community forums series -- which helps to offset the costs of several reporter and editor positions at the newspaper -- by using the easy options below. Gifts processed in this system are not tax deductible, but are predominately used to help meet the local financial requirements needed to receive national matching-grant funds.
Subscribe to the Coronavirus newsletter
Get the day's latest Coronavirus news delivered to your inbox by subscribing to our newsletter.
---