Sports
Patriots trade Cassel, Vrabel to Chiefs
Sun., March 1, 2009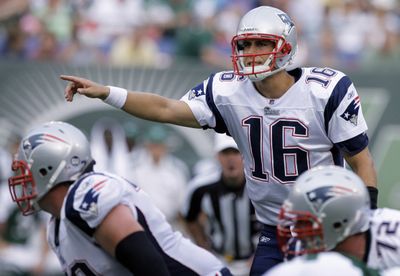 The New England Patriots sent Matt Cassel to the Kansas City Chiefs and a message to their own fans: Don't worry about Tom Brady's knee.
One question, though, remained.
How could the Patriots obtain only a second-round draft choice for a solid, young quarterback and a 12-year veteran leader, linebacker Mike Vrabel?
That mystery persisted Saturday after the Patriots announced the trade for the 34th pick in this year's draft, which the Chiefs earned with a franchise-worst 2-14 record.
Cassel and Vrabel join a team being run by new general manager Scott Pioli, who went to the Chiefs in January after serving as vice president of player personnel for the Patriots.
•Dawkins joins Broncos: The Denver Broncos have signed seven-time Pro Bowl safety Brian Dawkins, who had spent his entire 13-year career with the Philadelphia Eagles.
•Rams sign Brown: The St. Louis Rams made Jason Brown the highest-paid center in the league, signing the former Baltimore Ravens lineman to a five-year, $37.5 million deal.
•Jets acquire Sheppard: The New York Jets acquired two-time Pro Bowl cornerback Lito Sheppard from the Philadelphia Eagles for undisclosed draft picks.
•Boley newest Giant: The New York Giants bolstered their defense, signing former Atlanta Falcons linebacker Michael Boley to a five-year, $25 million contract.
•Moore returns to Jets: The New York Jets re-signed right guard Brandon Moore to a four-year, $16 million deal.
•Eagles ink Andrews: The Philadelphia Eagles bolstered their offensive line by signing Stacy Andrews to a six-year contract. Andrews spent his first five seasons with Cincinnati and is the older brother of Eagles right guard Shawn Andrews.
•Vikings re-sign Kleinsasser: Tight end Jim Kleinsasser has re-signed with the Minnesota Vikings for a $9 million, three-year contract.
•Texans land Smith: The Houston Texans signed free-agent defensive end Antonio Smith, who played for the Arizona Cardinals last season.
•Bills add offensive lineman: The Buffalo Bills signed offensive lineman Geoff Hangartner, who played center and guard during the past four years with the Carolina Panthers. No terms were announced.
College men's basketball
Hoyas pull off upset
DaJuan Summers scored 16 points and Chris Wright had 13, including a crucial driving layup with 47 seconds left, to lead Georgetown (15-12, 6-10 Big East) to a 56-54 victory over No. 10 Villanova (23-7, 11-6) in Philadelphia.
•FSU tops Clemson: Toney Douglas scored 23 points and No. 23 Florida State (22-7, 9-5 ACC) held on for a 73-66 win over No. 12 Clemson (22-6, 8-6) in Tallahassee, Fla.
NBA
Jazz remain hot
Ronnie Brewer scored a career-high 26 points and Deron Williams added 16 points and 11 assists as the Utah Jazz increased their winning streak to seven with a 102-89 victory over the Sacramento Kings in Salt Lake City.
•Magic rally past 76ers: Rashard Lewis and Hedo Turkoglu scored 23 points each and the Orlando Magic tied a franchise record with 37 3-point tries (they made 15 of them) in their 106-100 comeback win over the 76ers in Philadelphia.
Golf
Ogilvy, Casey square off
It's down to Geoff Ogilvy and Paul Casey in the Accenture Match Play Championship in Marana, Ariz.
Ogilvy made five birdies on the back nine to outlast teenage sensation Rory McIlroy in the quarterfinals, then played his final four holes in 5-under par against Stewart Cink for a 4-and-2 victory to reach the championship match for the third time in four years.
His opponent will be Casey, who defeated Ross Fisher, 2 and 1, and will have a chance to become the first Match Play champion to never trail in any match the entire week. Even more astounding is that Casey has led 81 of the 82 holes he has played.
•Two share lead: Bo Van Pelt shot a 3-under 67, enough to catch Mark Wilson for the lead at the Mayakoba Golf Classic in Playa del Carmen, Mexico. Wilson shot a 1-under, leaving both at 11-under 199 through three rounds of the PGA Tour's annual stop south of the border.
Miscellany
Biffle gets elusive win
Greg Biffle has snapped a 76-race winless streak by winning the Nationwide Series race at Las Vegas Motor Speedway.
Carl Edwards finished second and Brian Vickers was third.
•The Pamplemousse romps: The Pamplemousse has solidified his status as a leading Kentucky Derby candidate. The gray colt romped to an easy victory in the $200,000 Sham Stakes at Santa Anita in Arcadia, Calif., leading all the way under Alex Solis.
•Quality Road victorious: Quality Road has announced himself as a true Kentucky Derby contender.
He took off at the top of the stretch and won the Grade 2, $250,000 Fountain of Youth at Gulfstream Park in Hallandale Beach, Fla. The winner was ridden by John Velazquez and held off Theregoesjojo by 41/4 lengths.
•Americans shine: Russia's Alena Leonova took home gold and Americans Caroline Zhang and Ashley Wagner won silver and bronze, respectively, at the world junior figure skating championships in Sofia, Bulgaria.
•Acuff soars: Amy Acuff, who will retire after the World Outdoor Championships in Berlin, won the women's high jump at the USA Indoor Track & Field Championships for the fifth time, clearing 6 feet, 23/4 inches in Boston.
•Ligety wins race: Ted Ligety became the first American to win a race on the men's World Cup circuit this season. The 24-year old Ligety won a giant slalom in Kranjska Gora, Slovenia.
•Royals sign Cruz: The Kansas City Royals shored up their bullpen, reaching a two-year agreement with right-hander Juan Cruz.
•First for Djokovic: Novak Djokovic won his first title of the season, beating David Ferrer of Spain 7-5, 6-3 in the final of the Dubai Tennis Championships in Dubai, United Arab Emirates.
•Another title for Williams: Venus Williams beat defending champion Flavia Pennetta 6-1, 6-2 to win the Mexican Open women's tennis title in Acapulco, Mexico. It was Williams' 41st career singles title.
•Marquez stops Diaz: Juan Manuel Marquez stamped himself as the world's top lightweight with a ninth-round knockout of Juan Diaz in a thrilling title unification fight at the Toyota Center in Houston. Marquez won the vacant WBA and WBO lightweight belts, plus Diaz's minor IBO title.
Local journalism is essential.
Give directly to The Spokesman-Review's Northwest Passages community forums series -- which helps to offset the costs of several reporter and editor positions at the newspaper -- by using the easy options below. Gifts processed in this system are not tax deductible, but are predominately used to help meet the local financial requirements needed to receive national matching-grant funds.
Subscribe to the sports newsletter
Get the day's top sports headlines and breaking news delivered to your inbox by subscribing here.
---