News > Nation/World
Recalled to Army, mom bringing her kids
Sun., March 1, 2009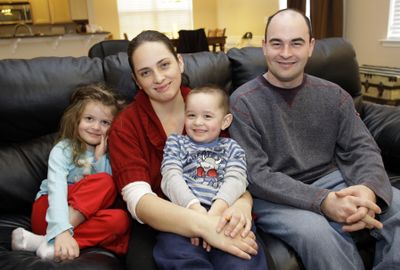 DAVIDSON, N.C. – When Lisa Pagan reports for duty today, four long years after she was honorably discharged from the Army, she'll arrive with more than her old uniform. She's bringing her kids, too.
"I have to bring them with me," she said. "I don't have a choice."
Pagan is among thousands of former service members who have left active duty since the Sept. 11 attacks, only to later receive orders to return to service. They're not in training, they're not getting a Defense Department salary, but as long as they have time left on their original enlistment contracts, they're on "individual ready reserve" status – eligible to be recalled at any time.
Soldiers can appeal, and some have won permission to remain in civilian life. Pagan filed several appeals, arguing that because her husband travels for business, no one else can take care of her kids. All were rejected, leaving Pagan with what she says is a choice between deploying to Iraq and abandoning her family, or refusing her orders and potentially facing charges.
Then she hit on the idea of showing up today at Fort Benning, Ga., with her children in tow.
"I guess they'll have to contact the highest person at the base, and they'll have to decide from there what to do," Pagan said. "I either report and bring the children with me or don't report and face dishonorable discharge and possibly being arrested. I guess I'll just have to make my case while I'm there."
Master Sgt. Keith O'Donnell, an Army spokesman in St. Louis, said the commander at Fort Benning will decide how to handle the situation.
"The Army tries to look at the whole picture and they definitely don't want to do anything that jeopardizes the family or jeopardizes the children," O'Donnell said. "At the same time, these are individuals who made obligations and commitments to the country."
Of the 25,000 individual ready reserve troops recalled since September 2001, more than 7,500 have been granted deferments or exemptions, O'Donnell said.
Pagan, who grew up near Camden, N.J., was working in a department store when she made her commitment in September 2002. She learned how to drive a truck, and met Travis while stationed in Hawaii. She had her first child while in uniform, and they left the service in 2005 when their enlistments were up.
She always knew there was a chance she could be recalled, so she buried the thought in the back of her mind.
"When I enlisted, they said almost nobody gets called back when you're in the IRR," she said.
The young family settled outside of Charlotte in the college town of Davidson, where Travis landed a job as a salesman. It required lots of travel, but that was OK – Pagan enjoyed her life as a stay-at-home mom to their son Eric and a daughter named Elizabeth.
The orders to return to active duty arrived in December 2007. She told the Army there was no one to take care of her children: Her husband spent most of his time on the road, and they believe quitting his job is a sure path to bankruptcy and foreclosure. Her parents live in New Jersey and her husband's parents live in Texas. Neither are able to help out. The Army wasn't persuaded.
Pagan hired attorney Mark Waple, who filed another appeal. In December 2008, her appeal was again rejected.
"It's the obligation of commanders to make certain that service members have a valid family care plan and that clearly has not happened in Lisa's case," Waple said.
Local journalism is essential.
Give directly to The Spokesman-Review's Northwest Passages community forums series -- which helps to offset the costs of several reporter and editor positions at the newspaper -- by using the easy options below. Gifts processed in this system are not tax deductible, but are predominately used to help meet the local financial requirements needed to receive national matching-grant funds.
Subscribe to the Coronavirus newsletter
Get the day's latest Coronavirus news delivered to your inbox by subscribing to our newsletter.
---