News > Features
'Fallon,' 'Saving Grace' lead this month's TV premieres
Mon., March 2, 2009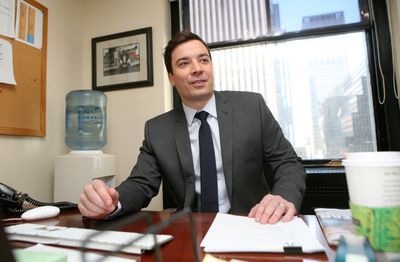 It's March, and for TV, you know what that means: college basketball, shows back from hiatus, shows the networks were too chicken to put on in the fall.
Let's roll:
•"Late Night with Jimmy Fallon" (12:35 a.m. weeknights beginning tonight, NBC). The "SNL" star is entrusted with a franchise that dates back 40 years to "The Tomorrow Show." He'll bring a nerdy, smart-aleck sensibility to the show; his house band, The Roots, brings a hip-hop sound to network TV.
•"Saving Grace" (10 p.m. Mondays beginning tonight, TNT). Doesn't it seem like cable shows have about three "season premieres" every year? Anyway, Grace (Holly Hunter) has a new temporary partner, played by Christina Ricci, and a nifty new serial killer case.
•"Reaper" (8 p.m. Tuesdays beginning this week, CW). The nicest son of Satan you'll ever meet, Sam (Bret Harrison) is still trying to figure out how to work Dad's (Ray Wise) constant demands into his slacker lifestyle and win back his girlfriend Andi (Missy Peregrym).
•"Breaking Bad" (10 p.m. Sundays beginning March 8, AMC). OK, I'll be honest with you – most of my readers are more eager to see "Mad Men" return than AMC's other acclaimed drama. But Bryan Cranston's amazing, Emmy-winning turn as a terminally ill chemistry teacher by day, meth kingpin by night isn't to be missed.
•"Castle" (10 p.m. Mondays starting March 9, ABC). Nathan Fillion ("Firefly") stars as a crime novelist who, surprise, helps solve crimes. Familiar ground but one we hope Fillion can tread a little differently.
•"Chopping Block" (8 p.m. Wednesdays beginning March 11, NBC). The only question I have about this NBC restaurant competition – which will remind you of similar shows starring Gordon Ramsay, but features famed British chef Marco Pierre White instead – is why it isn't airing on a real network. Like Bravo.
•"Kings (two-hour premiere airs 8 p.m. March 15, NBC). "Deadwood's" Al Swearsalot, Ian McShane, stars in this modern-day retelling of the King David story, starting with the Goliath incident.
•"Better Off Ted" (8:30 p.m. Thursdays starting March 18, ABC). Jay Harrington stars as Ted, a model employee for a large corporation with some unsavory business practices he's starting to question. Portia de Rossi co-stars as Veronica, his beautiful and ruthless boss with whom he's previously had an affair. It will be paired with "Scrubs" as a comedy replacement for "Ugly Betty," which is taking a breather.
Local journalism is essential.
Give directly to The Spokesman-Review's Northwest Passages community forums series -- which helps to offset the costs of several reporter and editor positions at the newspaper -- by using the easy options below. Gifts processed in this system are not tax deductible, but are predominately used to help meet the local financial requirements needed to receive national matching-grant funds.
Subscribe to the Coronavirus newsletter
Get the day's latest Coronavirus news delivered to your inbox by subscribing to our newsletter.
---