News > Spokane
Unwanted dogs serve as guards
In two decades of service, no prisoners have escaped
Mon., March 2, 2009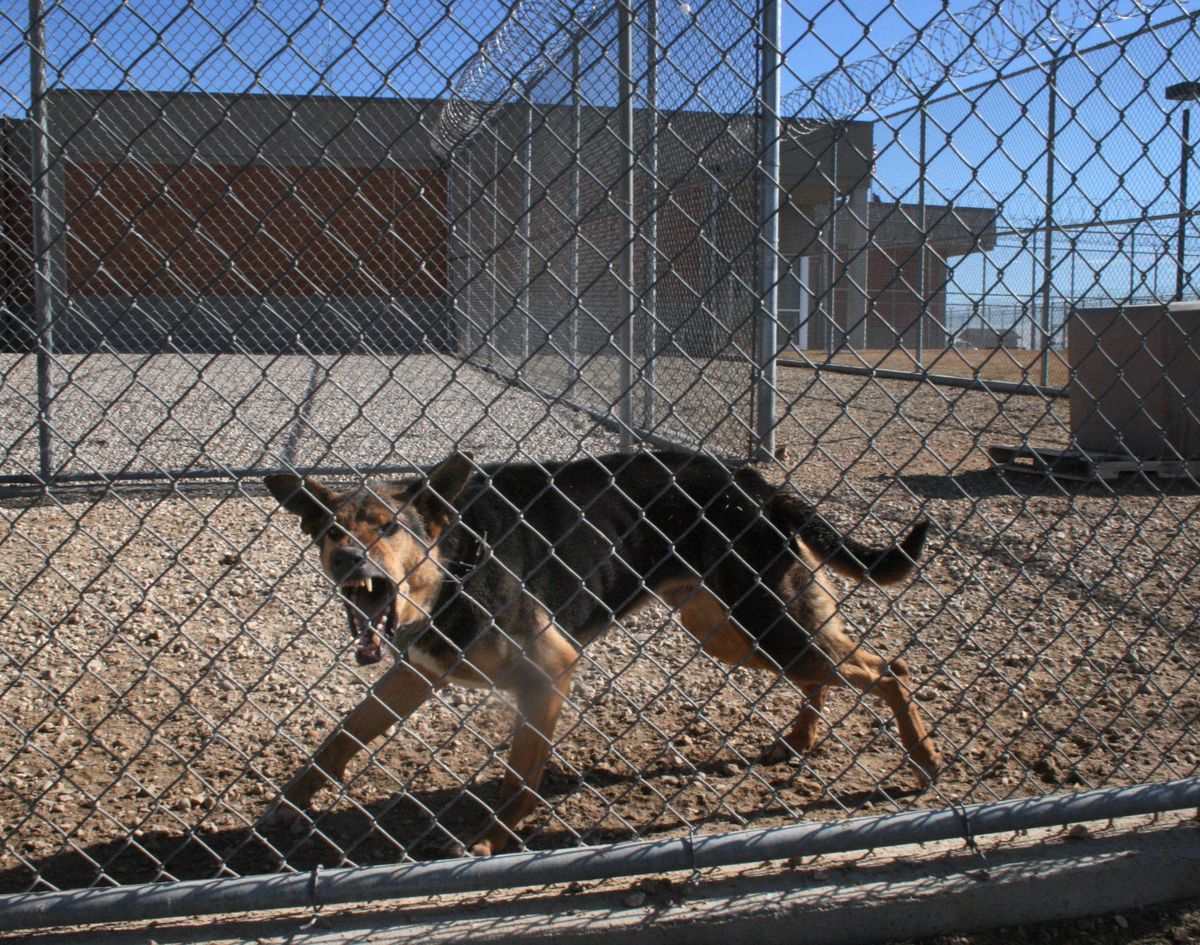 Scout, a German shepherd, barks at a stranger at the prison. (Paul Hosefros / The Spokesman-Review)
BOISE – Cookie glowers from behind the razor wire, lips curled back in a snarl.
Deemed too dangerous to be pets, Cookie and the rest of his pack were to be euthanized at a local shelter.
But they're alive, and working at the Idaho State Correctional Institution, where no inmate has successfully escaped since sentry dogs were brought in two decades ago.
"We're basically giving them a second chance at a good, healthy life," said Corrections Officer Michael Amos, who heads the sentry dog program at ISCI. "Those same instincts that make them a bad pet make them good sentries."
The dogs are aggressive and deeply territorial of their homes between chain-link and razor wire fences. Cookie, a 110-pound Rottweiler, barks in low, menacing tones and lunges toward any stranger who ventures close to his pen, flashing sharp white teeth and glaring out of the corner of his eyes. To Cookie, everyone is a stranger, except for Amos and a handful of others charged with training, grooming, feeding and cleaning up after the dogs.
There are three types of guard dogs, said Jay Christensen, the deputy warden of security at ISCI.
"There's your alarm dogs, and they're trained to bark, to sound off at the sight of anybody," Christensen said. "And then you have sentry dogs, which will alarm and protect their territory as well. And then you have attack dogs, and that's what you imagine a junkyard dog to be, but they're actually trained to assault anyone who comes near them on or off command."
ISCI only uses sentry dogs. The program has 36 dogs, mostly German shepherds, Rottweilers and Belgian malinois, with a few boxers and pit bulls thrown in. Twenty-four of the beasts patrol the entire perimeter of the prison around the clock. After two days on duty, they're given one day off, resting and playing in an indoor kennel.
The prison began its sentry dog program in 1986. It's the only prison in Idaho to rely on sentry dogs for security. The once-common practice has become rare across the nation, Christensen said.
The animals are effective during power outages – unlike electrical security systems – and when thick fog enshrouds the facility – unlike human guards posted in ISCI's lookout towers.
But for all their cost-savings and effectiveness, ISCI officials are generally reluctant to talk about the system, worried the dogs might present a bad image.
People might think that sentencing a dog to a life between fences is cruel, Amos said.
"For some people, they don't consider it an ideal life for the dogs," said Amos. "But it's either they come to us or they get euthanized."
Sentry dogs can't be used for police work because they're too unstable and aggressive, so guard work is the only option for the animals, said James Closson, a professional dog trainer and the owner of A Better Pet dog training in Boise. When the sentry program was still new, Closson arranged some donations of overaggressive dogs from his training program to ISCI.
"To put a dog like this in a neighborhood setting would be cruel to the dog, because the dog can't function in regular society," said Closson, who is an accredited police dog trainer. "They're doing a great service for the dogs that cannot fit into our society. Try to put half as many guards out there and see how much it costs."
Christensen worries that one day, the state's correction leaders will come up with extra money to spend on security and will use it to replace the dogs with electric fences or motion detectors.
"Is this K-9 program going to survive for ever and ever? Probably not," Christensen said. "But I tell you, I do not want to be the deputy warden of security who takes these dogs off the perimeter. I consider that a risk to the public, no matter what type of mechanical system or what type of technology you replace it with."
Local journalism is essential.
Give directly to The Spokesman-Review's Northwest Passages community forums series -- which helps to offset the costs of several reporter and editor positions at the newspaper -- by using the easy options below. Gifts processed in this system are not tax deductible, but are predominately used to help meet the local financial requirements needed to receive national matching-grant funds.
Subscribe now to get breaking news alerts in your email inbox
Get breaking news delivered to your inbox as it happens.
---