Sports
Without Nash, Suns overcome Kobe to beat L.A.
Mon., March 2, 2009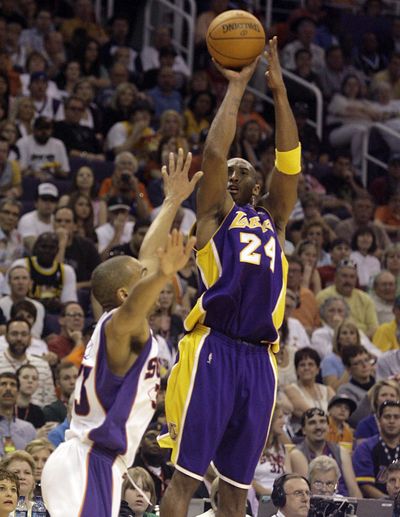 Shaquille O'Neal scored 33 points and the Suns overcame a 49-point performance by Kobe Bryant to beat the Los Angeles Lakers 118-111 at Phoenix.
Matt Barnes added 26 points, 10 rebounds and seven assists as the Suns, without Steve Nash for the third straight game because of a sprained right ankle, beat the Lakers for the first time in four tries this season.
Bryant made 18 of a season-high 38 attempts in the 96th 40-point game of his career. He scored 17 points in a span of less than four minutes early in the second half.
•Pistons win rematch with Celtics: Richard Hamilton had 25 points, Tayshaun Prince scored 15 and each hit a 3-pointer in the final 80 seconds on to help the Detroit Pistons beat the Celtics 105-95 at Boston in a rematch of the Eastern Conference finals.
It was Boston's first home loss to a conference opponent all season.
• Duncan's return spoiled: Brandon Roy and LaMarcus Aldridge each scored 26 points to lead the Trail Blazers to a 102-84 victory over San Antonio at Portland, spoiling the return of Tim Duncan to the Spurs.
The Spurs didn't even play Duncan in the fourth quarter after Portland led by as many as 29 points. The All-Star forward had missed the previous three games with a right quad injury.
•Cleveland edges Atlanta: LeBron James scored 26 points, including the winning free throw with 1.6 seconds left, and the Cleveland Cavaliers won for the seventh time in eight games, 88-87 over the Hawks at Atlanta.
College Basketball
Michigan St. wins Big Ten
Michigan State won the Big Ten regular-season championship at Champaign, Ill., holding off a late charge by No. 20 Illinois for a 74-66 victory.
Kalin Lucas led the Spartans (23-5, 13-3) with 18 points. Raymar Morgan added 14 points and Delvon Roe had 10.
Michigan State won coach Tom Izzo his fifth conference title in 13 seasons with the Spartans.
•Louisville still in title hunt: Andre McGee scored a season-high 16 points as No. 6 Louisville edged No. 8 Marquette 62-58 at Louisville, Ky., to keep its hopes for a Big East title alive.
The Cardinals (23-5, 14-2 Big East) have won five straight and can clinch at least a share of the regular-season title by winning their final two games.
• Kansas routs Missouri: Sherron Collins scored 25 points and dished out several key assists and the No. 15 Kansas Jayhawks took command of the Big 12 race by trouncing the 11th-ranked Missouri Tigers 90-65 at Lawrence, Kan.
•Stanford leads the Pac: Kayla Pedersen had 20 points and 10 rebounds, and Stanford beat Southern Cal 85-74 at Los Angeles to move into sole possession of first place in the Pac-10.
Jayne Appel also scored 20 points for the Cardinal, who won their 11th straight game.
•Bruins win big over Bears: Erica Tukiainen scored 18 of her career-high 25 points in the second half to help UCLA beat California 74-56 at Los Angeles in its biggest win against a ranked opponent since Jan. 7, 2008, when the team beat No. 2 Stanford.
•Maryland wins ACC: Marissa Coleman scored 17 points and grabbed 16 rebounds, Marah Strickland also scored 17 and the fifth-ranked Maryland Terrapins enhanced their chances of claiming a No. 1 seed in the NCAA tournament by beating Miami 89-64 at Coral Gables, Fla., to clinch a share of their first ACC crown since 1989.
• Auburn clinches SEC: DeWanna Bonner scored 25 points and No. 7 Auburn clinched its first SEC title in 20 years with a 94-57 win over Arkansas at Auburn, Ala.
The Tigers (27-2, 12-2 Southeastern Conference) rolled to a 22-point halftime cushion, eliminating most of the drama in a bid to edge Vanderbilt for their first regular-season title since 1989.
NHL
Brodeur hits 100 shutouts
Martin Brodeur earned his 100th NHL regular-season shutout with a 27-save effort, and the New Jersey Devils extended their lead in the Atlantic Division with a 3-0 victory over the second-place Philadelphia Flyers at Newark, N.J.
The shutout was the second in three games since Brodeur returned Thursday from elbow surgery, and this one moved him within three of tying Terry Sawchuk's mark of 103. It was also Brodeur's 547th career victory, four shy of Patrick Roy's league record.
•Panthers check Ovechkin: Stephen Weiss, Bryan McCabe and Jay Bouwmeester scored power-play goals in the first period, and Florida held Washington's Alex Ovechkin without a point until the final minute to beat the Capitals 6-2 at Washington.
Ovechkin scored his NHL-leading 46th goal with less than 30 seconds left.
•Pens winning without Crosby: NHL scoring leader Evgeni Malkin had a goal and two assists, Marc-Andre Fleury made 20 saves, and Pittsburgh beat the Stars 4-1 at Dallas to win its third in a row without injured captain Sidney Crosby.
Malkin has 92 points in 64 games.
•Blackhawks best Kings: Jonathan Toews, Duncan Keith and Dustin Byfuglien scored in the first period, and Antti Niemi made 22 saves in his first NHL start to give the Blackhawks a 4-2 win over Los Angeles at Chicago.
Skiing
Vonn wins super-G
Lindsey Vonn won her fourth straight super-G race and promised to chase more trophies on the women's World Cup circuit after a successful stop in Bansko, Bulgaria.
"There is no conservative skiing for me," the 24-year-old American said. "I have to be really aggressive — that's my strategy."
After three races here, the defending overall World Cup champion widened her lead in the standings to nearly 400 points. She also moved into contention for the super-G trophy a day after clinching the downhill title, joining Picabo Street as the only Americans to win back-to-back titles in the discipline.
•Frenchman wins slalom: Julien Lizeroux of France won a men's World Cup slalom at Kranjska Gora, Slovenia, for his second victory of the season, and Ivica Kostelic of Croatia finished 11th and retained a narrow lead in the overall standings.
Miscellany
Jones, Trammell win big
Lolo Jones and Terrence Trammell were the big winners at the USA Indoor Track & Field Championships in Boston.
Jones, the top-ranked woman in the 60-meter hurdles last year, needed to run a time of 7.84 seconds to capture the $25,000 bonus in the Visa Championship Series and did just that.
Trammell captured the men's $25,000 Visa bonus, setting a meet record with a 7.37 in the men's 60-meter hurdles. He was just .01 off the American indoor record set by Greg Foster and Allen Johnson.
•Fish beats Russian: Mardy Fish became the first top seed in the 17-year history of the Delray Beach International Tennis Championships to win the title, beating Russian Evgeny Korolev 7-5, 6-3 at Delray Beach, Fla.
•Malott bowls to title: Wes Malott earned his sixth career PBA Tour title, beating hometown favorite Ronnie Russell 248-195 to win the Etonic Marathon Open at Woodland Bowl.
Local journalism is essential.
Give directly to The Spokesman-Review's Northwest Passages community forums series -- which helps to offset the costs of several reporter and editor positions at the newspaper -- by using the easy options below. Gifts processed in this system are not tax deductible, but are predominately used to help meet the local financial requirements needed to receive national matching-grant funds.
Subscribe to the sports newsletter
Get the day's top sports headlines and breaking news delivered to your inbox by subscribing here.
---