A&E > Food
Book revives New Orleans' lost recipes
Katrina washed away family collections
Wed., March 4, 2009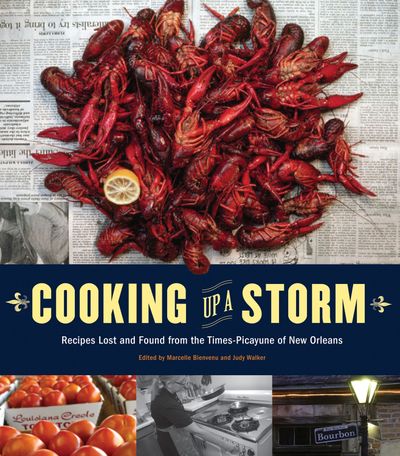 Three and a half years after Hurricane Katrina devastated the city, a still-recovering New Orleans may not be up to belting out "laissez les bon temps rouler" – let the good times roll – with all its usual gusto. But this year will surely be tastier, thanks to a new heartfelt and heartwarming book, "Cooking Up a Storm" (Chronicle, $24.95).
The book's subtitle explains it all: "Recipes Lost and Found from The Times-Picayune of New Orleans." Katrina and the subsequent flooding not only killed many and left billions of dollars in property damage, but the storm washed away countless family recipes, those lovingly hoarded scraps of notepaper and newspaper on which family meals and family memories were made.
To the rescue came Judy Walker, the newspaper's food editor, who started the "Exchange Alley" column to reclaim lost recipes. The column grew into this book, which is edited by Walker and Marcelle Bienvenu, a veteran cookbook author and columnist. There are more than 225 recipes from the newspaper's archives, and from chefs, readers and their favorite restaurants.
Grillades
"This New Orleans favorite is the quintessential choice for breakfast or brunch," according to "Cooking Up a Storm." And that includes a brunch on one of the days leading up to Mardi Gras, said co-author Judy Walker, food editor of The Times-Picayune in New Orleans. Serve with cheesy grits (see recipe) or biscuits. Pour a decadently rich milk punch on the side, Walker advised.
1 tablespoon salt
1 teaspoon ground red pepper
1/2 teaspoon each: freshly ground black pepper, garlic powder
4 pounds boneless beef or veal round steak, about 1/4 -inch thick, trimmed, cut into 2-inch pieces
1/2 cup each: flour, vegetable oil
3 yellow onions, chopped
2 green bell peppers, chopped
3 ribs celery, chopped
1 can (28 ounces) whole tomatoes, crushed, with juice
2 cups beef broth
1/2 cup red wine
2 bay leaves
1/2 teaspoon each: dried tarragon, dried basil
8 green onions, green part only, finely chopped
3 tablespoons chopped fresh parsley
Combine the salt, red and black pepper and garlic powder in a small bowl. Lay several pieces of the meat on a cutting board. Sprinkle with the seasoning mix and a little of the flour. Pound each piece of meat with a meat mallet until slightly flattened. Turn meat; repeat seasoning and pounding. Repeat with remaining meat.
Heat the oil in a Dutch oven over medium-high heat. Add the meat in batches. Brown evenly on both sides, about 5 minutes per batch. Transfer to a platter. Add the onions, peppers and celery to the Dutch oven. Cook, stirring, until the vegetables are soft and golden, 10 minutes.
Return meat to the pot. Add the tomatoes, broth, wine, bay leaves, tarragon and basil. Reduce heat to medium-low. Simmer, uncovered, stirring occasionally, until the meat is very tender, about 2 hours, adding water if the mixture becomes dry. Remove bay leaves. Stir in green onions and parsley. Serve over grits.
Yield: 10 servings.
Nutrition information (per serving): 299 calories, 23 percent of calories from fat, 8 grams fat, 3 grams saturated fat, 104 milligrams cholesterol, 13 grams carbohydrates, 44 grams protein, 1,042 milligrams sodium, 3 grams fiber
Baked Grits
3 eggs, lightly beaten
8 ounces Cheddar cheese, grated
1 cup milk
1 stick ( 1/2 cup) butter
2 cups yellow grits, cooked according to package directions
Heat oven to 350 degrees. Stir the eggs, cheese, milk and butter into the cooked grits; mix well until cheese is melted. Pour into a greased 2-quart baking dish. Bake until mixture sets, about 45 minutes.
Yield: 10 servings.
Nutrition information (per serving): 327 calories, 52 percent of calories from fat, 19 grams fat, 11 grams saturated fat, 114 milligrams cholesterol, 28 grams carbohydrates, 11 grams protein, 177 milligrams sodium, 1 gram fiber
Milk Punch
Spike up your Mardi Gras brunch with this milk punch adapted from "Cooking Up a Storm," by Marcelle Bienvenu and Judy Walker. If you want to make a Cuban version of this drink, substitute dark rum for the brandy or Bourbon.
1 quart half-and-half
1 1/2 cups brandy or Bourbon
1/4 cup confectioners' sugar
2 teaspoons vanilla
1/2 cup whipping cream, whipped
Ground nutmeg
Combine the half-and-half, brandy, sugar and vanilla in a medium bowl until the sugar is completely dissolved; cover. Refrigerate 3 hours or overnight.
Serve in small crystal cups or stemmed glasses, topped with a dollop of whipped cream and a sprinkle of nutmeg. Or pour into a small punch bowl, float whipped cream on top and sprinkle with nutmeg.
Yield: 8 servings
Nutrition information (per serving): 296 calories, 50 percent of calories from fat, 17 grams fat, 10 grams saturated fat, 55 milligrams cholesterol, 9 grams carbohydrates, 4 grams protein, 53 milligrams sodium, 0 grams fiber
Local journalism is essential.
Give directly to The Spokesman-Review's Northwest Passages community forums series -- which helps to offset the costs of several reporter and editor positions at the newspaper -- by using the easy options below. Gifts processed in this system are not tax deductible, but are predominately used to help meet the local financial requirements needed to receive national matching-grant funds.
Subscribe to the Spokane7 email newsletter
Get the day's top entertainment headlines delivered to your inbox every morning.
---