Sports
Bullpups prepared
G-Prep feels ready for state
Wed., March 4, 2009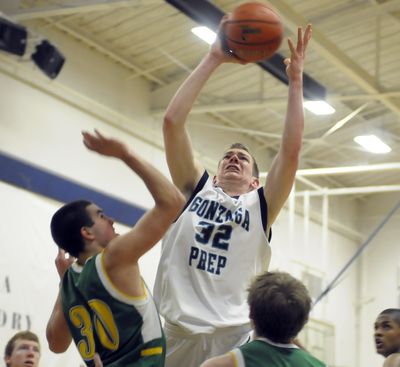 Success for the Gonzaga Prep boys basketball team has been akin to a mathematical equation. The whole is equal to the sum of its parts.
The Bullpups have a point guard with pedigree, a shooting guard with cachet, a rangy perimeter defensive stopper and versatile posts. Throw in bench contributions for any eventuality and you have the ingredients of a state qualifier.
The Bullpups (23-3) are in Tacoma for state after a four-year absence. They're back in the city where they played a summer tournament and got a feel for what to expect beginning tonight at 7 against Decatur.
"We did pretty well in the Lincoln tournament," coach Mike Haugen said. "We finished second to Foss."
Foss is also at state, as is Mariner, a team the Bullpups played and defeated during summer competition. G-Prep players also were on traveling teams in big tournaments, so they're accustomed to competition against high-level athletes.
"I don't think they'll be awestruck," Haugen said.
Not with David Stockton running the point; Sean Fischer back in shooting form; the efforts of post players Ryan Nicholas, listed at 6-foot-7, and 6-5 Travis Long, who can guard the post or perimeter; 6-4 guard Nick Hanson, a defensive standout; and an array of bench support.
Point guard Stockton can shoot, penetrate and dish. He averages 12.2 points per game and scored and passed sometimes with highlight-film flair.
"He does some amazing things," Haugen said. "There are times when he goes out of control and you have to remind him of that."
But his value became most evident the past two years in games he missed – a season-ending playoff loss last year and a loss this season to Lewis and Clark when he played only briefly because of illness or injury.
"He'll definitely play in college. Western Washington is on him hard and Idaho is talking to him," Haugen said. "As far as floor leadership and somebody who can get the ball to where you need it, we really don't have anybody else who's a natural at that."
Fischer missed two games because of injury near the end of the regular season and hit a four-game scoring slump upon his return. But he averaged 17 over the three wins that got G-Prep to state.
Team scoring leader Nicholas, a junior with a 14.8 average in the regular season, increased that by a point during district and regional.
"Ryan never takes a play off," Haugen said. "And it was good to see him play well after he sat down in foul trouble (upon his return), which he hadn't done."
Long, headed to WSU for football, not only scores near double figures but defends one of an opposition's top players, be he post or guard.
"He's a freak of nature, he's so quick," Haugen said. "He just gives us so many options. And I loved the way Nick Hanson played defense in regional. It's nice to have him to go against athletic, tall guards."
Matchups dictate substitution patterns. Parker Kelly goes in against stronger guards and quick Chris Sarbaugh works to pester opponents. Nik Hellenthal, a 6-4 sophomore, or David Nelson sub in for the posts. Hellenthal was particularly active in Kennewick against Richland in the winner-to-state game.
"Early on he didn't play that much," Haugen said. "He has taken some big steps."
The Bullpups hope to continue at state what worked over the weekend at regional by working from inside out, involving the "bigs" and opening things for the perimeter players.
"It was huge going over there (to Tacoma) this summer," Haugen said. "I feel good about what our chances are and think the kids feel good about it, too."
Local journalism is essential.
Give directly to The Spokesman-Review's Northwest Passages community forums series -- which helps to offset the costs of several reporter and editor positions at the newspaper -- by using the easy options below. Gifts processed in this system are not tax deductible, but are predominately used to help meet the local financial requirements needed to receive national matching-grant funds.
Subscribe to the sports newsletter
Get the day's top sports headlines and breaking news delivered to your inbox by subscribing here.
---