News > Nation/World
Police knew of plan, critics say
Gunmen ambush cricket team bus in Pakistan
Wed., March 4, 2009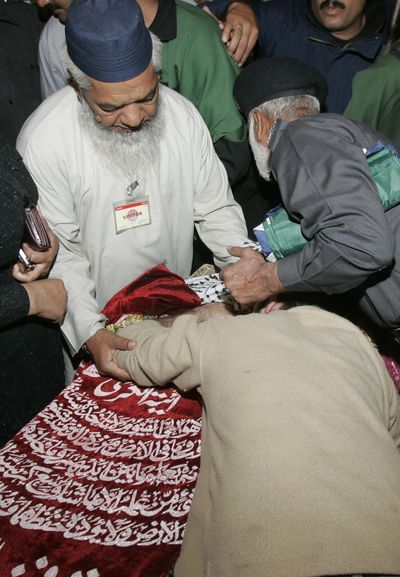 LAHORE, Pakistan – Pakistani police had strong intelligence well in advance of Tuesday's brazen terror attack on the Sri Lankan cricket team but failed to deploy forces along the route, opposition politicians and the Pakistani news media said Tuesday.
About a dozen heavily armed men launched a commando-style assault on the Sri Lankan players at a busy crossroads Tuesday, spraying the team bus and its police escort with automatic gunfire and launching grenades.
Eight people, including six police officers, were killed, and 16 wounded, but the visiting team members all survived, with six players and a British coach wounded.
It was the latest terror attack to hit Pakistan, a nuclear-armed U.S. ally that is under sustained assault from Islamic extremists. Top former government officials in Punjab put the blame for the carnage on President Asif Ali Zardari, who last week ordered them as well as the top police officials in the province replaced.
The team's escape from the early morning assault appeared to be due mainly to the quick reaction of players and their fast-thinking bus driver rather than to any police protection.
The Sri Lankans were on a 3-mile journey from the team hotel to Lahore's cricket stadium when they approached a large traffic circle close to the destination, the one point where the bus would have to slow down. The gunmen attacked from three directions.
The visiting players dived to the floor of the bus and shouted to the driver: "Go, go, go." The driver sped the bus to the nearby cricket stadium, sparing the team worse injury, witnesses said. The assailants fired two rocket-propelled grenades and hurled several grenades at the convoy, police and witnesses said.
Local journalism is essential.
Give directly to The Spokesman-Review's Northwest Passages community forums series -- which helps to offset the costs of several reporter and editor positions at the newspaper -- by using the easy options below. Gifts processed in this system are not tax deductible, but are predominately used to help meet the local financial requirements needed to receive national matching-grant funds.
Subscribe to the Coronavirus newsletter
Get the day's latest Coronavirus news delivered to your inbox by subscribing to our newsletter.
---