Sports
Search for players off Florida coast called off
Wed., March 4, 2009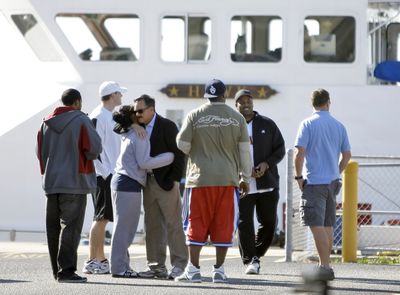 The Coast Guard says it is suspending the search for two NFL players and another man whose boat capsized off Florida's Gulf Coast.
The Coast Guard said Tuesday it doesn't believe anyone is on the surface of the water.
Crews had narrowed their search for Oakland Raiders linebacker Marquis Cooper, free-agent NFL defensive lineman Corey Smith and former University of South Florida player William Bleakley after finding a survivor Monday.
Former South Florida player Nick Schuyler was found clutching to the boat's hull.
•Cutler stays put: The Denver Broncos insisted that Pro Bowl quarterback Jay Cutler isn't on the trading block.
Cutler was angered during the weekend when his name came up in talks involving a three-way trade that would have sent him to the Tampa Bay Buccaneers and landed Matt Cassel in Denver.
•Bengals re-sign Benson: Free-agent running back Cedric Benson accepted a two-year deal to re-sign with the Cincinnati Bengals.
•Giants haven't ruled out Burress: Plaxico Burress could be welcomed back by the New York Giants – if the Super Bowl star can straighten out his legal problems stemming from a weapons charge and get his life back in order, general manager Jerry Reese said.
•Warner makes counteroffer: Kurt Warner has made a counteroffer to the Arizona Cardinals that could pave the way for his return to the team he led to the Super Bowl.
Warner's agent, Mark Bartelstein, said he has offered a two-year deal worth $23 million, with $12 million guaranteed.
The Cardinals reportedly offered a two-year, $20 million contract with $10 million guaranteed.
Baseball
Jeter helps beat Yankees
Derek Jeter finally got to experience playing against the New York Yankees.
Normally the Yankees captain, Jeter played for the United States ahead of the World Baseball Classic and hit a two-run single in the third inning of the Americans' 6-5 victory over New York in Tampa, Fla.
•Rodriguez ails: New York Yankees star Alex Rodriguez has a problem with his hip, and is going to Colorado to see a specialist.
An exam over the weekend revealed that Rodriguez has a cyst in his right hip. Doctors wanted to take a closer look.
•Bonds wants comeback: Barry Bonds is open to making a comeback. Whether any team wants him, that's the tricky part.
Now that Bonds' federal trial has been delayed at least until July, the agent for Bonds plans to contact all 30 major league clubs once again to determine whether there's a place for the slugger.
"I'm still not optimistic," agent Jeff Borris said.
NBA
Rockets hot at home
Carl Landry matched a career high with 22 points, Luis Scola added 20 points and 16 rebounds and the Houston Rockets extended their home-court winning streak to 10 games with a 107-97 victory over the Toronto Raptors.
•Smith back with Cavs: Veteran forward Joe Smith, traded last summer by Cleveland in the deal that brought them All-Star guard Mo Williams, agreed to terms on a one-year contract with the Cavaliers, according to his agent, Dan Fegan.
•Anthony 'crossed line': Carmelo Anthony served a one-game suspension handed down by the Denver Nuggets because coach George Karl tried to put him on the bench and he refused.
"In my mind, that crossed the line," Karl said.
College men's basketball
Duke edges FSU
Gerald Henderson scored nine of his 21 points in the final 2 minutes to help No. 7 Duke (25-5, 11-4 Atlantic Coast Conference) post an 84-81 victory over No. 24 Florida State (22-8, 9-6) in Durham, N.C.
Duke won its fifth straight and matched the NCAA record for most wins in a decade with 286.
•Wake Forest wins: Al-Farouq Aminu had 16 points and a career-high 14 rebounds, Jeff Teague scored 17 and No. 10 Wake Forest (23-5, 10-5 ACC) held on for a 65-63 win over Maryland (18-11, 7-8) in College Park, Md.
NHL
Big names available
There are plenty of big names in play as time ticks away before today's NHL trade deadline, and clubs searching for a top-level defenseman have quite an impressive list to target.
Chris Pronger and Scott Niedermayer of the middling Anaheim Ducks have been mentioned in trade rumors, along with Tomas Kaberle of the also-ran Toronto Maple Leafs, and impending free agents Jay Bouwmeester of Florida and Phoenix's Derek Morris.
This year's class could also include New York Islanders captain Bill Guerin, disappointing Phoenix forward Olli Jokinen, injured forward Marian Gaborik of the Minnesota Wild, Edmonton's Erik Cole, Pittsburgh's Jordan Staal, and St. Louis' Keith Tkachuk and Colorado's Ryan Smyth, who have experience with being traded in deadline deals.
•Blackhawks win in OT: Martin Havlat scored 1:40 into overtime to give the host Chicago Blackhawks a 3-2 win over the Anaheim Ducks.
•Hurricanes rout Capitals: Carolina's Patrick Eaves scored twice, and the Hurricanes produced goals every which way – penalty shot, short handed, power play, even strength – in a 5-2 victory over the Capitals, Washington's second consecutive lopsided loss at home.
•Stars cruise past Sharks: James Neal scored twice to guide the Dallas Stars to a 4-1 victory over the San Jose Sharks at San Jose, Calif.
•Canucks sign Burrows: The Vancouver Canucks signed forward Alex Burrows to a four-year, $8 million contract extension, avoiding the possibility of losing the winger as an unrestricted free agent.
•Rangers claim Avery: The New York Rangers claimed controversial forward Sean Avery off re-entry waivers from the Dallas Stars in a move weeks in the making.
Miscellany
Beckham extension near
A deal allowing David Beckham to extend his stay with AC Milan through the end of the Italian season is close but not yet complete, Milan chairman Adriano Galliani said.
Beckham joined Milan on a two-month loan from the Los Angeles Galaxy in January and was due to return to the Major League Soccer club next week.
•USOC tightens belt: The rough economy forced leaders of the U.S. Olympic Committee to approve cutting the federation's work force by up to 15 percent as a way of saving more than $7.1 million in the 2009 budget.
Local journalism is essential.
Give directly to The Spokesman-Review's Northwest Passages community forums series -- which helps to offset the costs of several reporter and editor positions at the newspaper -- by using the easy options below. Gifts processed in this system are not tax deductible, but are predominately used to help meet the local financial requirements needed to receive national matching-grant funds.
Subscribe to the sports newsletter
Get the day's top sports headlines and breaking news delivered to your inbox by subscribing here.
---