News > Spokane
Snowmobiler loved his sport
Family recalls Rob Smith as handy, perpetually young at heart
Wed., March 4, 2009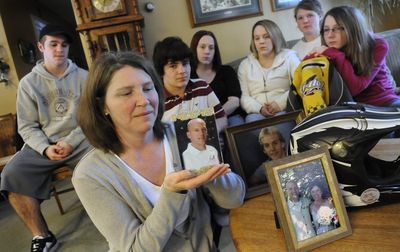 William "Rob" Smith had been at the spot in the Trapper Creek area north of Priest Lake hundreds of times, his family said. The 43-year-old had been a snowmobiler for 20 years.
Before taking his machine down the steep slope, Smith tested it on foot. But the Colbert man died Friday when the snow from that slope collapsed on him in an avalanche.
"This was by far a freak accident," said Guy Smith, the snowmobiler's youngest brother.
The tightly knit Smith family said Tuesday that they took comfort knowing Rob Smith died doing something he loved.
"I called him the 'Robbie Lama' or 'MacGyver' because he could fix anything," Guy Smith said. "If I couldn't figure something out, I would call him and he'd give me wisdom."
Rob Smith and his father, Ron, had been partners in Family Trees, a tree and fence business, for the past 12 years. Prior to that, the three Smith brothers and their dad worked together at Nelson Landscape for eight years.
Guy Smith described his brother as a perpetual kid. While others at family gatherings would be talking politics or economics, Rob would be the one moving the furniture out of the way so he could wrestle with the kids.
He was the kind of guy who everyone knew, and he had a long list of friends, Guy Smith said.
"I truly believe the good die young," he said. "And that's what happened to Rob."
Sixteen-year-old Cameron Moors, Smith's stepson from a previous marriage, was with Smith when he died. Cameron's father, Keith Moors, spoke Tuesday about how Smith saved his life 13 years ago after he had crashed his snowmobile.
"(Rob) had just finished his first-aid training," he said. "I'd broken my neck and back in five spots, both arms, a leg, sinuses and bruised a lung. He packed the snow around me. He was able to stabilize me until medics arrived."
Stories of heroism and acts of kindness were abundant as Smith's friend and brother talked.
Guy Smith said, "If there is such a thing as blushing in heaven, Rob's doing it because there isn't a bad thing to say about him."
Local journalism is essential.
Give directly to The Spokesman-Review's Northwest Passages community forums series -- which helps to offset the costs of several reporter and editor positions at the newspaper -- by using the easy options below. Gifts processed in this system are not tax deductible, but are predominately used to help meet the local financial requirements needed to receive national matching-grant funds.
Subscribe to the Coronavirus newsletter
Get the day's latest Coronavirus news delivered to your inbox by subscribing to our newsletter.
---