News > Spokane
City says bus benches must go
Officials say order based on 2001 sign code; STA budgets to replace 100
Fri., March 6, 2009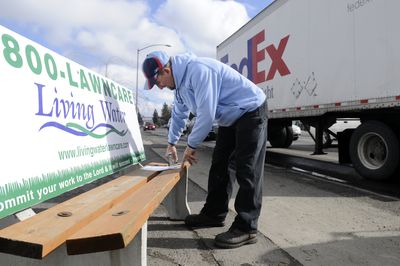 Transit riders used to sitting while waiting for a bus may soon have to stand.
All bus benches with advertising in Spokane were ordered removed by the city in October, leaving the Spokane Transit Authority to find money to replace them.
The decision, approved by Mayor Mary Verner, has sparked a fight with Emerald Outdoor Advertising, which had the contract with the city to provide the benches until last year. The company hasn't removed its 223 signs, arguing that officials reneged on a pledge to create an open process for deciding if the benches should be removed.
This week, the company posted signs on its benches asking riders with concerns about the potential removal to call City Hall.
"It's a commercial vehicle, but it's also a public service," said Tom Townsend, manager of Emerald Outdoor. "The people who need the benches are not the ones who have been talked to."
City officials say their decision is based on a sign code approved in 2001, and they argue they've given Emerald time to fulfill contracts with advertisers.
"It's time now to enforce the law," said City Administrator Ted Danek. "In enforcing any law you need to enforce it fairly and across the board."
The issue arose a few years ago when City Hall employees warned administrators that bus benches were proliferating and that they shouldn't be allowed under the sign code, said John Pilcher, Spokane's former CEO.
Most of the public debate about the 2001 sign law, which affects "off-premise" advertising signs, centered on billboards. But under city officials' interpretation, the law bans bus bench ads.
Marco Barbanti, Emerald's attorney, called the city's reading of the law a "stretch."
"To my recollection, I don't think it's as clear-cut as some at the city would like to think that it is," Barbanti said.
Under the bench contract, Emerald paid the city $9,500 a year for the right to place the benches at bus stops. The company was responsible for buying, installing and maintaining them.
"It's kind of two-faced to be taking money and then telling everyone else you can't do it," said Dave Steele, Spokane's real estate manager. He said a further complication arose when a second company, Lamar Outdoor Advertising, began installing benches without a city contract.
In response to the city's decision, the STA has budgeted $87,500 for 100 backless benches without ads.
"We looked at it very carefully and felt that bus benches are a positive amenity that our riders count on," STA spokeswoman Molly Myers said.
Myers said STA analyzed ridership numbers to determine where to place the new benches and may consider buying more in the future. The end of Emerald's contract also means STA will be charged with maintaining the new benches.
Verner's decision won't affect Emerald's bus benches in Spokane Valley or outside city limits.
City Councilman Al French said during a recession is a poor time to stop a program that provides free benches.
"It impacts our revenue and it ultimately impacts taxpayers," said French, a member of STA's board. "The ongoing maintenance will impact our ability to provide bus services."
But STA board member Richard Rush said he supports Verner's decision and added that STA will better maintain the seats.
"They deter from the overall sense of character of our city," said Rush, a Spokane city councilman. "If there's going to be advertising everywhere, every time you turn around, then the sense of character is lost."
Townsend said city leaders praised his company's upkeep of the benches in a meeting last year and that his company has often installed benches to assist a rider even if it's a poor location for an ad.
The cancellation of the contract became public this week when Mike Fairburn, owner of Living Water Lawn and Tree Care, complained about the loss of bus bench advertising at a City Council hearing regarding a proposed, unrelated sign code.
Emerald, which also uses the name Sunset Outdoor Advertising, charges $30 to $50 a month for each bus bench sign, plus the cost of producing the ad, Townsend said.
Fairburn said Living Water generates as much as $300,000 a year from the bus bench ads.
"It's economical, and it gives us – a local business – a great opportunity to brand ourselves in an economical fashion," he said.
Local journalism is essential.
Give directly to The Spokesman-Review's Northwest Passages community forums series -- which helps to offset the costs of several reporter and editor positions at the newspaper -- by using the easy options below. Gifts processed in this system are not tax deductible, but are predominately used to help meet the local financial requirements needed to receive national matching-grant funds.
Subscribe now to get breaking news alerts in your email inbox
Get breaking news delivered to your inbox as it happens.
---